Everyone should indulge in a selfish Christmas at least once – one where you bunk off the big family dinner, hang up the oven gloves and spend the holiday doing something that brings you joy. Tempted to ditch tradition this year? Explore these alternative Christmas breaks in the South West
Aller Dorset
Those who fantasise about going off‑grid for Christmas – but aren't cut out for truly roughing it – will find all the mod cons and luxury touches they require at this duo of decked‑out shepherd's huts in rural Dorset.
When Ant and Cat Earp decided to add self‑contained accommodation to their family farm, they wanted to create something a bit different to the standard rustic‑chic shepherd's hut offering. Clear your mind of cramped bunting‑adorned conversions: Links and Littledown (named after the fields they overlook) are spacious, light‑filled lodgings dressed in gorgeous furnishings and kitted out with everything you need for a comfortable stay.
Toast Christmas morning with a glass of local Langham sparkling wine (included in the welcome hamper) and an exhilarating dip in the spring‑fed lake. Then, while lunch is cooking, revive fingers and toes in the steamy alfresco tub.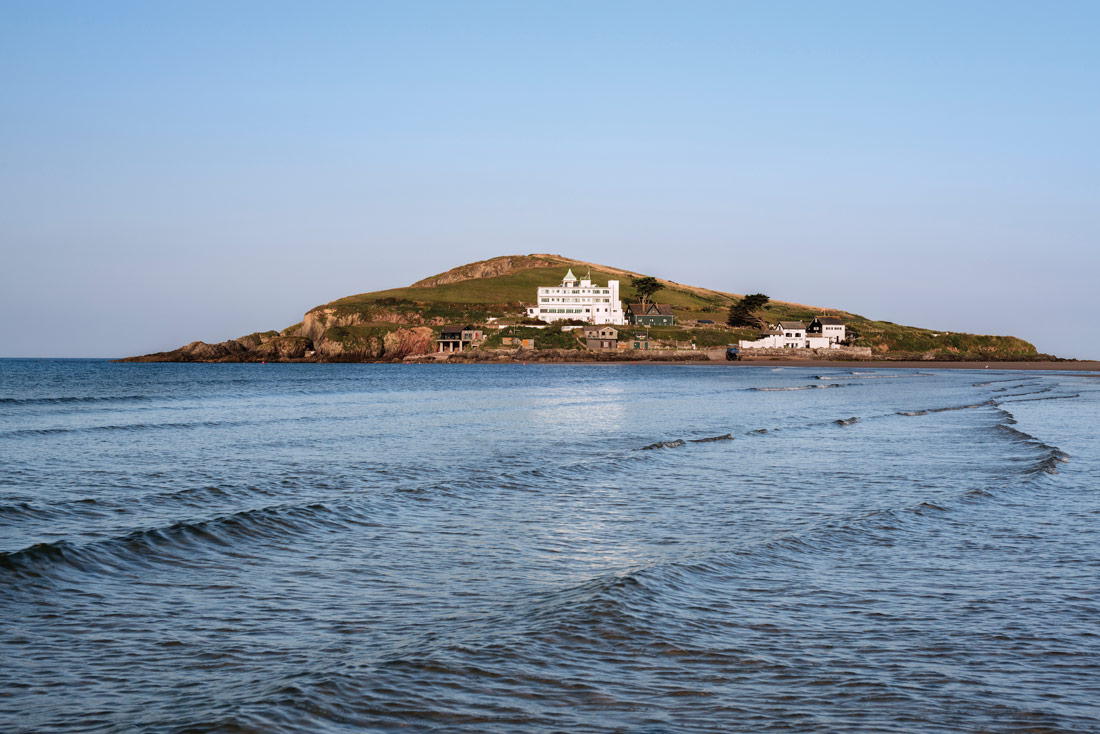 Burgh Island Hotel, Devon
If the rollercoaster ride that is the 2020s has you craving a retreat into the past, spending Christmas at an art deco hotel on a tidal island off the south Devon coast might be just the tonic.
Originally built in 1929 and more recently restored to reflect its 1930s heyday, Burgh Island Hotel is the epitome of glamour and hospitality. Depending on the tides, you'll be picked up from the mainland by sea tractor and escorted across the causeway to the grand building nestled in the north side of the island. Guests start their experience in the stunning glass‑domed bar with a glass of Champagne before being shown to their suites.
The most coveted place to stay at Burgh is Agatha's Beach House, a self‑contained lodge built into the cliff under the main building, which was originally commissioned as a writing retreat for Agatha Christie (who was so inspired by the setting that she set two novels on Devon islands). With a wood burner, king‑size bed and sweeping sea views, it's the ultimate romantic retreat.
Guests spending Christmas on the island (the three‑night stay commences on December 24) are invited to the hotel's famous Boxing Day Ball, where attendees don flapper dresses and black tie for an evening of fine food, drinks and high jinks.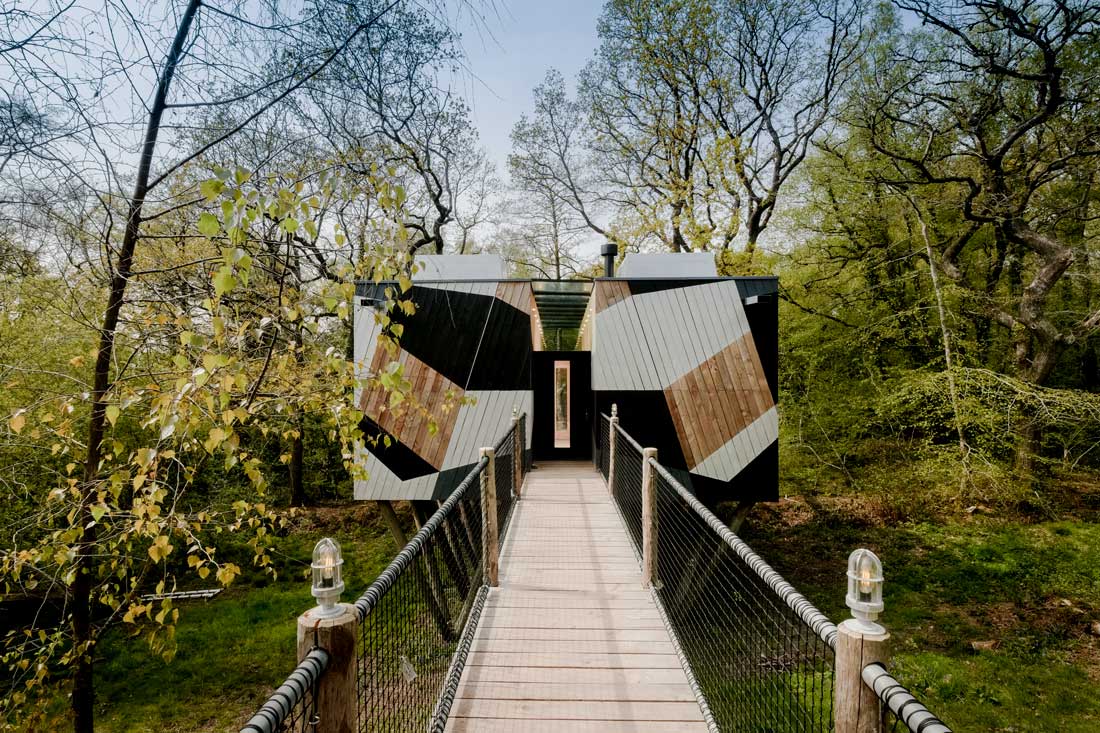 Mallinson's Woodland Retreat
Book one of the spectacular treehouses at this rural Dorset retreat and you could spend Christmas Day walking in the forest, soaking in an outdoor hot tub and devouring homemade pizza straight from the wood‑fired oven.
The three treehouses (Dazzle, Pinwheel and The Woodman's) were handbuilt by founder Guy Mallinson and his team of woodcraftsmen, and have featured on Grand Designs and George Clarke's Amazing Spaces. Each is designed to blend into its natural setting while also creating a sumptuous space where guests can indulge in contemporary comfort.
The distinctive camouflage that decorates Dazzle (pictured above) was inspired by the patterns used to disguise ships during the first world war. Inside, the theme continues with a gangplank walkway, rooftop funnels, yacht‑deck flooring and a central glass spine which allows light to spill in. If the treehouses are beyond your budget, there are also yurts, shepherd's huts and bell tents tucked away in the same magical woodland.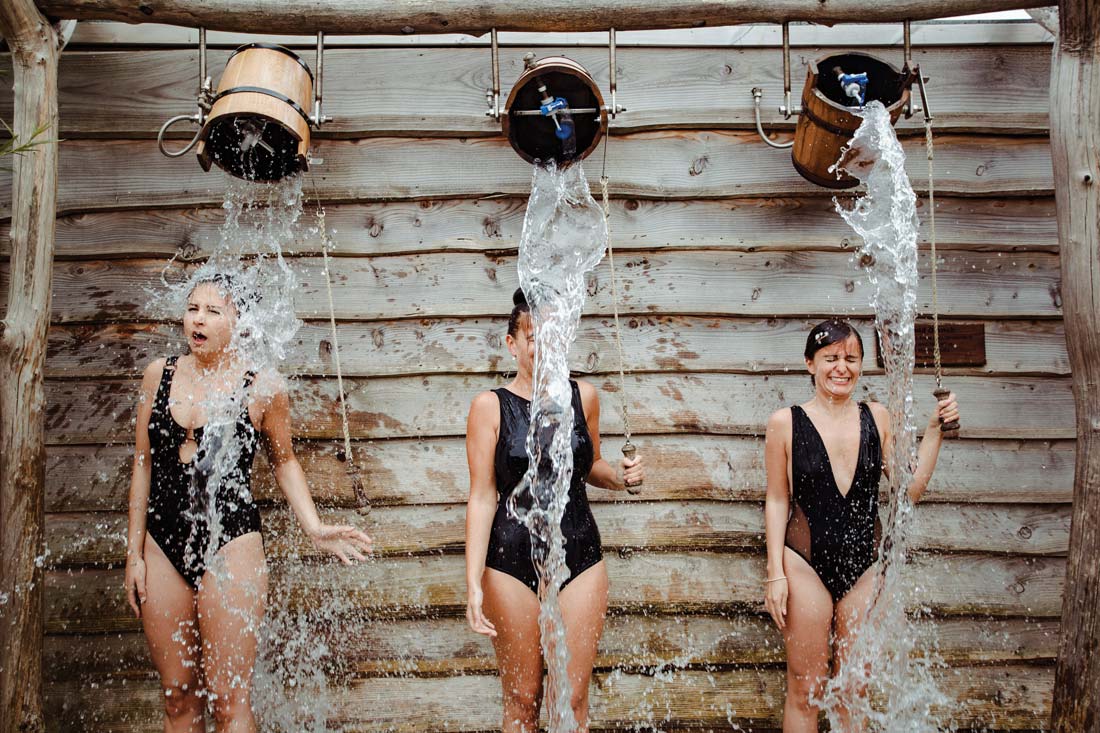 Bedruthan Hotel & Spa, Cornwall
For many, the Christmas break is an opportunity to relax and unwind after a hectic year of work. If you're looking to fully unfurl from 12 months hunched over a desk, then spending four days at a Nordic‑inspired spa by the coast is possibly the best way to do it.
It's said that a bracing beach walk is the best way to blow away the cobwebs, but we'd argue that spending an afternoon in Bedruthan's back‑to‑nature spa is even more effective. There are seven stages to its Sensory Garden Spa experience, and they range from the comfort of the sauna to the spine‑tingling thrill of being drenched in ice‑cold water. Plunging between hot and cold while surrounded by fragrant herbs and rejuvenating sea air is guaranteed to revive the senses.
The Grown‑Up Christmas Break (available as a three‑ or four‑night stay) includes full use of the other spa facilities as well as the Sensory Garden Spa experience. Festive guests will be well fed too: the package includes a three‑course wine‑matched dinner on Christmas Eve, the full works on Christmas Day (including a clementine‑fizz breakfast) and a three‑course farewell supper on Boxing Day.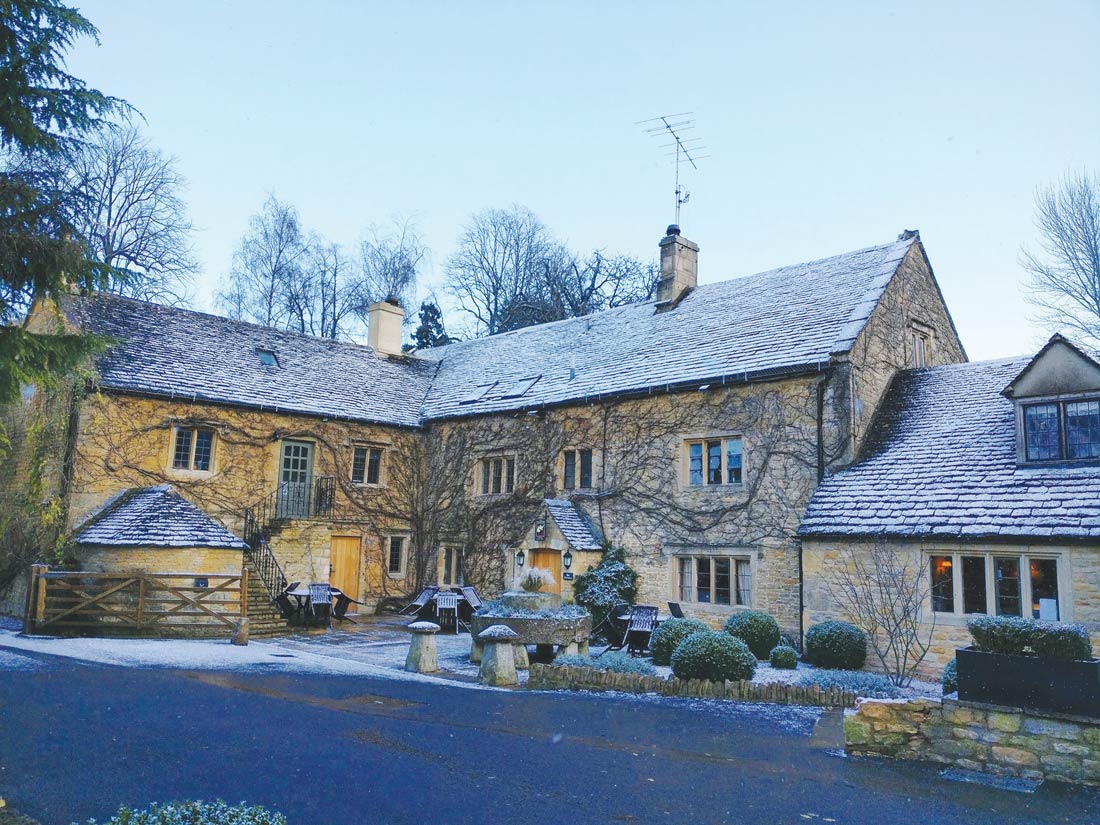 The Slaughters Country Inn, Gloucestershire
Crackling logs in the fireplace, blackened‑beam ceilings and cosy leather armchairs: Christmas at this Cotswolds inn is the stuff of festive fairy tales. So, if you're craving the traditional Christmas experience – but without the in‑laws, washing up or pressure to entertain – let the team at The Slaughters Country Inn take the reins.
The three‑night retreat kicks off on Christmas Eve when guests will be welcomed with warm mince pies and steaming mugs of mulled wine by the fire before a glam three‑course dinner with live music. Lunch the following day is an elevated affair, with a Prosecco reception followed by five fabulous courses crafted from local seasonal ingredients. Boxing Day is celebrated with another three‑course feast.
Guests will find some of the Cotswolds' best walks on their doorstep, so afternoons can be spent wandering through the countryside, making room for the next decadent dining experience.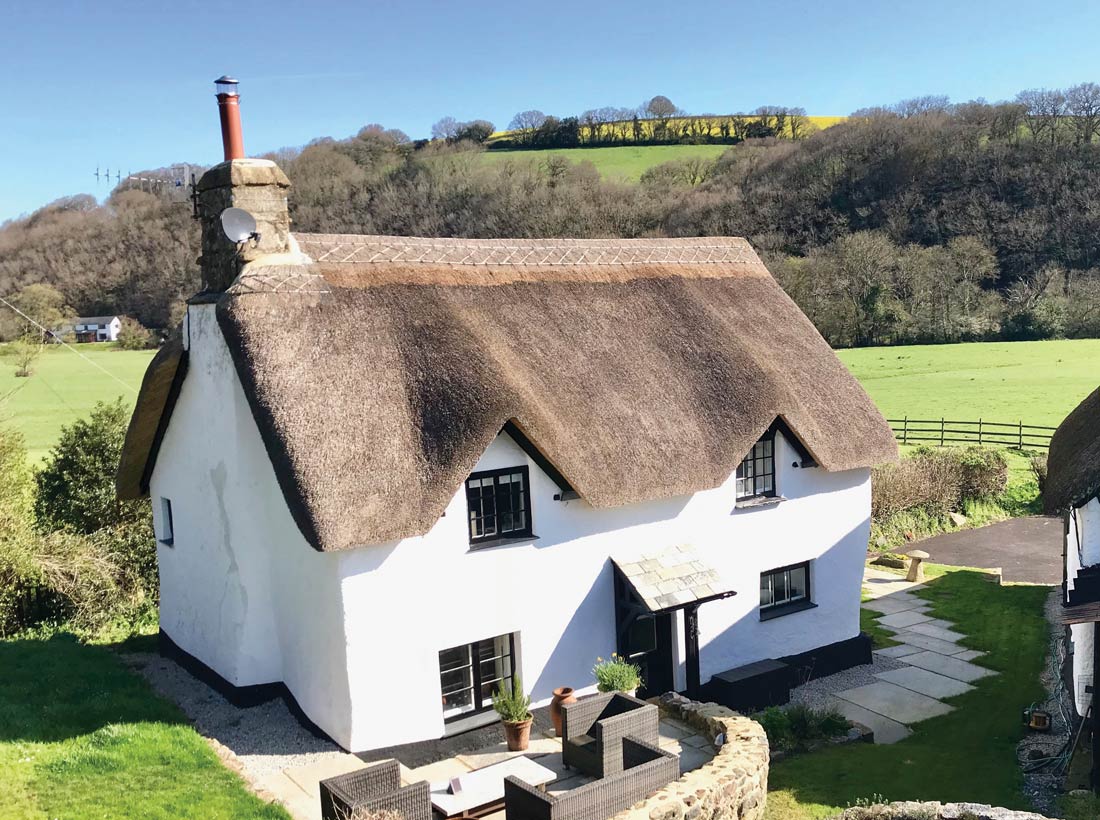 Swanaford Estate, Devon
If you usually spend more time selecting the Christmas Day wine pairings than the food you'll be eating, you'll love the idea of spending the festive break on a vineyard. Swanaford Estate near Dartmoor has three beautifully restored cottages hidden within its 50‑acre site, and those staying in Barnfield Cottage (available this Christmas) will enjoy views over the vines.
The 17th‑century thatched cottage has two lovely country‑style bedrooms and a spacious kitchen in which to cook Christmas lunch, should you wish. Whether you stick with turkey or ditch tradition, a bottle of Swanaford's Classic Cuvée is the only way to kick off the celebrations.
Like 5 of the best alt Christmas breaks? Explore more festive breaks in the South West here.