Mark Banham, co‑founder of Morrish & Banham wine merchant in Dorset, shares his top drops for Christmas dinner wine pairings
Dorset Crémant, Bride Valley Vineyard, £28.99
Living in the Bride Valley, there's only one choice of festive fizz in the Banham household. Our neighbours at Bride Valley Vineyard produce many great wines, but their Dorset Crémant is particularly good.
A blend of Chardonnay, Pinot Meunier and Pinot Noir grapes, it's bottled at a lower pressure than most sparkling wines so glides across the palate. A perfect Christmas aperitif and wonderful with seasonal canapés.
Buy it here.
Bacchus Dry, Furleigh Estate, £19.99
The fishy first course – usually a melange of crab, prawns, smoked salmon and smoked mackerel, served with homemade mayonnaise – is one of my favourite parts of the day.
Seafood starters need a white wine that packs a punch, and this Bacchus from Furleigh Estate near Bridport fits the bill. Almost an English Sauvignon Blanc, it has lashings of ripe gooseberry and green‑pepper fruit and lots of bright citrus acidity to cut through the rich smoked fish.
Buy it here.
Josephine Chardonnay, Staete Landt, £19.99
If you're having turkey, both red and white wines work, but if you opt for white make sure to choose a full‑bodied and rounded drop like this New Zealand Chardonnay.
Its notes of ripe citrus and tropical fruit, gentle oak and rounded texture combine to create a wonderful partner for roast turkey.
Buy it here.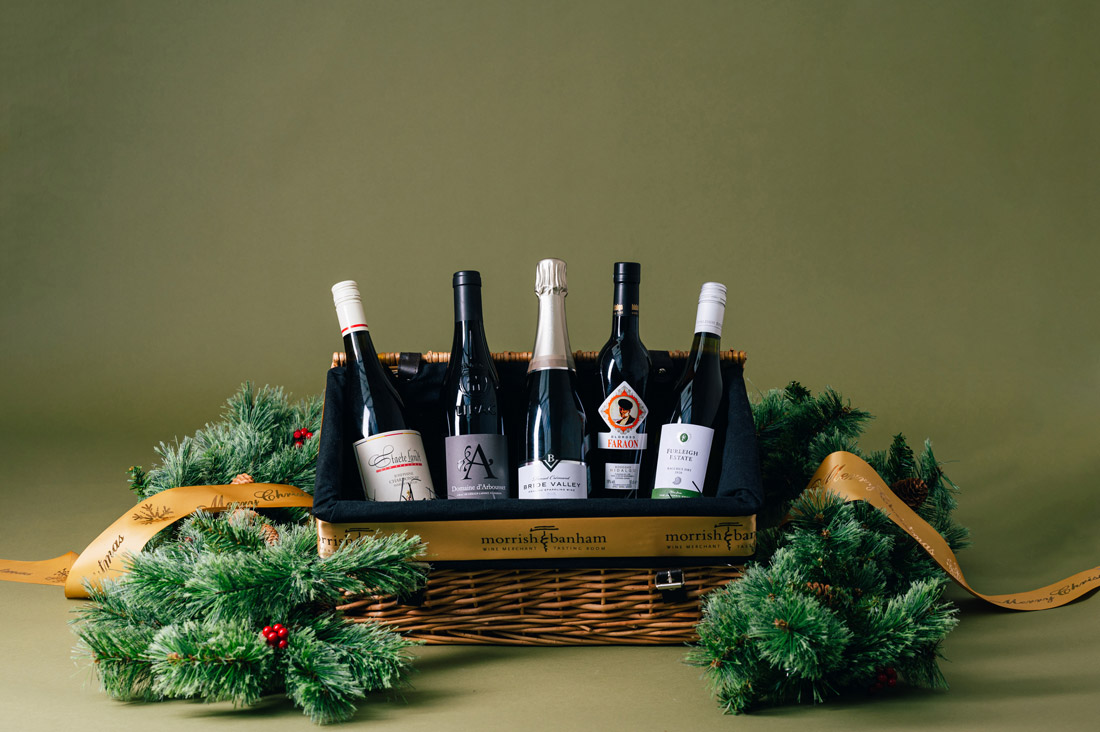 Lirac, Domaine D'arbousset, £24.99
If you're after a red pairing, look no further than Lirac from Domaine d'Arbousset. We've enjoyed this wonderful wine, in the superb 2016 vintage, for at least the past two Christmas lunches and it's absolutely delicious.
Lirac is a village in the southern Rhône, France, which produces lovely soft and spicy wines from Grenache, Mourvèdre and Syrah grapes. There are many flavours on the Christmas lunch table so this wine, with dense, soft, succulent red‑fruit notes, is an ideal pairing.
Buy it here.
Pedro Ximenez Triana, Bodegas Hidalgo, £16.99
One of the great pleasures of Christmas is a glass of Pedro Ximenez (or PX, as it's known) with pudding. A sweet grape variety grown in Jerez, Spain, good PX should be rich, full of wonderful sticky toffee and raisin flavours, and have a degree of freshness on the finish.
Triana is made by the Hidalgo family and offers sensational value for pleasure. If there is any left after lunch, a glass with a slice of Christmas cake and a chunk of sharp cheddar is the ultimate Boxing Day treat.
Buy it here.
All of these wines are available at the Morrish & Banham shops in Dorchester and Bridport, and via its online shop.