With so much to organise for the big day, it's tempting to take the easy option and pick up a supermarket centrepiece. However, for unrivalled flavour and minimal food miles, it's worth putting in an ounce of extra effort to source an ethical Christmas turkey from one of these South West producers
Nempnett Pastures
The team at this small family‑run farm near Bristol have turned traditional British turkey farming on its head.
With a focus on creating food that enhances the environment instead of depleting it, sixth‑generation farmer George Ford raises his birds exclusively on pasture. He's even created a mobile structure on which the birds can roost at night (in the wild they'd roost in trees), and uses guard dogs to keep them safe from nocturnal predators.
The Nempnett turkeys are fed a natural cereal diet, which the birds supplement with insects foraged from the native pastures they explore each day. 'It brings me such joy to see the birds moved to fresh pasture so regularly,' says George.
'The grass growth from all the turkey manure is phenomenal and produces quality feed for our grass-fed beef herd. The pasture-raised turkeys form part of our circular farming model which naturally fertilises our land, while producing a product of exceptional quality.'
The Dorset Meat Company
The Dorset Meat Company has built a solid reputation for its ethically reared and grass‑fed meat – and it applies the same sustainable principles to its Christmas turkeys.
Founders Nick and Jane Somper source their turkeys from award‑winning producer KellyBronze. The free‑range birds are grown slowly and are allowed to roam freely on the estate, grazing on forage (as well as corn and soya) which yields naturally flavoursome meat.
Those who order their Christmas Day centrepiece from The Dorset Meat Company will receive it packaged in a KellyBronze presentation box containing a complimentary meat thermometer and cooking instructions.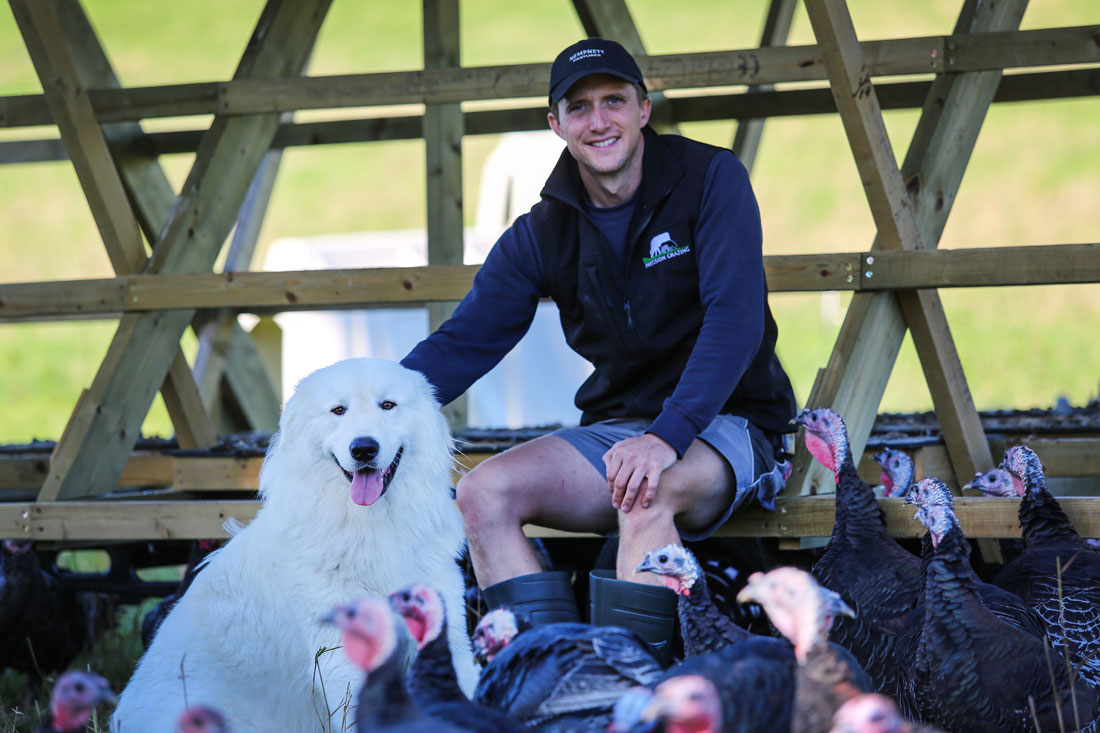 Treway Farm
Treway Farm near St Austell specialises in grass‑fed longhorn cattle, however, in the run up to Christmas, farmers Kate and Will Martin also rear Cornish turkeys and geese.
Kate and Will are passionate about regenerative farming and have trees and herbal leys in their pasture to increase diversity, which benefit their animals as well as the environment. Their Great Taste award‑winning Bronze turkeys are game hung and hand finished, and come with giblets (for homemade gravy), fresh herbs, cooking instructions and a pop‑up timer.
Wonnacott Farm
This Devon farm is one of a small handful of registered‑organic poultry breeders in the UK. The family team at Wonnacott have reared turkeys for 22 years and also reserve space on their land to grow organic cereals to feed their birds.
The flock of Norfolk Blacks live free‑range in the orchard and surrounding fields, and spend their days gobbling up acorns, nettles, windfall apples and blackberries. Wonnacott's turkey can be pre‑ordered and collected from the farm in Lewdown or from collection spots in Exeter, Okehampton and Tavistock.
Pipers Farm
Five small‑scale farms across Devon and Somerset supply online butcher Pipers Farm with its 'properly free range' Bronze turkeys. The birds get to live in environments that range from rugged moorland to a cider orchard, and thrive in their rural outdoor settings.
Pipers' turkeys (pictured top) are fed a natural diet fortified with grass, nettles, insects, fodder, beet and apples and allowed to mature slowly. They live significantly longer than many other free‑range and organic birds, which means the meat develops a rich flavour and good texture. Each turkey is dry plucked – by hand – before being hung for 12 days.
Like 5 of the best ethical Christmas turkeys? Check out our fave Christmas recipes here.
We choose the companies included in our 5 of the best features based on editorial integrity. Occasionally, some inclusions will be handpicked from clients with whom we have a commercial relationship.