Think sparkling wine is only good for raising a toast or pairing with a seafood platter? Fiona Wright of Dorset's Langham Estate gives us a fizz and food matching masterclass
There are so many exciting sparkling wine producers in the UK that if you just saved it for toasting special occasions you'd never be able to try them all. The unique climate means English fizz often has a zingy acidity which is ideal for food matching – plus, when paired properly, food can add another dimension to the wine. At Langham we specifically bottle our sparkling wines at a slightly lower pressure so the fizz doesn't overpower the palate.
Pairing pointers
The simplest advice you can follow is 'what grows together, goes together'. Just as Mediterranean food pairs well with wines from the region, produce grown in our maritime climate is likely to complement British wine.
When pairing any wine with a dish, think about matching the weight of the food with the weight of the wine. This doesn't mean the literal weight; instead consider the richness of the food – think pairing a Cabernet Sauvignon with a juicy steak or a dry rosé with a summery pasta dish.
Sparkling wines can have wildly different flavour profiles (see below) so take into account the style of the wine, which grapes are used and where it was made before you choose a dish.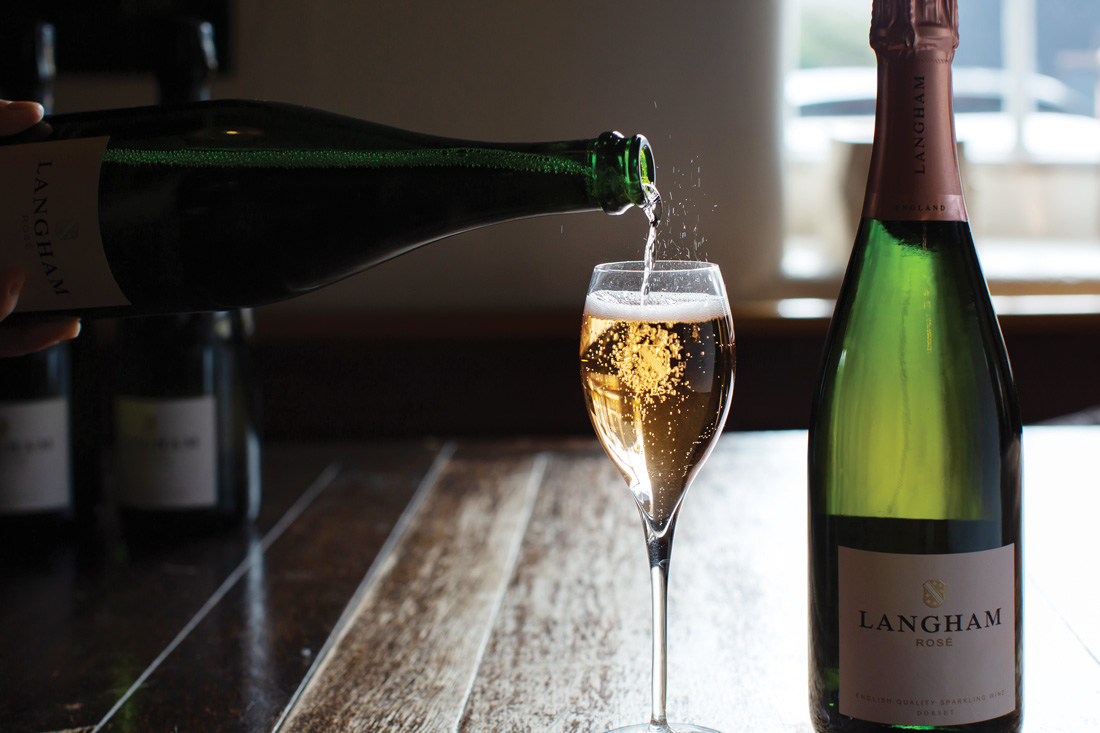 Think flavour
The unique terroir will influence the intricate flavours of each wine, but here's a rough guide to tasting notes using a few favourites from the Langham Estate range as examples:
Blanc de Blancs – Green apple, cut grass, lemon drizzle
Culver Classic Cuvée – Red apple, plum, strawberry yogurt
Rosé – Rhubarb crumble, cherry, cranberry, raspberry compote
Pinot Meunier – Apricot, nectarine, orange blossom
It's a match
Blanc de Blancs and seafood
Blanc de Blancs often have a lovely citrus element so, at the Langham Vineyard Café, we love to pair it with our delicious seafood chowder which is made with a generous glug of our Chardonnay (try the recipe for yourself here).
Cuvée and pizza
A Pinot-dominant Cuvée like our Culver has a slightly fuller body than a Chardonnay-dominant version, and its rounder mouthfeel makes it easier to pair with slightly richer foods. Try it with smoked cheeses or cured meats. At the Vineyard Café, chef Mel likes to serve it with wood-fi red pizza topped with air-dried Dorset ham, mushroom and Dorset ricotta.
Rosé and afternoon tea
Our sparkling rosé has a nice amount of fruit so it can take you through every tier of a sumptuous afternoon tea, from sandwiches to scones with cream and jam (check out our classic South West scone recipe here).