There's an abundance of free, seasonal and organic wild food to be foraged in the South West – you just need to know where to find it. We asked a few of the region's top chefs to tip us the wink on their favourite foraged ingredients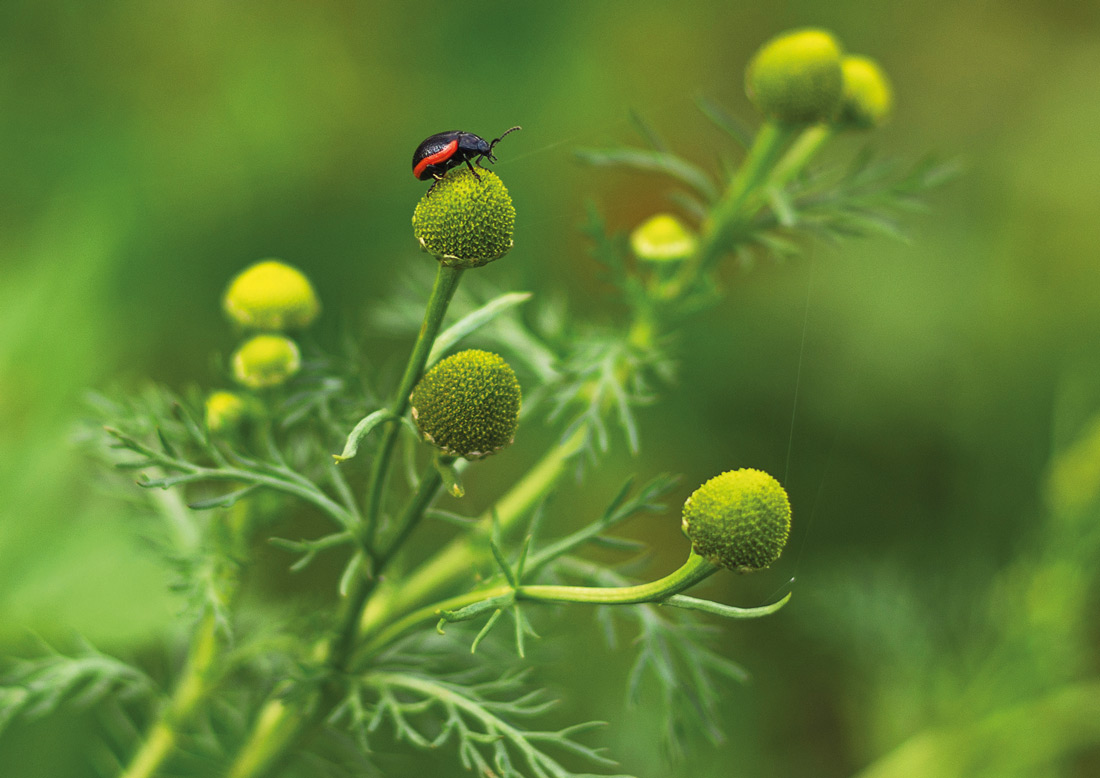 Pineapple weed – Harriet Mansell, Robin Wylde
I really enjoy using the flavours of flowers in the restaurant, and pineapple weed is one I love to forage for in spring and summer. It's a relative of chamomile and has a delicate flavour with a tropical pineapple scent.
Where to find it
It grows at low level in fields, often by walkways. You're likely to find it close to farms but it's easy to spot in most grassy, countryside settings.
What to look for
Pineapple weed is really easy to identify, and you can't really confuse it with anything else. It has a hardy-looking stem, feathery leaves and little yellow-green buds. The head of the flower is what you want to pick as this is where the bright, exotic flavours are contained.
Fave way to serve it at the restaurant
We often turn it into a syrup which we use to create the pineapple weed and mint kombucha that features on our soft-drinks pairing. We also use it in a spritzy vinaigrette, which pairs well with delicate white fish and seafood such as crab.
We recently ran a whole menu based on flowers and it was a great way to explore their different unique and delicate flavours. One of our favourite dishes was a chamomile pannacotta with a rose ice cream and lavender sorbet – you could do something similar with pineapple weed.
Tip for home cooks
As well as making a syrup or cordial, a great way to preserve the flavour is to dehydrate it at a very low temperature and then steep it as a tea. Once you've experienced its unique flavour, you'll be able to come up with new ways to use it, such as in marinades and vinaigrettes.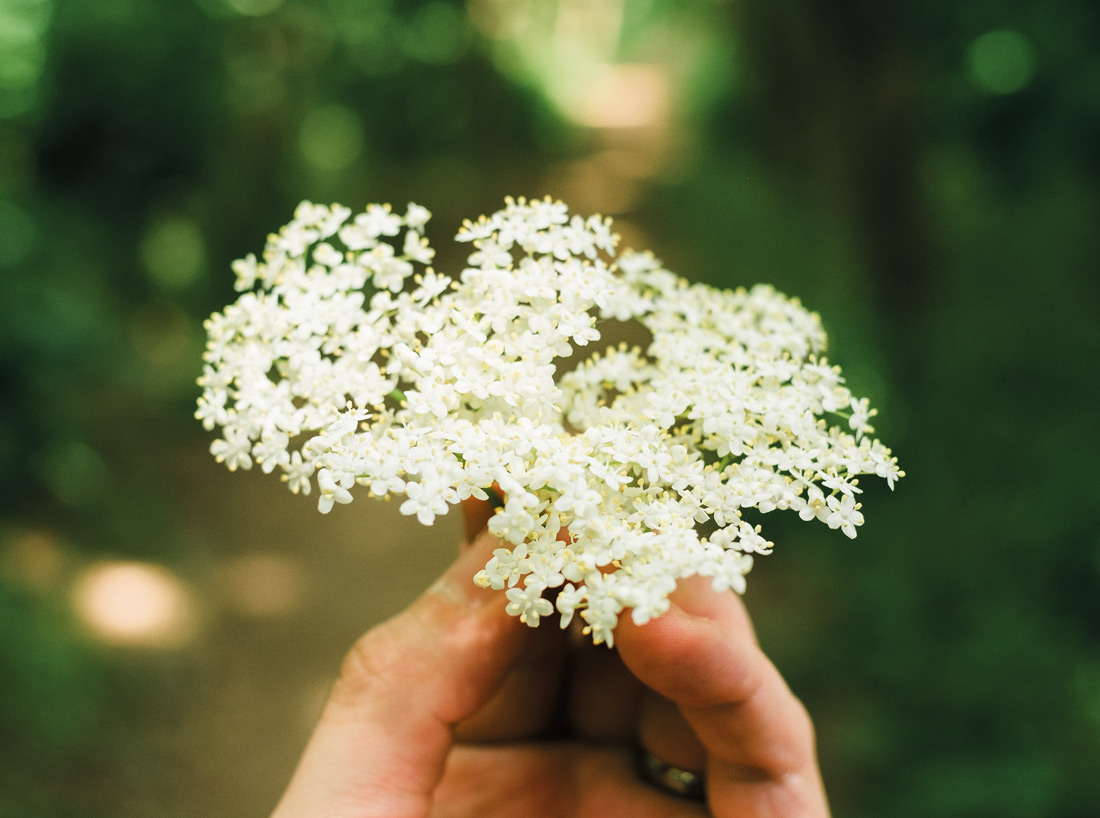 Elderflower – Merlin Labron-Johnson, Osip
Elderfl ower is one of the best summertime plants to forage as there are so many ways to use it. For me, it's synonymous with a beautiful English summer's day.
Where to find it
You'll find it in hedgerows from May until July. I search alongside fields and meadows and avoid picking flowers beside busy, polluted roads. Elderflower is simple to spot and easily harvested with secateurs or scissors.
What to look for
Look for sprays of dainty white flowers with a creamy, sweet scent. The leaves of the elder bush are slightly serrated. Always pick on a cloudy day as there are tiny beetles that love the blooms and cover them – they come out in abundance when the sun is shining.
Fave way to serve it at the restaurant
We make elderflower cordial and syrup to last throughout the year, which we use in cocktails and sodas. We also like to use the individual flowers as a herby garnish. They give a delicate floral flavour and look lovely.
Tips for home cooks
The flowers are easily made into a delicious cordial with the addition of sugar and lemon. You can also experiment by flavouring vinegar with the flowers to use in dressings and sauces.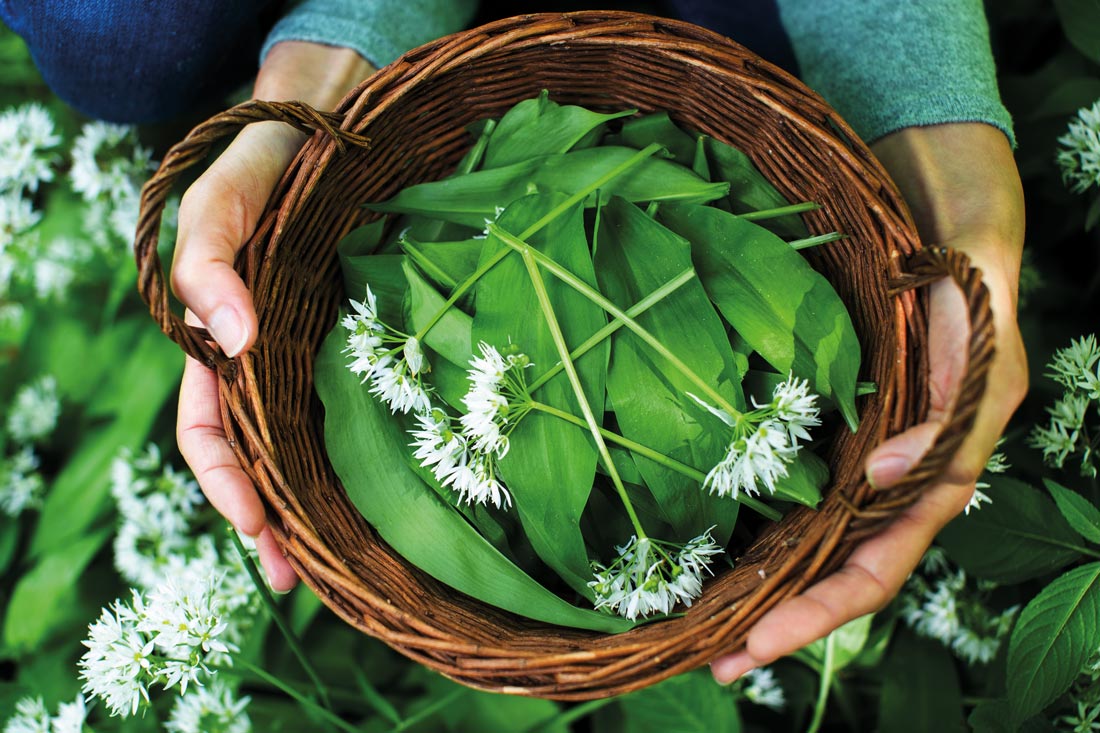 The flavour of wild garlic (or ramson, as it's also known) may be very strong, but it's also incredible. Once cooked, it can hugely improve the flavour of a wide range of dishes.
Where to find it
It grows abundantly in ancient woodland, so at Trelowarren we have rather a lot of it when it comes into season in March. It likes a bit of cover, so look around the bases of trees or along walls.
What to look for
It's a relatively easy spot, but there are other plants that grow around it that look similar. Take your time to identify the correct plant (you'll probably smell its pungent garlic scent before you see it) and then pick leaves away from the path. When in flower, their small white blooms can be picked and the seeds used in place of capers in a variety of dishes.
Always have respect for the plants when foraging: if you carelessly rip clumps from the ground they won't grow back next year. Cut them at the stem, don't pull them up by the roots.
Fave way to serve it at the restaurant
We use it in a variety of dishes at New Yard: pesto, soups, sauces and purees. We even wrap fish in the leaves before steaming. We also dry it into a powder and lacto-ferment it so we can use it in dishes throughout the year.
Tips for home cooks
Blitz wild garlic (200g) into a pesto with cheddar cheese (80g), any type of nut (50g) and rapeseed oil (150ml). It's delicious tossed through pasta and finished with chopped cherry tomatoes.
Explore more wild garlic recipes here.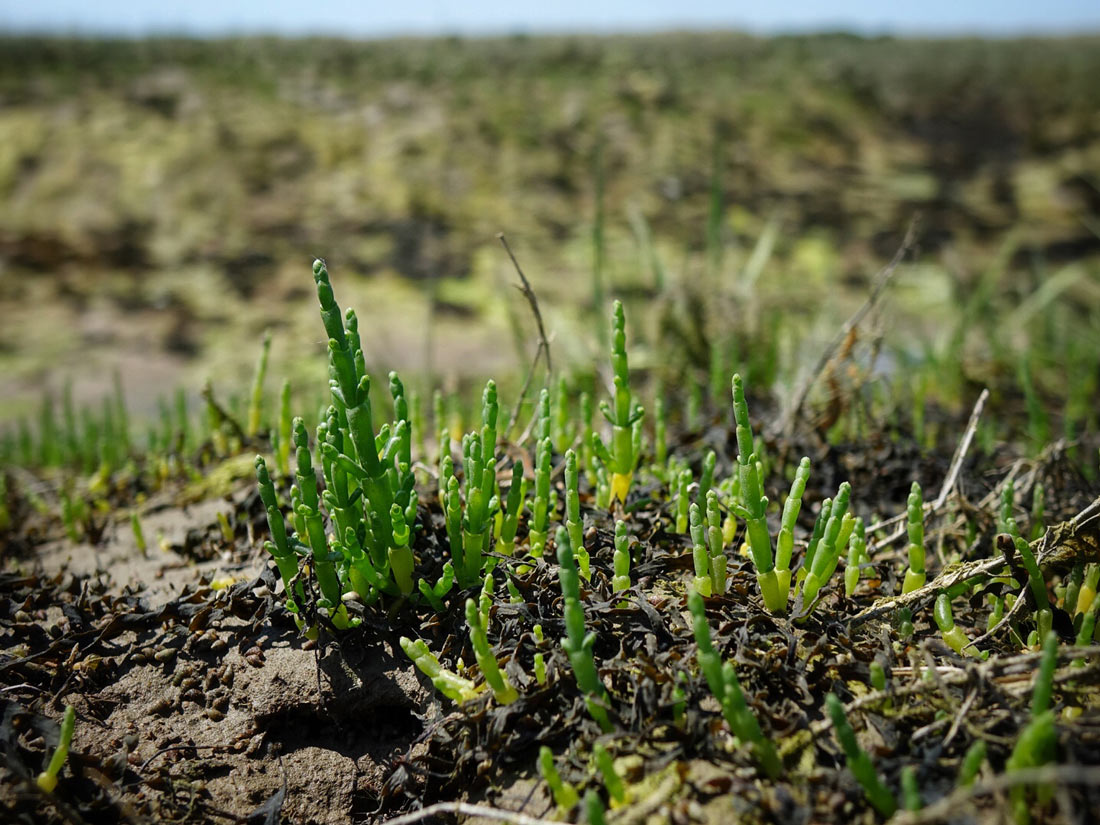 Marsh samphire – Hannah Thomas, Herbs & Wild
Marsh samphire is one of my favourite ingredients to forage. A succulent, salty, nutritionally dense sea vegetable, it's delicious in a range of dishes – but is especially good with fish.
Where to find it
From May until September, you'll find marsh samphire in marshy coastal areas such as estuaries and mudflats.
What to look for
Marsh samphire looks a little like mini asparagus spears. It grows out of the ground in individual spears, each of which is made up of multiple sections.
Pack scissors or a little knife for harvesting. Its roots sit in sand; snip the spears so the plant can regrow after the stem has been picked. Give it a thorough wash in cold fresh water before cooking.
Fave way to cook it at the restaurant
There are so many ways you can use marsh samphire, but serving it with fish and seafood is my go-to. Sometimes I add it to a pot of creamy mussels or saute it with a little butter to accompany freshly caught sea bass.
Tips for home cooks
Try it in a veggie spaghetti dish with peas, anchovies, garlic and lemon. Stir it in at the last minute so it retains its signature bite.
Give Hannah's samphire spaghetti recipe a whirl here.