Blow supper guests away with a juicy slab of hot smoked salmon or trout. Jo Rees stepped outside for a smoke with John Nickell of Devon's Blakewell Fishery and Smokehouse
'I first got into doing this when I lived in Denmark,' says John. 'It's really common to hot smoke a side of fish and sit around a fire with friends as you share beers, bread and just-cooked fish.'
It's something the trout farmer does regularly during the summer in the leafy grounds of the north Devon fishery and smokehouse he runs with his brother Richard. 'I cooked a side of salmon just the other day,' says John. 'At first it was just me and my daughter Freya sitting out there tucking in to the fi sh. Then Richard came over, followed a little while later by his wife Katie who had smelled the aroma of oak and salmon and wandered out – glass of wine in hand – to join us. We ended up sitting by the fire for hours; it's a very social way of eating.'
The brothers and their families live in the grounds of the fishery, where beautiful large ponds are surrounded by the lush foliage of pre-historic-looking gunnera plants and swathes of lilies which line the water's edge. 'In summer it's like Shangri-La,' says John.
For a business so rooted in nature it's little surprise that sustainability is at the core of the Blakewell story. Trout in healthy numbers per pond are slow-grown to maturity in a leafy environment that's fed by water from Exmoor. Salmon is sourced from the west coast of the Scottish Highlands, which John describes as the best place in the world to find high-quality, sustainably farmed specimens of the fish.
The brothers rear their trout for local restaurants, while also hot- and cold-smoking trout and salmon for delis and specialist food shops (it's also available online for consumers). The ponds are a favourite with those who visit to fly fish in the verdant paradise, too.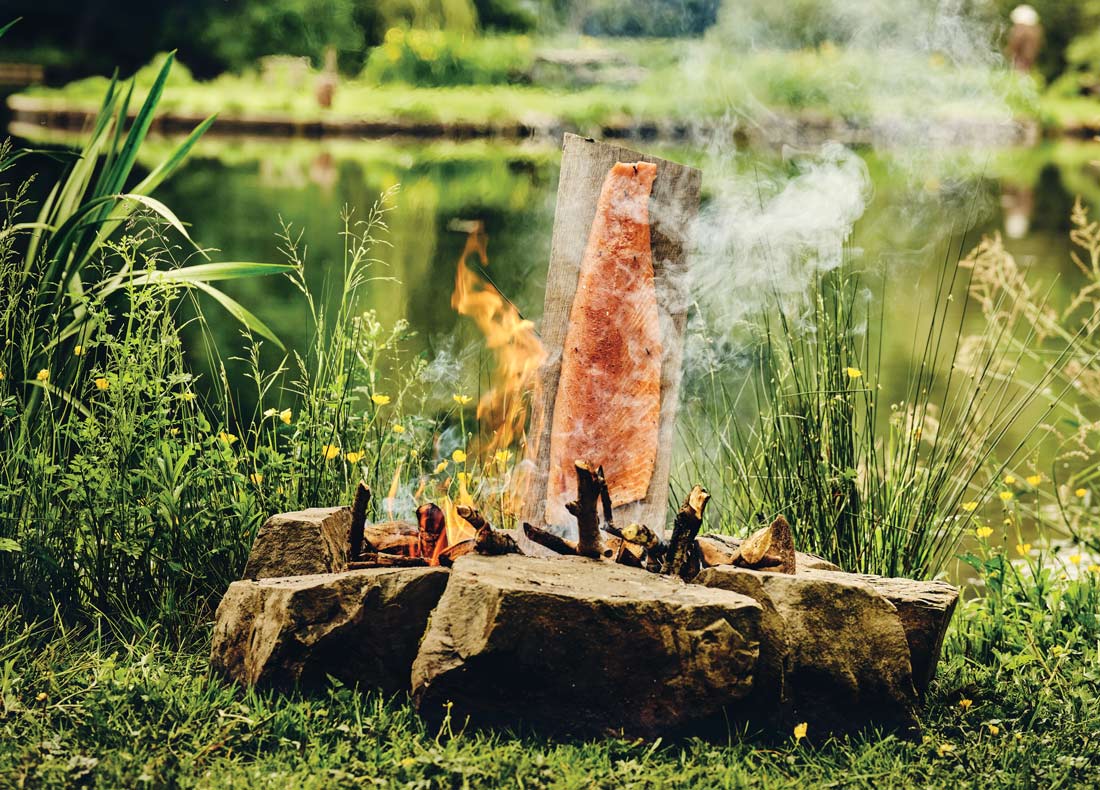 How to hot smoke salmon (or trout) in your garden
Find a plank of wood. John recommends cedar or oak for flavour. Soak it in water so it doesn't burn in the fire.
Build a small fire: this could be in a ring of stones, in a fire pit or even on the beach (permissions permitting).
Rub the fish with a little dry rub made from salt, smoked paprika, garlic powder and a touch of chilli. You can let your creativity fly here and play with flavours. Crushed fennel seeds and salt work well, too.
Nail the fish to the plank: three nails in a triangle in the top third is enough for a large side of trout. Salmon tend to be larger and heavier so add a couple more nails below.
Place the plank upright next to the fire so the flames and smoke nearly lick the fish but don't burn the plank. Let the fish hot smoke for around half an hour or until it's cooked in the thickest part.
Trout will benefit from a light brushing with melted butter (salmon is more fatty so won't need this) before serving.
Like our how to hot smoke salmon guide? Read our Tried & Tested review of Blakewell's Superior Devon Smoked Salmon here.