Rosanna Rothery and the rest of the Food team discover that fermented foods can be surprisingly easy to prepare at home
What is it?
A practical masterclass run by Tracey Benton of I Am Cultured. The north Devon company makes small batches of raw, unpasteurised fermented vegetables (krauts and kimchis) brimming with beneficial bacteria.
Why?
In our sanitary lives where best‑before dates and refrigeration reign supreme, the gassy and spontaneous process of fermentation can feel pretty alien. The idea that ingredients crawling with microorganisms can be transformed into delicious preserved food seems a tad intimidating, if not darn right worrying.
Tracey's workshop, however, will boost your confidence to fully embrace the funk and will soon have you experimenting with all kinds of off beat flavours. As Tracey reveals the fermentation process and explains the science behind it, you'll discover that the journey from raw veg to preserved product is a fascinating one – and not to be feared.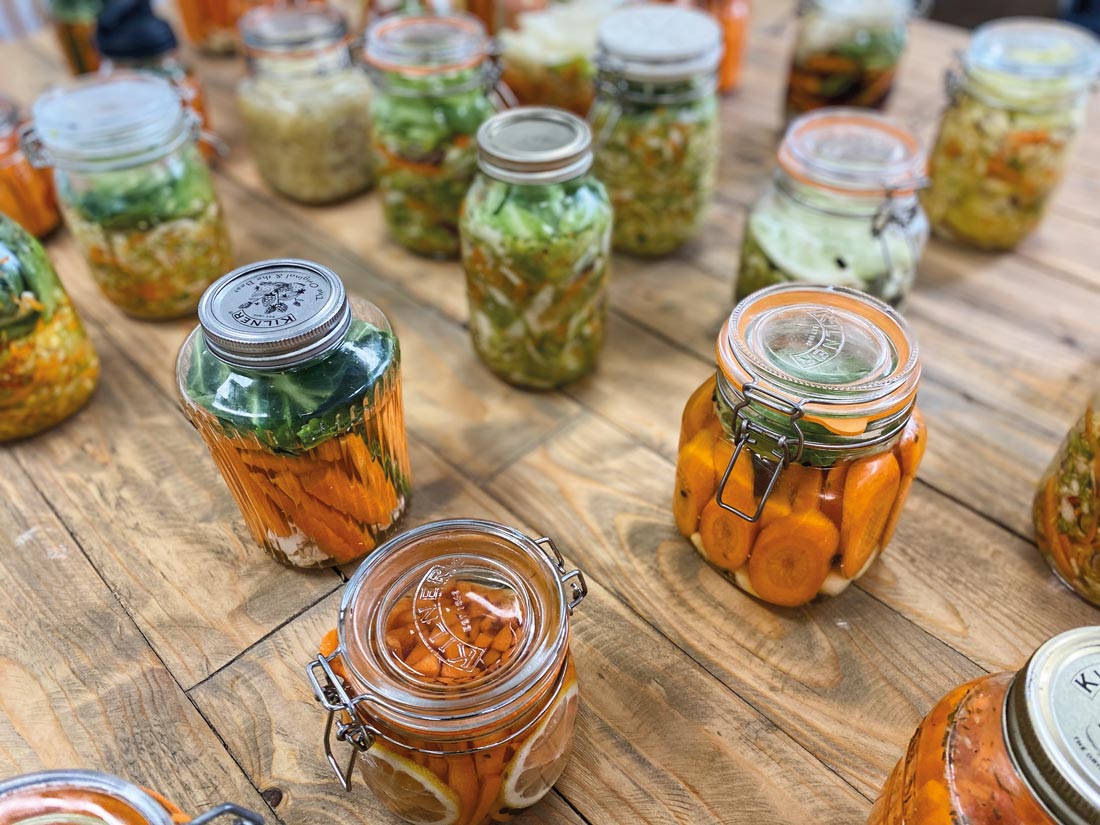 The low-down
Tracey arrived at Food HQ armed with two principal ingredients: cabbage and salt. This brief ingredient list, she explained, is the bedrock of the classic European ferment sauerkraut. All that was required of the would‑be krautmakers was to perfect a decent massage technique.
The Food team duly rolled up their sleeves and got wrist deep in squelchy, briny brassica in the hope of transforming it into a flavoursome condiment.
The science is simple: massaging the cabbage draws out its juices to create a salty brine, which provides the perfect environment for the beneficial bacteria (found naturally on the surface of the cabbage) to thrive. The addition of salt helps to keep pathogens at bay. The microbes then consume the carbohydrates in the veggies to create lactic acid, giving the ferment its distinctive sour tang.
Tracey also brought an array of supplementary ingredients (including dried herbs and raw ginger, onion, garlic, lemons, apples and carrots) so we could pimp our cabbage mixtures.
Any lingering fear of the ferment gave way to unbridled creativity once we learnt that virtually any vegetable, fruit or spice can be harnessed for this ancient preservation process. Like an amateur art group presented with a new paint palette, we became fully experimental and flavours were mixed to create classic combos as well as funky new fusions.
After we'd compiled our personalised krauts, it was time for home‑care instructions. The key is to keep your jar of ferment in plain sight and burp it every day (unscrew the lid to allow carbon dioxide to escape) and remember the mantra 'below the brine, all is fine' (use a cabbage leaf or weights to keep everything under the brine so oxygen and bad bacteria are kept at bay).
We all became suitably fixated on our ferments especially when, a few weeks later, our respective sludgy, saltwater‑steeped cabbage had turned into crunchy flavoursome sauerkraut. It was then popped in the fridge – although the longer it's left on the counter, the sharper the tang.
Cost
£45 per person.
Recommend to a friends?
Absolutely. Tracey leads a fun, fascinating and non‑intimidating workshop for those who find the idea of inviting bacteria into their kitchen a little worrying. If you can't get to one of Tracey's sessions, check out her gut‑friendly range of fabulous ferments such as Curtido (an El Salvadoran kraut made from savoy cabbage, carrots, white onions, fresh chilli and herbs) and Kimchi with Wild Garlic Capers (a Devon take on a traditional Korean ferment). Find them on the I Am Cultured website, as well as at a handful of farm shops and markets across north Devon.