Looking to elevate the classic seaside supper? Check out these finds where you can tuck into posh fish and chips in Cornwall – using proper cutlery and away from the audacious divebombing of hungry seagulls
Stein's Fish & Chips, Padstow
The OG of posh fish and chips in Cornwall, Rick Stein's restaurant and takeaway overlooking the Camel Estuary is a perennially popular spot in Padstow. The tempting menu features a wide range of locally sourced fish, from cod and haddock to hake, monkfish, john dory and bass, which are all served battered (gluten-free is available) or grilled and accompanied by chunky hand-cut chips and lip-smacking sauces and sides.
You can even order oysters to shuck and slurp before the main event. Drinks expert Charlie Stein recommends a glass of Rick's Spanish white as a fresh and fragrant pairing.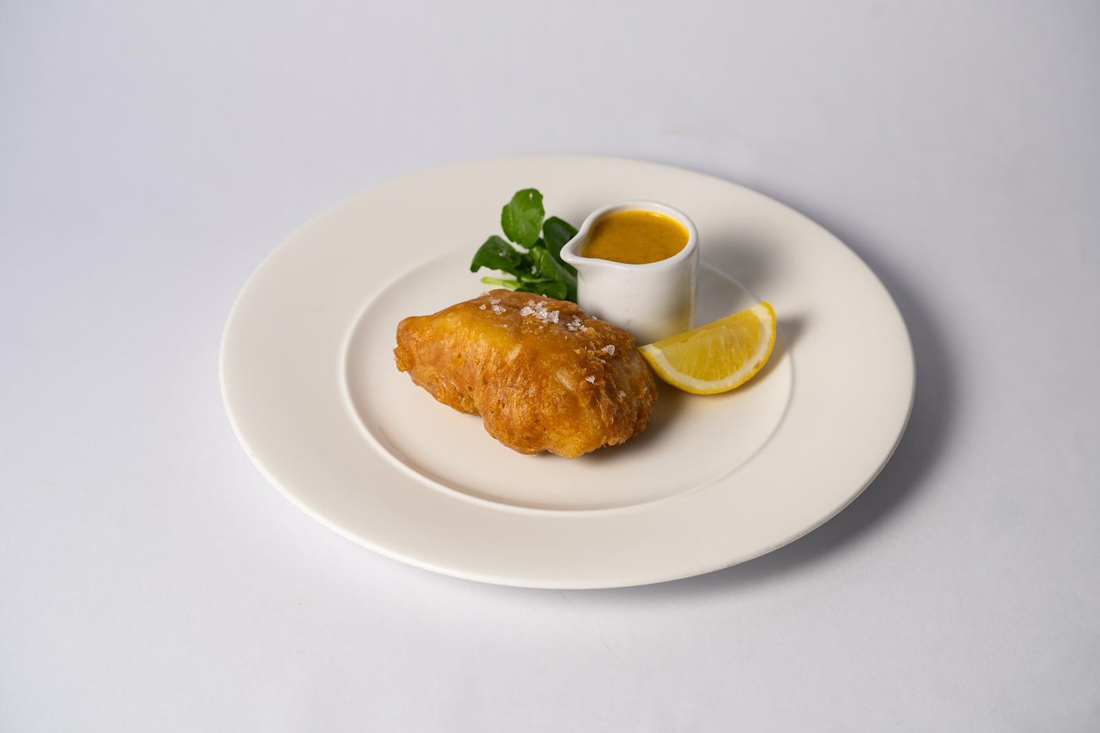 Potters, Bude
The USP of this relaxed seafood restaurant is simple cooking, which is elevated to its full potential and served with the kind of casual-dining vibe you'd expect in a surfing mecca like Bude.
The pared-back menu is crafted from the freshest local produce, including Cornish fish and potatoes. For the ultimate indulgence, swap the hand-cut triple-cooked chips served with the battered Cornish hake for truffle and parmesan fries. A cold pint of Sharp's Offshore is the perfect pairing and, if you've room for dessert, revisit childhood with a battered Mars or Snickers bar.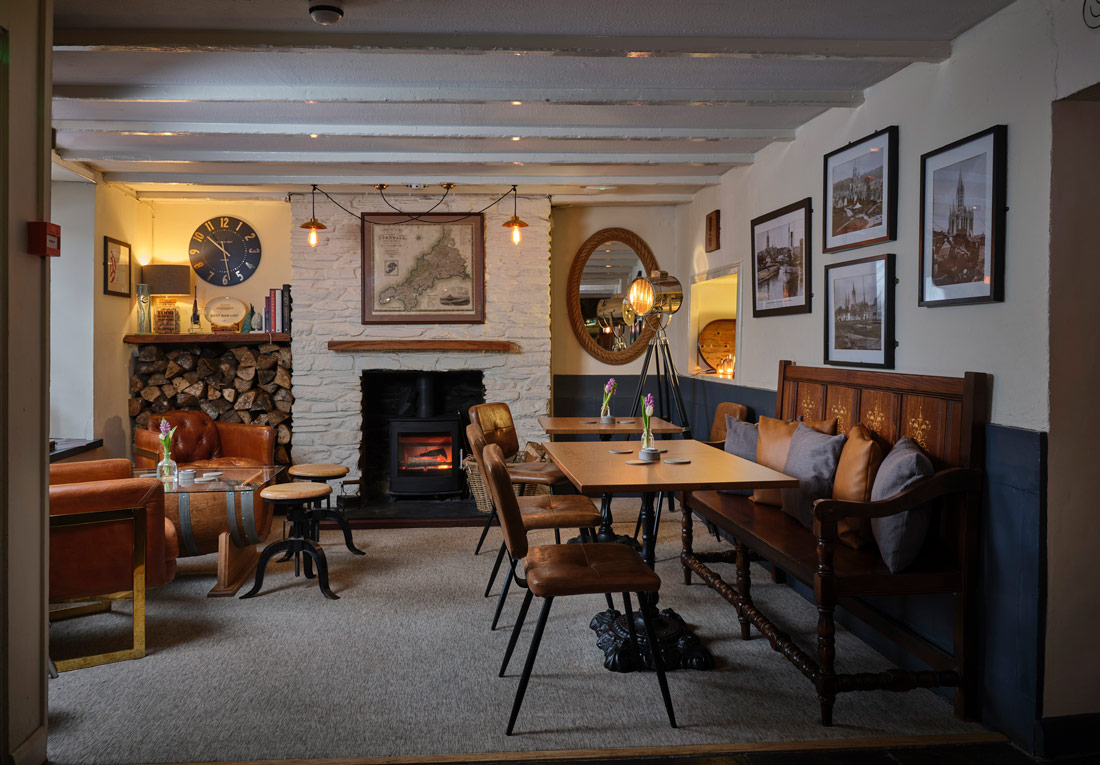 The Rising Sun, Truro
This popular dining pub on Mitchell Hill serves fish and chips on its lunchtime bar menu and as a superior Friday-evening takeaway. Owners Tom and Katie Hannon pride themselves on using sustainably sourced ingredients from local producers – and the fish and chips are no exception.
Fish is supplied by the team at Flying Fish Seafoods in St Columb, who source direct from Cornish dayboats. Chips are hand-cut on-site and sides of crushed peas and tartare sauce made in-house. Choose Champagne for a classic wine pairing or try the stunning Albariño from northwest Spain which is a lovely match thanks to its citrus acidity and touch of salinity.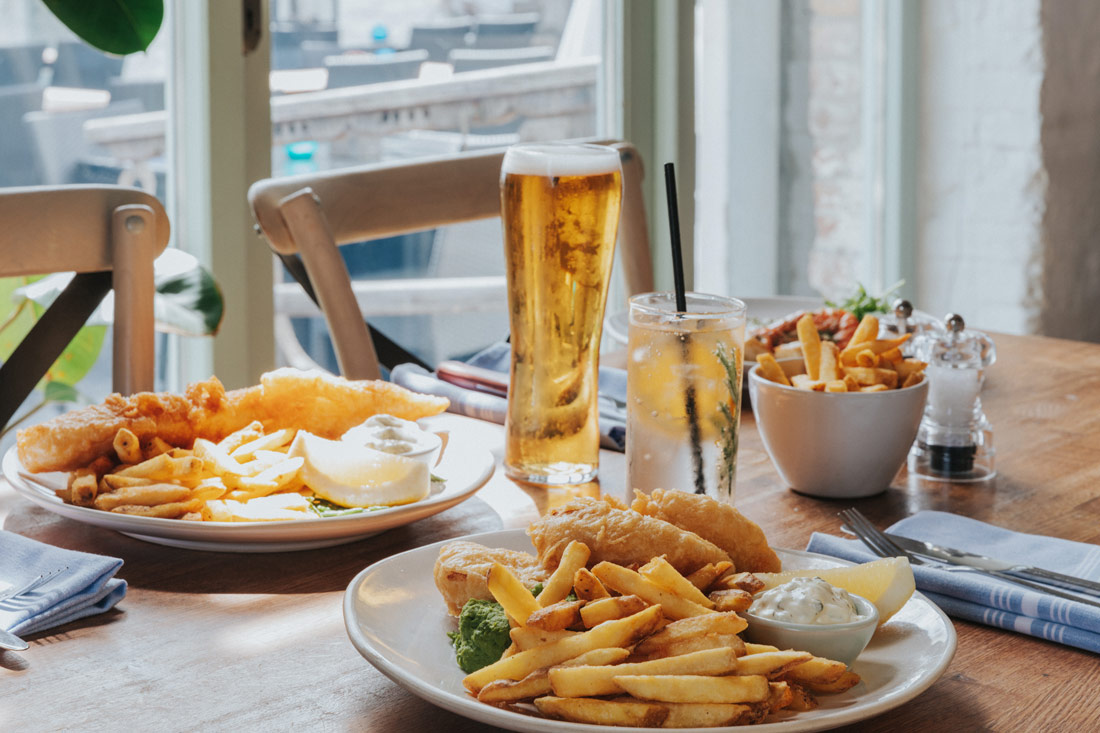 Springtide, Charlestown
Part of the Longstore stable of contemporary Cornish restaurants, Springtide overlooks Charlestown's picturesque harbour (made famous by BBC drama Poldark) and is a fabulous spot in which to indulge in proper fish and chips with views of the coast.
Fresh fish is sourced from Matthew Stevens – try classic Cornish hake in Doom-Bar batter, or floured and fried whole lemon sole served with chips, mushy peas and homemade tartare sauce. For a delicious ocean-inspired side order, plump for the seaweed-salt onion rings with garlic aioli. The lively, tropical and zingy citrus flavours of its Douro white wine are delightfully summery and pair beautifully with the light flaky fish – or splash out on a bottle of the Bolney Estate English fizz.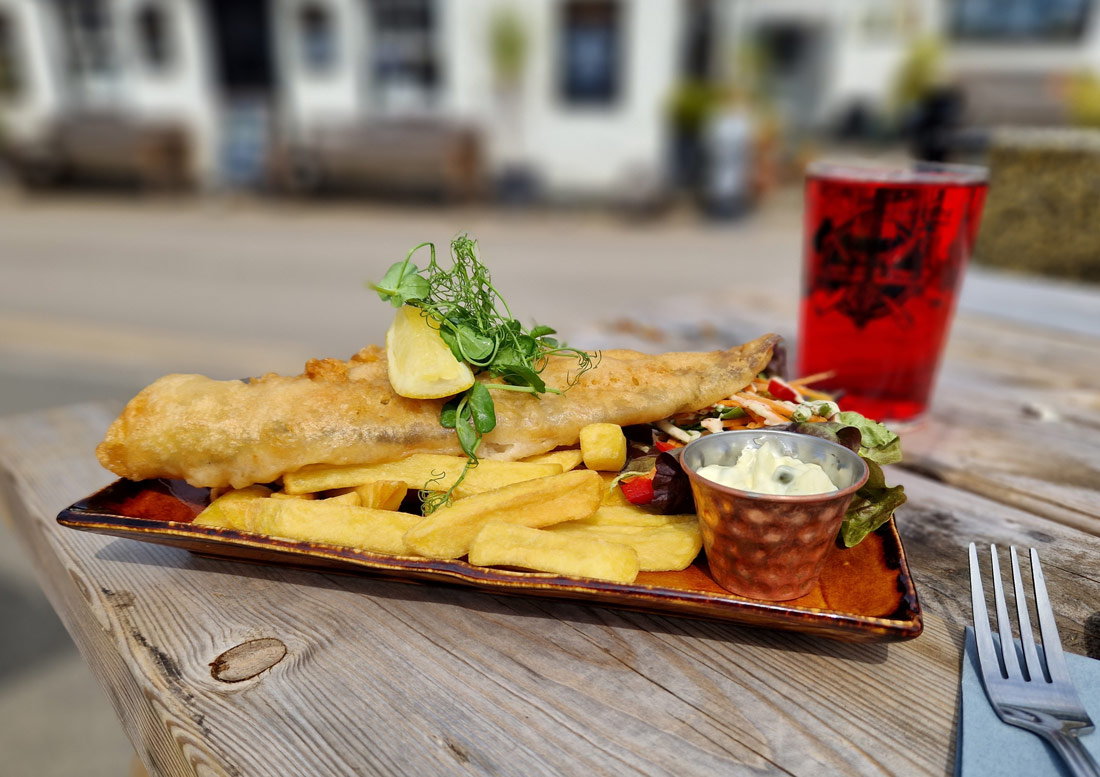 Old Albion Inn, Crantock
Once a prosperous sea port, today Crantock is a picturesque village with knockout Atlantic views. Over 400 years old, Old Albion is named after a schooner built down the road in a shipyard on the tidal River Gannel. The inn is packed with character: a stone fireplace in the lounge hides an entrance to the smuggler's hole which passes under the village.
Fish is beautifully fresh, bought through Matthew Stevens and in the pub's kitchen within 24 hours of being landed. Pair your fish supper with your pick of Albion's range of Cornish real ales. The Old Albion batter contains beer plus a secret ingredient – we challenge you to work out what it is.
Like 5 of the best posh fish and chip shops in Cornwall? Check out our roundup of seafood restaurants in Cornwall.
We choose the companies included in our 5 of the best features based on editorial integrity. Occasionally, some inclusions will be handpicked from clients with whom we have a commercial relationship.