Sharing‑style feasts are popping up in all kinds of cool places, from a Victorian walled garden to a converted cowshed. Rosanna Rothery discovers some magical settings where you can join the social dining set
The Ethicurean, Somerset
Multiple courses, music and storytelling combine in the ceremonial feasts at The Ethicurean, an idyllic Victorian walled garden in Somerset. It's a suitably bucolic setting when you're celebrating the rich folklore of the British Isles with seasonal events such as mid‑winter wassail, St George's Day, the summer solstice and Apple Day.
Feasts centre around the bounty of the garden, plus produce from the surrounding countryside, fashioned into dishes such as sourdough with house ferment and whipped ewe's curd, and ember‑baked crown prince squash with toasted pumpkin seeds and salt‑pickled damson tapenade.
Fruity harvests from trees and bushes are crafted into desserts such as apple, blackcurrant and spruce‑needle pudding and post‑dinner delights like sweetcorn fudge, and blackberry and meadowsweet pastilles.
'There's a palpable excitement about gorging on produce at peak deliciousness,' says founder and director Matthew Pennington. 'Our feasts allow for valuable time to catch up socially, and storytelling, laughter and setting the world to rights is the encouraged etiquette.'
Guests all arrive at the same time for drinks before storyteller Martin Maudsley and musician Fiona Barrow introduce the evening's theme with songs and tales. The feast that follows includes interludes of storytelling to tie in with the dishes being served. Audience participation is encouraged: two of the guests may be invited to play a part in the festivities by hiding something unique in a pair of puddings, thus randomly bestowing honours on fellow diners.
The remainder of the evening is spent in the torchlit orchard or garden with a secret ceremony which only guests can witness, or fireside where they can fall into conversation and while away the night.
Matthew sums up: 'At The Ethicurean, we feast in a bountiful garden, cultivating close friendships centred around food and pleasure‑seeking, finding life's purest joys in the unique richness of human encounters ‑ exactly as Epicurus wisely philosophised.'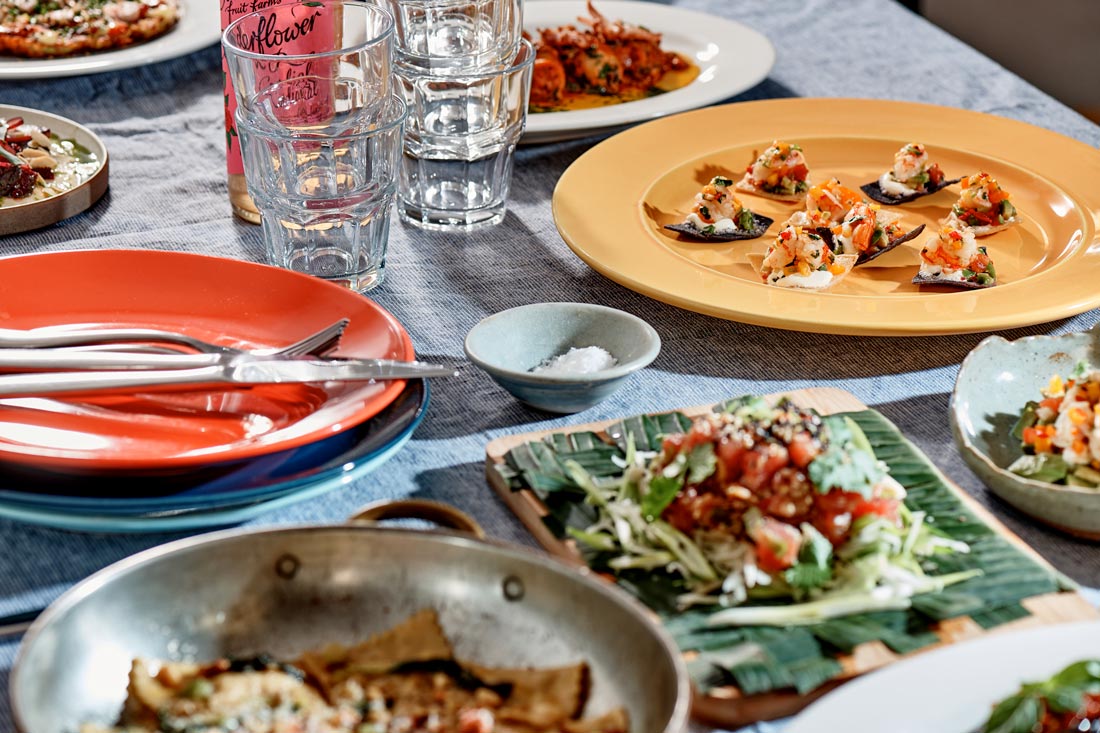 Wild Artichokes, Devon
A pothole‑riddled lane on a small industrial estate in Kingsbridge is not where you'd expect to find an epicentre of extravagant feasting. Yet, as soon as guests step over the threshold at Wild Artichokes, they get the sense of being part of an exclusive secret dining club.
The venue is run by two dynamic foodies: chef, cookbook author and The Guardian columnist Jane Baxter (The Carved Angel and Riverford Field Kitchen) and Sam Miller (Riverford Field Kitchen) who has had a stellar career in the hospitality industry.
Guests are seated next to new faces who usually become new friends by the end of the meal.
'Time and time again we witness a natural ease develop round the table with guests bonding over shared experiences and laughing with a shared sense of humour,' says Sam. 'It often results in hugs, swapping of email addresses and a promise to reunite in the future.'
The set seasonal menu is designed for sharing and comprises half a dozen starters which include the likes of smoked salmon okonomiyaki, one main course such as partridge served with an array of vegetable dishes, and a trio of puddings.
'Over the years, many of our customers have become our friends,' says Sam. 'It's almost as if an ownership and a pride in being part of the WA family starts to emerge, and they come to eat "with us" rather than just going out.
'There's something so special about the love and appreciation we feel from diners at the end of a busy night, which means a lot to our small, finely tuned and hard‑working team. I think it's why we do it.'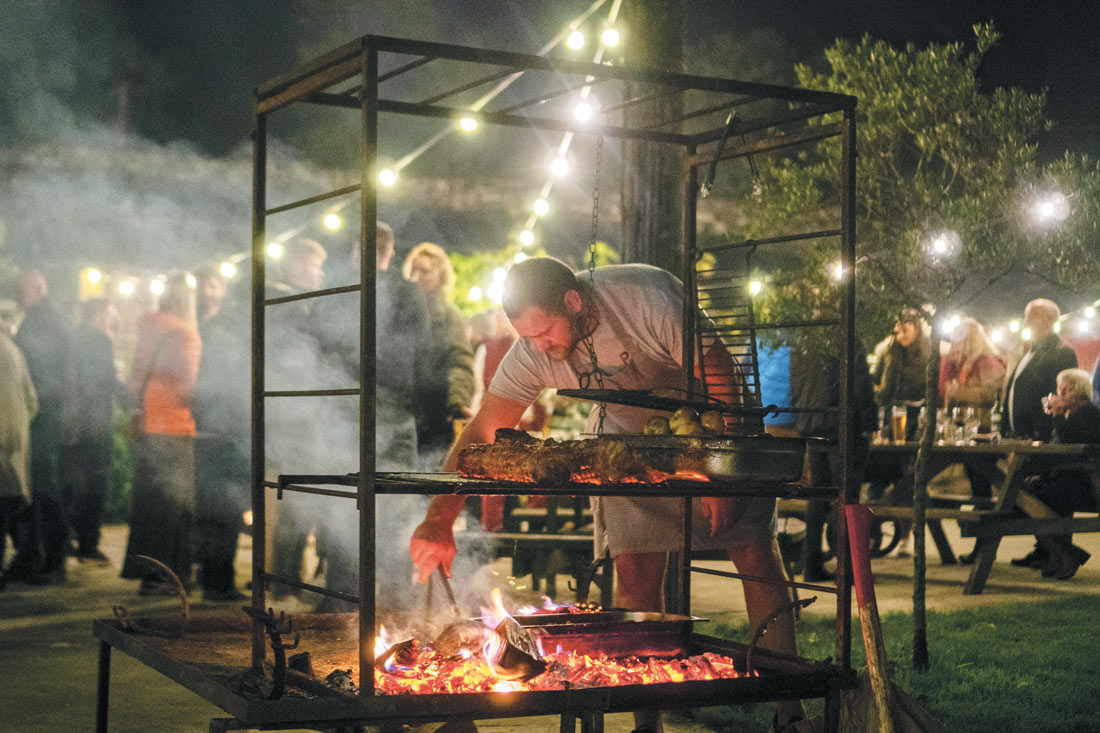 Knightor Winery, Cornwall
A feast night in a winery sounds tempting, especially to the ears of those who seek delicious drops to elevate their food. The team at Knightor are already known for producing exclusive Cornish wines but now they're showcasing their creativity in the kitchen too. A full line‑up of communal suppers is scheduled for 2023, pairing world cuisines with some of the county's finest tipples.
The winery is set amid four acres of orchards above St Austell Bay on the south Cornish coast, and the social feasting takes place on long candlelit tables in the threshing barn or, in warmer weather, the courtyard. Plans are also afoot to serve guests at tables set among the vines.
'Dishes arrive on sharing platters, encouraging everyone to get stuck in,' says Knightor's Gemma Kettle. 'Relaxed, informal and sociable dining allows guests to have fun as well as to meet and start conversations with people who share a common enthusiasm.
'Our ethos has always been about the serious enjoyment of wine and food as the two go hand in hand. Gathering people together – friends and strangers alike – to experience this pleasure and create new memories is hugely important to us.'
Previous feast nights have included Cuban and Scandi‑style spreads, and frivolities often end with after‑dinner live music. Upcoming events include a winemakers' dinner, a jazz night and a mixology night.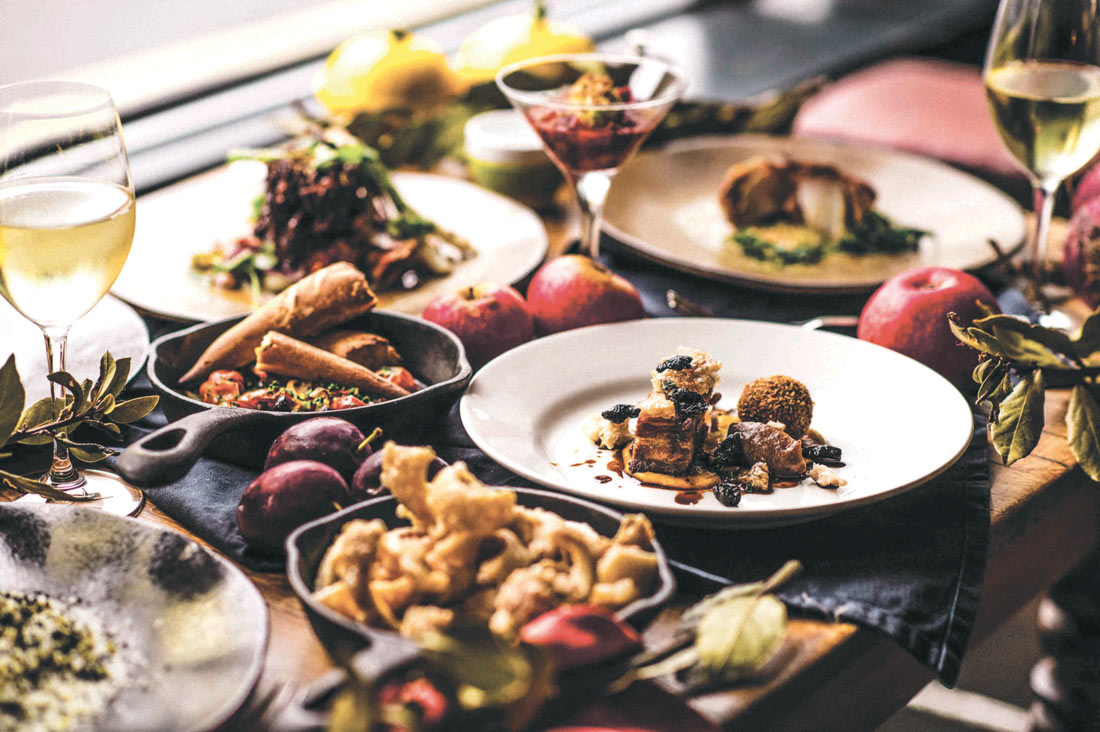 Rusty Pig, Devon
Feasting at Rusty Pig in Ottery St Mary involves a blind menu, a guessing game and plenty of communal fun. Known for championing ethical, seasonal and locally sourced produce, the indie restaurant has a Feasting House downstairs which is solely dedicated to social dining.
Guests arrive for drinks (particularly popular is the Rusty Pig Fizz pressed from grapes grown at vineyards in the next village) and, once everyone is seated, the chefs send out the first course. Supper consists of tasting courses based around the likes of game, whole roast goose, locally reared Dexter beef, pork, and line‑caught fish from the Devon coast.
Everyone is fed the same menu, allowing guests to discuss each dish. At the end of the feast, chef owner Robin Rea addresses the assembled diners to chat about each course: what it was, how it was cooked and where the produce was sourced.
'This way of dining makes us a zero‑waste restaurant and it also means our guests get to try ingredients they might not usually order,' says Robin. 'They enjoy the surprise element and say they like the fact they don't have to make difficult choices. It's fun for them to decipher what's in each dish and it's sometimes quite remarkable what some people think they've just eaten.'
The Sitwell Supper Club, Exmoor
A sociable supper in an Exmoor barn hosted by William Sitwell (The Telegraph food writer, ex Waitrose Food editor, and broadcaster) in the company of a legion of locals makes for a delicious and rustic experience. Regular feasts at the food critic's family farm near Wiveliscombe allow 70 guests the opportunity to sample the cooking of an ever‑changing line‑up of top chefs who've been lured to cook for a night in deepest rural Somerset.
'The Sitwell Supper Club is unique in bringing great chefs to west Somerset,' says William. 'In the last few months we've had the likes of Atul Kochhar, Anna Haugh and Adam Handling.'
In summer guests eat at one long table in a converted cowshed, while in winter events are housed in a cosy marquee.
'People come from far and wide but we are especially popular with locals who have met and made great friends at our table,' he says. 'These days it's a wonderful way to socialise so, aside from fabulous food and wine, the supper club is about something we all need: enjoyment and laughter.'
Suppers are planned across the year, with chefs and dates announced six weeks in advance. Shelina Permalloo's Mauritian feast is scheduled for April 28 while other chefs mooted to be making their way to the moor this year are Tommy Heaney, Mark Hix and Richard Corrigan.
Like Social feasting: South West supper clubs? Keen to stay up-to-date on what's new and get the heads-up on the best places to eat, shop and stay in the South West? Want to support independent publishing and creativity in the region? You can do both at once when you take out a subscription to the printed edition of Food Magazine. Six gorgeous issues a year, delivered to your door for just £25. Subscribe here.