English wine is finally receiving the international recognition it deserves, and Devon's picturesque south coast is carving out a niche as the South West's own wine country. Ready to tour the region? Kathryn Lewis reveals a few vineyards that deserve a spot on your itinerary
Sandridge Barton
The new home of Sharpham Wine, Sandridge Barton opens to the public this June – just in time for English Wine Week (June 18-26). The iconic south Devon vineyard resided at the Sharpham Estate near Totnes for 40 years, until 2021, when the team moved the operation across the River Dart to a new HQ just outside Stoke Gabriel.
At the gleaming new winery, which includes a restaurant and visitor centre, head winemaker Duncan Schwab and team create a stunning range of still and sparkling wines. Vines were first planted for Sharpham on the Sandridge estate in 2008 and today Pinot Noir, Bacchus, Chardonnay, Madeleine Angevine and Pinot Gris are grown on the 32-acre site.
Make a trip to this tranquil corner of south Devon to taste the award-winning drops under the guidance of experienced winemakers, stroll through the vines on a self-guided tour or dine at the sunny courtyard restaurant, which is run by the pro team from Circa in Exeter.
Read our Tried & Tested review of Sharpham's Summer Sparkling here.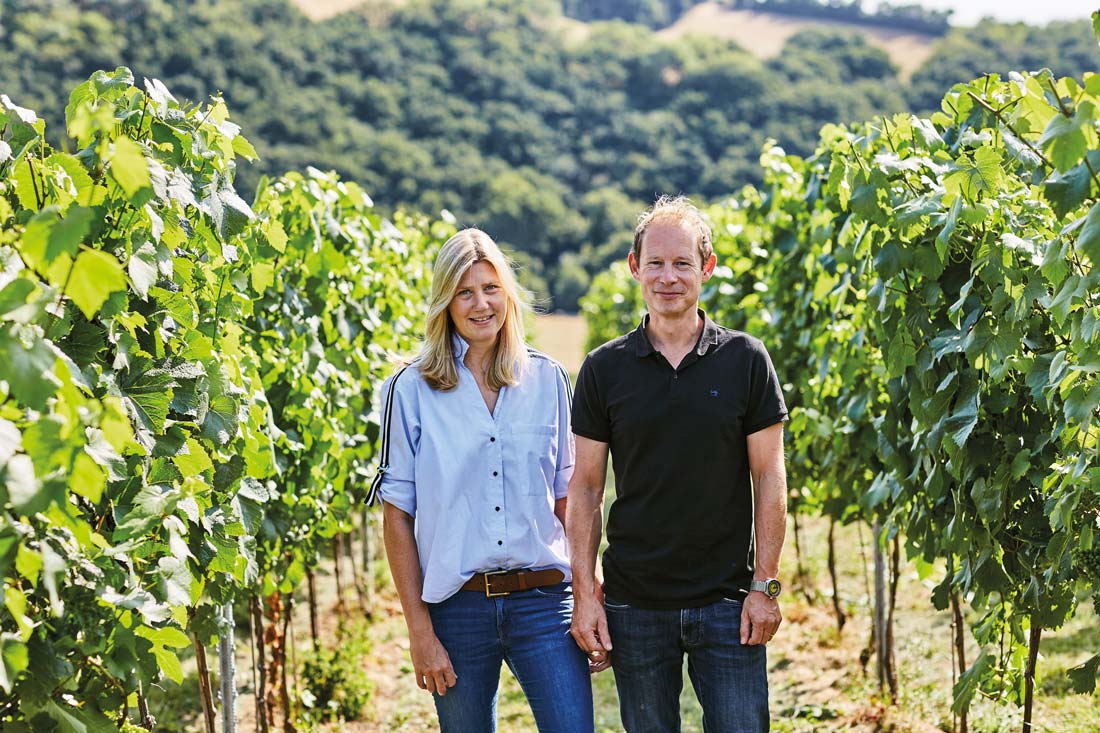 Swanaford Estate
Swapping the big smoke for the big skies of Devon, Ben and Caroline Goulden (pictured above) left London to pursue their dream of making great English sparkling wine.
In 2013, with the help of a crack team of German planters, they planted 10,000 vines in Bridford near Exeter and then, in 2017, built a bespoke tasting barn on the estate.
The wife and husband team now produce a small selection of outstanding English wines. Their Sparkling Rosé was awarded a gold medal in the 2020 Independent English Wine Awards (IEWA), with their Classic Cuvée scooping the accolade in the 2021 awards.
By far the best way to experience Swanaford Estate is to book one of the three on-site holiday cottages. However, if you're just looking to wander around the vines and taste the award-winning sparklers, Tour & Tasting Experiences are available throughout summer.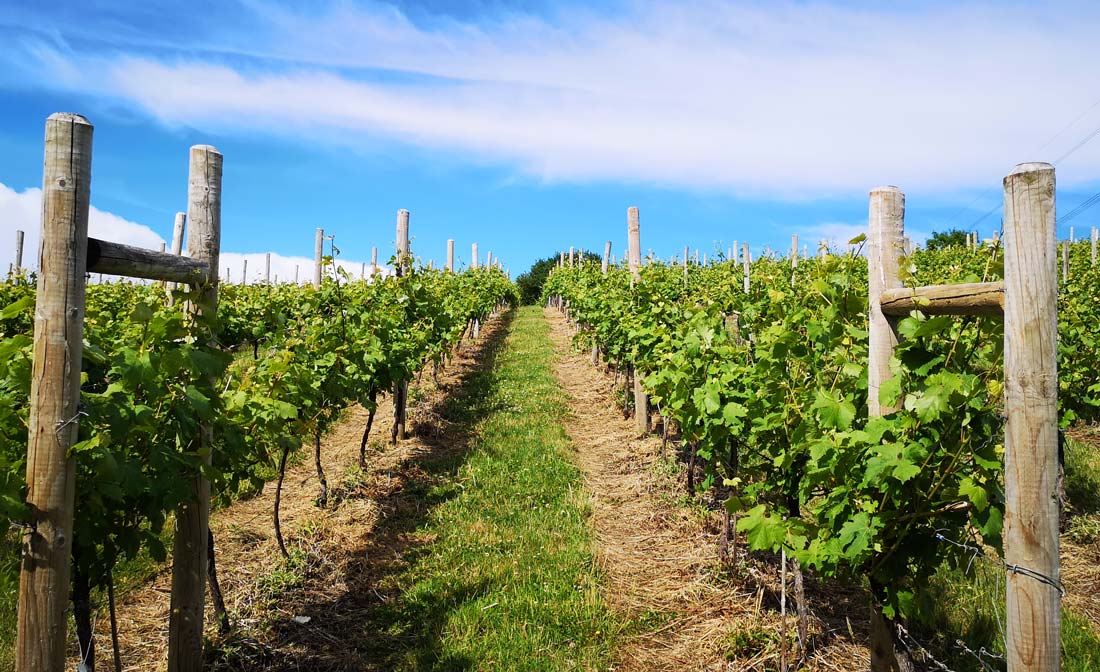 Huxbear Vineyard
Huxbear founders Lucy and Ben Holland established their Teign Valley vineyard with two aims: to produce lip-smacking English wine and to make the winemaking process as sustainable as possible. They've achieved both: their Classic Sparkling won bronze in the IEWAs and the winery is completely off-grid, thanks to a herd of solar panels.
As well as an award-winning sparkler, the duo produce a small selection of still wines including an unfiltered, skin-contact orange wine with notes of orange peel, tropical fruits, elderflower and linseed. Aligned with their intentions to make their wines planet-friendly, the whole range is vegan and crafted with minimal intervention.
From early spring, walking tours of the vineyard and winery can be enjoyed on Saturdays and include a free tasting session. Attendees also get a discount off any purchases made in the on-site shop.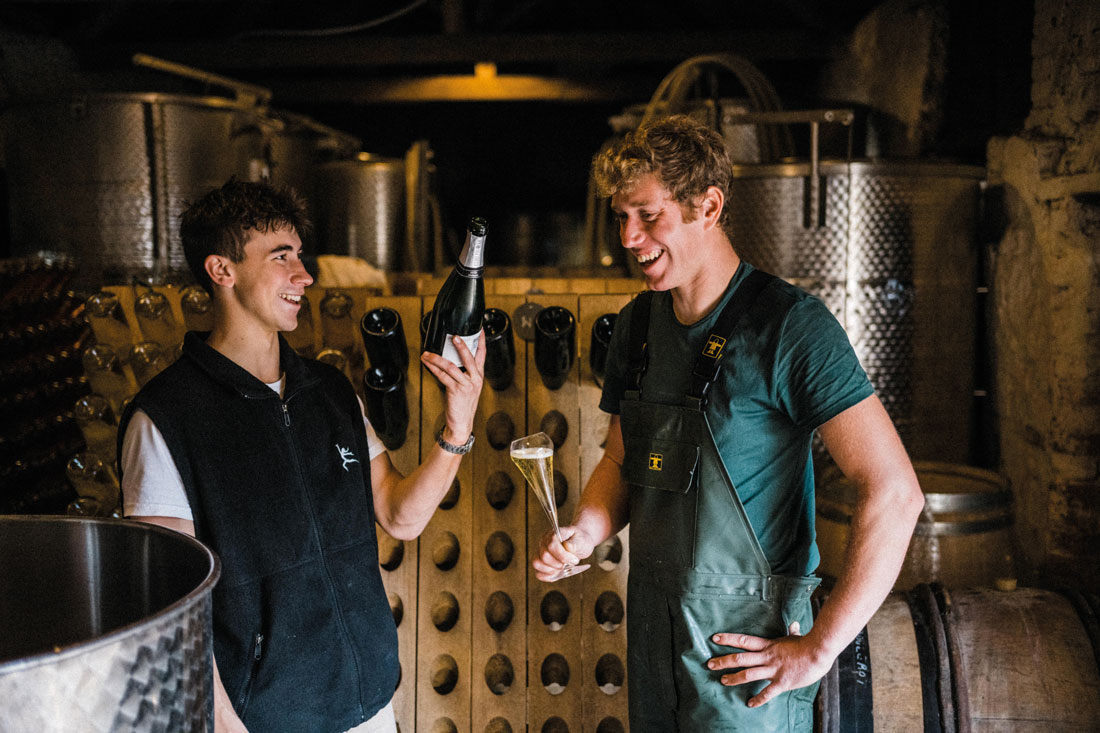 Pebblebed Vineyards
Pebblebed was established in 1999 as a community project. In the beginning, the Clyst St George site, near Exeter, contained just half an acre of vines and was spearheaded by Geoff Bowen and his wife Anna. Yet, over a number of years, and working with an army of locals and farmers, Pebblebed developed into a vineyard of 20 acres which has produced a series of notable sparkling and still wines.
When Geoff passed away a few years ago, the team at Darts Farm took over the vineyard. As long-term supporters and lovers of Pebblebed, it was an easy decision for the Dart brothers to continue Geoff 's legacy.
From May to September, head winemaker Alex Mills (pictured top right) shows visitors around the sun-dappled vineyards on guided tours. After learning about the distinct Devon terroir, guests are invited into the winery for a tutored tasting, which includes a scrumptious selection of artisan cheeses and charcuterie.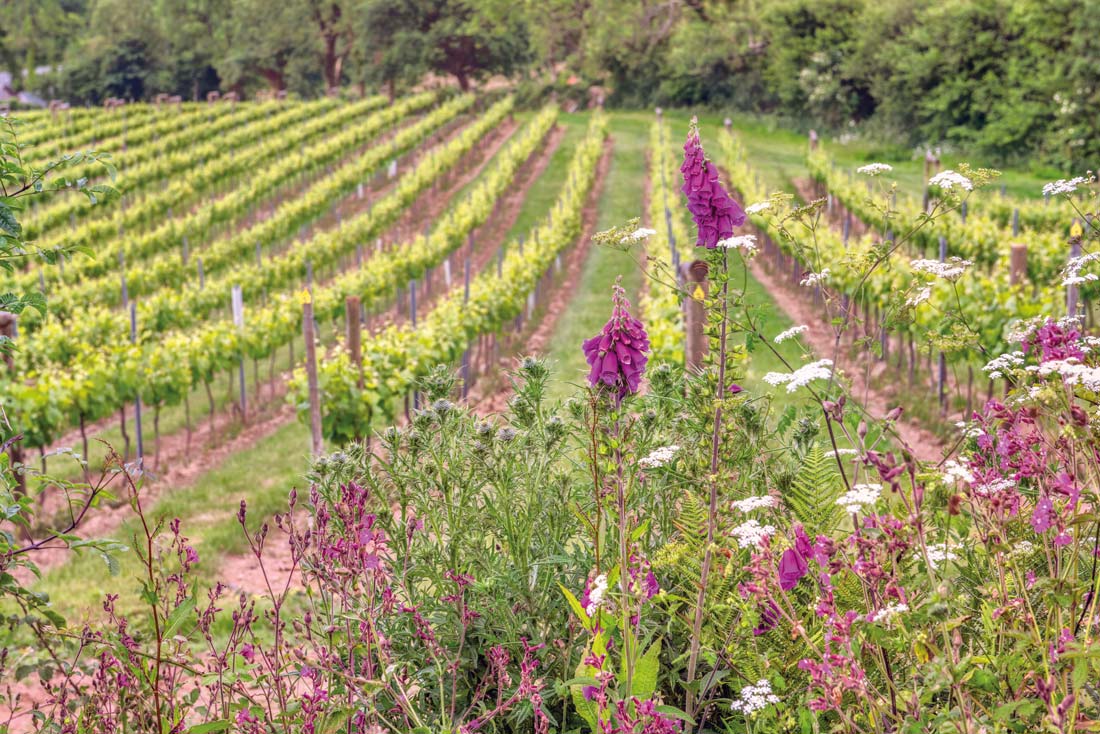 Calancombe Estate
This vineyard near Modbury is one of the largest in the South West that produces its own wines but, as it only released its first vintage in 2019, there's a good chance it hasn't popped up on your radar until now.
Caroline and Lance Whitehead bought Calancombe in 2012, realising a long-held ambition of establishing a vineyard. In the decade that's passed, they've planted 23 acres of vines, as well as over 1,000 apple, damson and mirabelle trees and nearly 3,000 blackcurrant bushes to avoid creating a monoculture. There's also a fl ower and vegetable garden which stocks the on-site Cellar Door cafe.
There are lots of options for visitors: a range of tutored tastings, self-guided tours and regular events and pop-ups take place from Thursdays to Sundays. Make a trip to the cafe to feast on local fare and sample a glass or two of the estate wines.
Like South West wine? Check out our myth-busting feature on natural wine.