Jo Rees plunges a clutch of bottles into a barrel of iced water and lets Somerset's doppelganger for Aperol Spritz get the party started
What is it?
A new cider from Thatchers that pairs the thirst-quenching power of Somerset cider with the juicy summertime notes of blood orange.
Why?
The apple squishers at Thatchers launched a Cloudy Lemon Cider in 2020 which was, understandably, a big hit during the weird and warm days of the first lockdown. Since then, they've been hunting for a suitable follow up and found the sweet spot in the form of on-trend blood orange.
This fruity new edition is a no-brainer for the upcoming barbecue season as its easy-to-drink style will fi nd fans among a wide variety of guests. Simply load a barrel with ice and water, drop in a clutch of bottles and leave them to chill. Then, as the hot afternoon bleeds into balmy evening, let the crowd help themselves.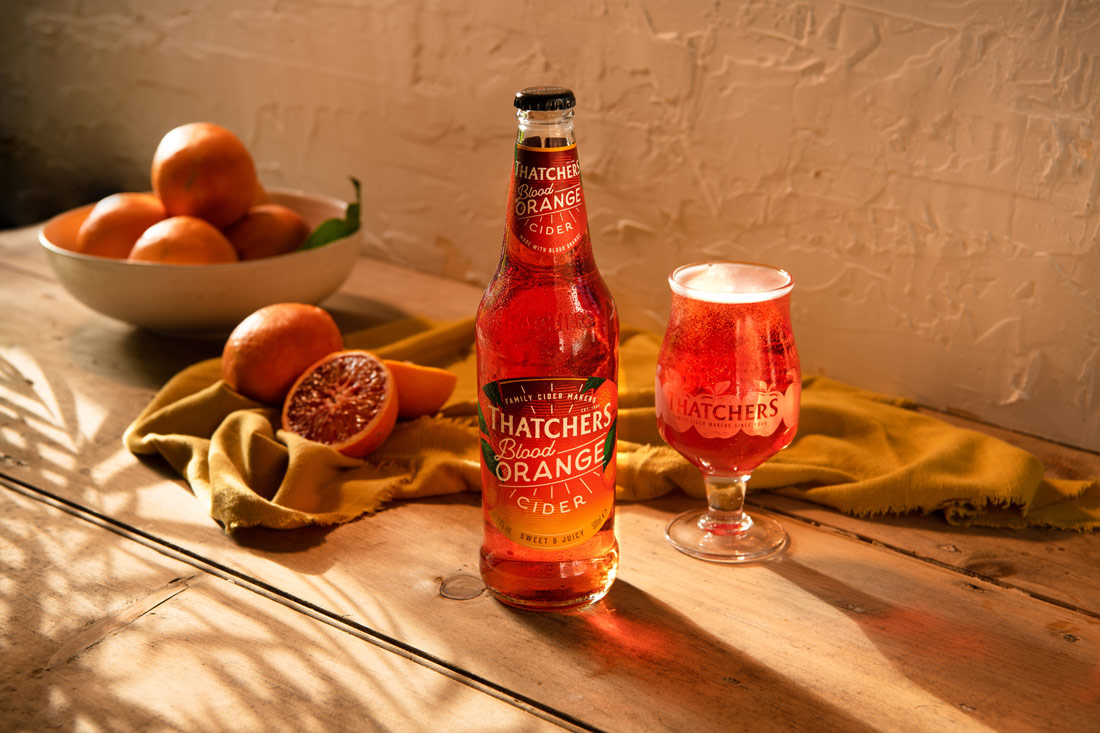 The low-down
The vibrant orange colour of this summertime slurp makes it a dead ringer for the aperitivo classic Aperol Spritz … and Irn-Bru.
At four per cent ABV, Thatchers Blood Orange Cider isn't going to leave you swooning in the mid-afternoon heat, which is just as well as it's pretty sweet and therefore extremely quaff able. Thatchers has picked aromatic apples that are naturally high in sugar – Braeburn, Fuji and Gala – so there are no artificial sweeteners involved. The resulting cider is infused with natural blood-orange flavour and finished with a blast of CO2 for a lightly sparkling buzz.
As it's sweet enough to hold up to ice-cold servings, it would be pretty good turned into homemade cider lollies or frozen and shaved as a slushy – just make sure the kids don't get their hands on it.
Cost
Available in 500ml bottles (RRP £2.30) and 4 x 440ml can packs (RRP £5.50).
Packaging
Thatchers is big on sustainability: all its packaging is recyclable, and no plastic rings are used on the can packs. Bottles are made from recycled glass.
Recommend to a friend?
Not to dyed-in-the-wool cider drinkers: this is a very different beast to the ripe drink worshiped by hardcore fans. In fact, it's so easy to knock back you don't need to be a cider lover to find this a refreshing pour on a sticky summer's day.