Jo Rees roadtests restaurant critic William Sitwell's Somerset supper club
What is it?
Supper in the barn of an Exmoor Farm hosted by William Sitwell (Telegraph food critic, ex Waitrose Food editor, and food broadcaster) and with a legion of locals. There's also a regular – and undoubtedly more swanky – variation of the club at Fortnum & Mason in London, but we undertook the drafty version.
Why?
Exmoor is so sparsely populated that, beyond Woods in Dulverton, The Luttrell Arms in Dunster and near-ish Pyne Arms at East Down and The Swan at Bampton, decent places to eat are thin on the ground. So Sitwell's supper club at his family farm near Wiveliscombe gives 60 people the opportunity to sample the cooking of an ever-changing bill of chefs who've been lured to cook for a night in darkest Somerset.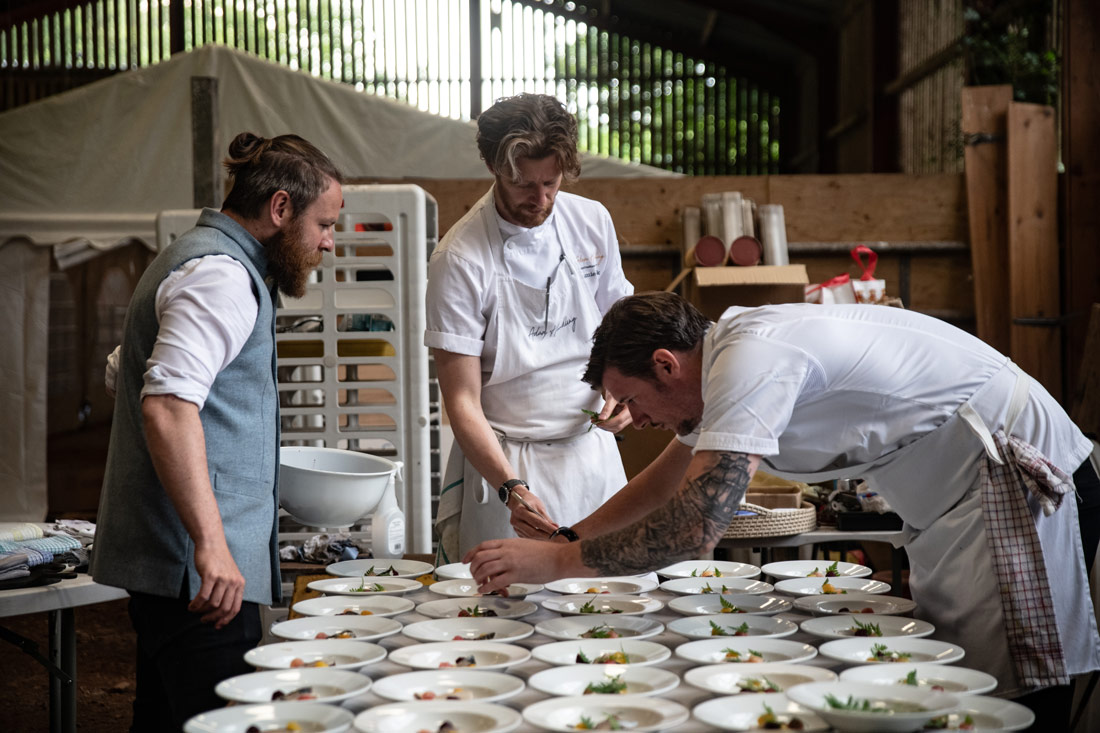 The low-down
On the night we visited, it was the turn of Michelin-starred Scottish chef Adam Handling. In addition to being exec chef at Ugly Butterfly at Carbis Bay in Cornwall, Adam also runs Frog by Adam Handling and Eye Bar in Covent Garden, plus The Loch & The Tyne pub in Old Windsor.
With it being the Jubilee weekend, the barn had been given a flutter of red, white and blue bunting. Patriotism also required us all to stand and mumble/sing along to God Save the Queen before raising our glasses to some very plummy exaltations in regard to Her Majesty's longevity. However, even that wasn't enough to put us off the food which would have been very good in a restaurant but was astonishing having been cooked in a barn.
Adam wowed from the off with a series of creative canapés (determinedly called "snacks", being British 'n all), plus bread with chicken butter that tasted like you'd run your tongue through the sticky umami bits left on the bottom of the pan after roasting a chicken. He's big on food waste and sustainability, so presumably this was related to the Balmoral chicken main (see what they did?) served with broccoli.  
Another nod to the jube was in the starter of Cornish mackerel with turned baby beets and a curry (AKA coronation) mayo. There was no discernible royal vibe to the pudding, an exquisite concoction of light meadowsweet-infused cream and tart cherries in a sprayed cocoa case, but it was, indeed, fit for a queen.
Cost
Tickets cost £70 for three courses plus snacks, bread and a glass of pink fizz from the evening's drinks partner Maison Mirabeau. Wines and other drinks are available at the bar but not included in the ticket price.
Value for money
It's fairly expensive for dinner in a drafty barn with a Glasto-style loo and where you have to keep your coat on, but the quality of the cooking and the chance to taste the work of different leading chefs certainly swings it.
Recommend to a friend?
Definitely, plus the family-style seating provides the opportunity to make some new ones.
The next Supper Club is Nest at Rooks Nest on June 24 which brings the talented team behind three fresh London restaurants – Nest, Fenn and St Barts – to Somerset. The restaurants were founded by Johnnie Crowe, Luke Wasserman and Toby Neil. Toby will be front of house for this dinner, with chefs Johnnie Crowe and Kate Austen in the kitchen whipping up a three-course feast that'll include lamb cooked on the barbecue.
To join the mailing list and hear about upcoming events, email sitwellsupperclub@hotmail.com
Images by Georgina Preston