Bristol cook and recipe developer Dean Edwards talks digger driving, cooking for Del Boy and the return of food festivals
Which kitchen item couldn't you live without?
The one piece I use every day is my knife. People ask me if they should invest in a block of nine or ten knives but you just need one good quality chef's knife – you'll do 90 per cent of the jobs in the kitchen with that knife. Mine is a very battered and well-used Flint & Flame.
What do you listen to in the kitchen?
I'm really into podcasts. I'm a huge fan of mixed martial arts and boxing so I listen to those to keep up with what's going on in the fight world. I love listening to music as well, particularly metal and rock. You've got to have something loud to keep you motivated and entertained in the kitchen. Top of my playlist at the moment is probably Bring Me The Horizon … but they're not to everyone's taste!
Career highlight to date?
My life completely changed when I entered Masterchef in 2006 – before that I was a digger driver. I feel blessed that 16 years on I'm still working in the food world. Over the years I've met and cooked for some of my absolute heroes in food, music and acting. The one that really stands out is David Jason. Being from Bristol there's a huge connection with Only Fools and Horses and being able to cook for Del Boy was such a highlight – I cooked him a bit of mange tout and I think he enjoyed it.
Most-read recipe book?
I taught myself to cook from recipe books and I've got a lot I go back to time and again. The person who really inspired me through his books was Jamie Oliver. He showcased food we can all cook at home – before that most cookbooks used ingredients you couldn't get hold of, with recipes that looked nice but weren't very do-able. Jamie's books made food accessible to someone like me and that was the start of my journey.
Favourite place to eat out?
It's been amazing to see hospitality opening back up again. On the few occasions I've been fortunate to eat out over the last year, the one place I try and get to is Pasture in Bristol. They do fantastic steak and everything's cooked over wood and charcoal so it's full of flavour. There's a great atmosphere and the service is amazing.
Best staycation spot?
My heart is always down in Cornwall where I went for my first family holiday. Last October (when lockdown lifted) I went and stayed on the same farm I had been to as a kid. Thirty odd years later it's still owned by the same family so I popped in and had a cuppa and a chat with the owners. It's near Port Isaac and I had the opportunity to eat at Nathan Outlaw's Fish Kitchen which was incredible – you can't get a more beautiful setting. It's also a stone's throw from Padstow so we ate at Paul Ainsworth's bistro. But you don't always have to aim for high-end there: a Cornish pasty is the food of dreams for me.
Guilty food pleasure?
A sandwich with cheap white bread, cheese, red onion and chips. It's the sandwich of kings.
Desert island meal?
The one meal I never get bored of is a roast dinner – there are so many variations. My nan is from Cape Town and she used to make something she called onion salad (a version of a sambal) which consisted of finely dice red onion, a little vinegar, some sugar, salt and pepper. She would leave it to stand for about half an hour then pop it on top of a roast dinner – it's incredible. I've had it since I was a kid and can't cook a roast without it now.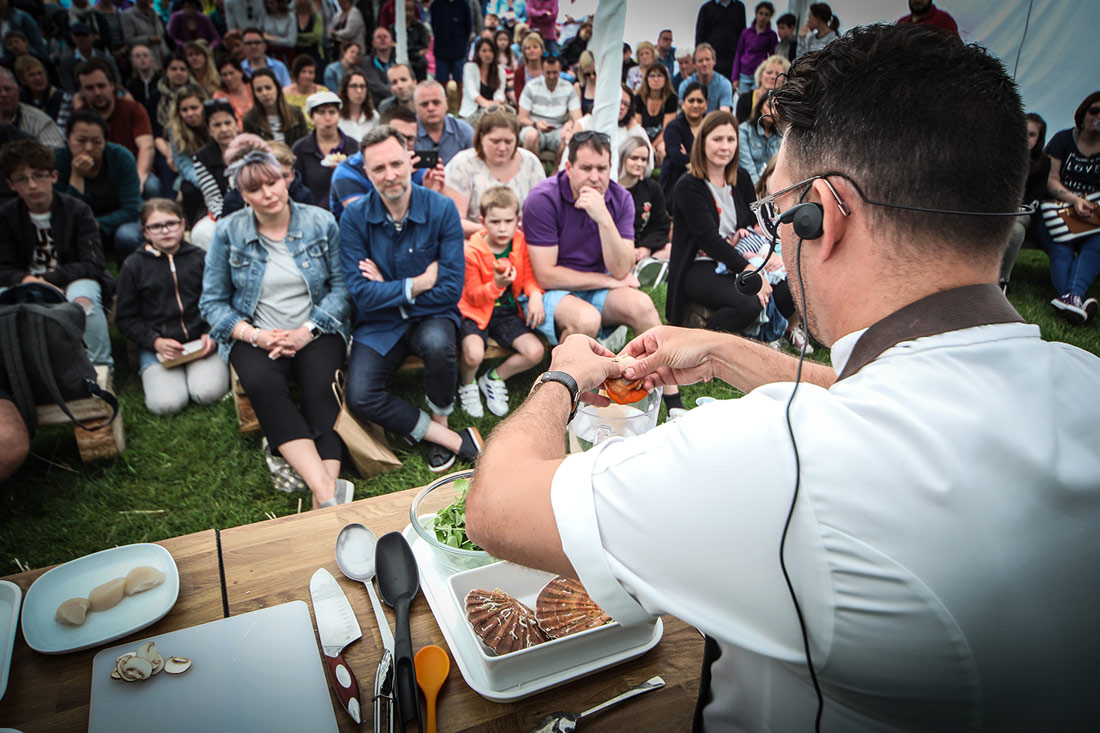 Give us the low-down on the Blenheim Palace Food Festival
The festival is going to be set in the stunning grounds of Blenheim Palace from August 20-22 and (without bigging myself up too much) there's an incredible line-up of chefs including Dame Mary Berry, Genaro Contaldo, and Masterchef champions Kenny Tutt and Thomas Frake. It'll be an awesome weekend of cookery. There will be amazing food vendors who are passionate about local food and produce. It'll be a fantastic day out for all the family.
What part are you playing at the festival?
I'll be doing cookery demos. I'm not there to massage my ego; I like to show people recipes they can cook for themselves, so hopefully everyone will leave with some tips and tricks to make life in the kitchen easier. Great food doesn't have to take hours.
I tend to gauge the weather and choose seasonal ingredients – ideally from the festival suppliers and vendors so that people can buy the ingredients and take them home to experiment with. I think there'll also be an opportunity to sign a few copies of my cookbook, too.
What are you most excited about at the festival?
I love food, so I head to as many of the festivals as I can regardless of whether I'm doing demos or not. I can chat a glass eyeball to sleep when it comes to food so if you see me walking around then grab me and we can talk food all day long. I just can't wait to be back at a food festival, meeting and chatting to likeminded people.
www.fantasticfoodfestivals.co.uk/blenheim-palace
Enjoyed our interview with Dean Edwards? Read more interviews here.