With the hospitality industry in hibernation, we seized the opportunity to catch up with some of the South West's food and drink bods to find out how they're coping in lockdown.
This week we caught up with Harriet Mansell, Great British Menu chef and founder of Robin Wylde in Lyme Regis
What's your new daily routine?
My restaurant manager, Alana, and I have been working 8-5 most weekdays during lockdown which has given us a great sense of routine. The structure has not only really focused our work but also allowed us to switch off in our downtime and do things which are good for our souls like walking and swimming.
We were forced to close so soon after opening that we never really got the chance to let the dust settle. From the outside it might look like there's not much to do as the restaurant is closed and we're not offering takeaway, but that's just not the case.
We're looking for a second venue locally where we would like to open a wine bar serving small plates of really good food alongside a knockout list of wines. We're using our time to work on this in the background, as well as taking care of Robin Wylde.
What's kept you sane?
Having this contact with Alana every day has grounded me as she's not just a colleague but also a friend. We have similar values and share a vision for what we want to achieve for the restaurant, so it's been great to have that continued support and rapport.
What's been the most challenging part of lockdown?
Cash flow – it's been mad. We got the news on December 30 that we were shutting down and we'd bought in all the food for New Year's Eve. We had to let down all of our guests and staff; it was a really challenging day.
It's been particularly hard on the team. This industry is completely passion led and people love what they do, so they were gutted when we had to close.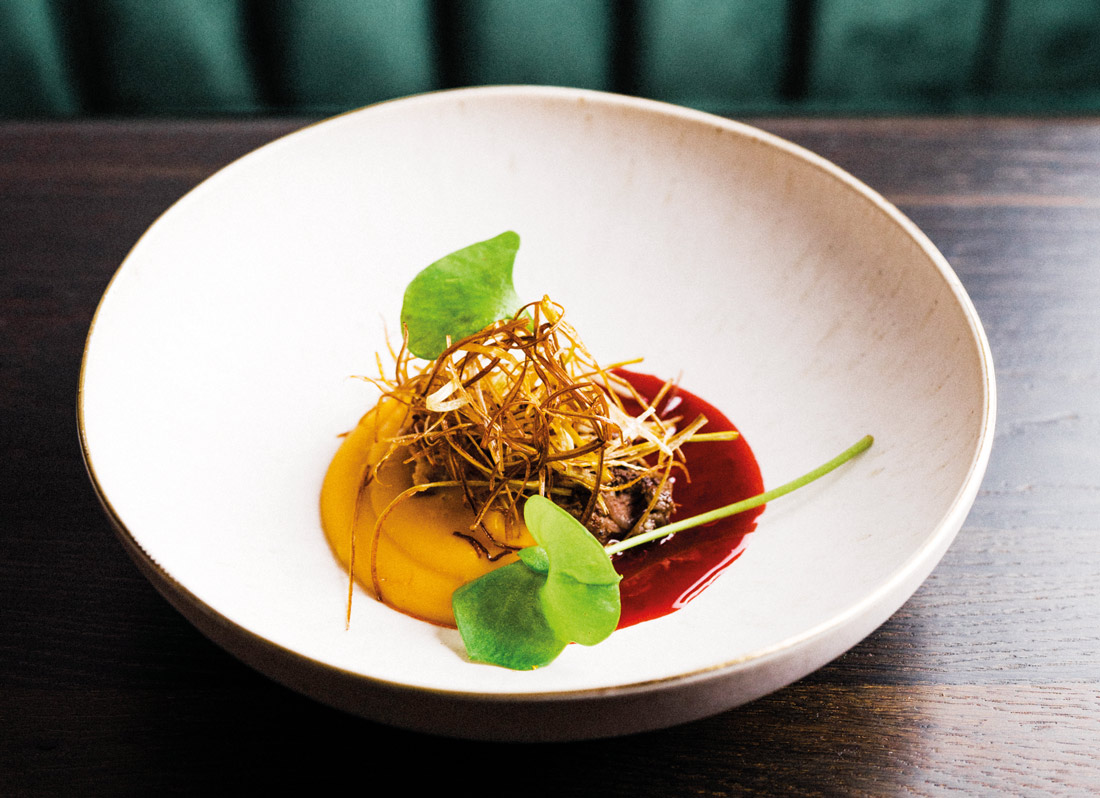 Which recipes have been on repeat?
Dahl has been my go-to. I make it with lots of ginger and garlic, and top it off with a tarka dahl and crispy mustard seeds and coconut. I also love a baked potato with Coastal cheddar and tuna. It's all been comfort food for me.
I'm not a vegetarian but I eat mostly veggie at home. When I eat out it's all about the proteins, but at home it's about nutrition.
Have you taken out any food/drink subscriptions?
I haven't but I've had some great takeaways from local venues. Goose & Badger in Bridport has been making amazing burgers. It's run by Joel Gostling and Andy Tyrrell (former head chef at River Cottage) who is incredible at making bread so the buns are particularly good. Fossil On the Road, run by Kirsty Roberts and Steve Batey of Fossil Food Catering, has also been doing epic burgers. They started serving burgers from their van last year when their wedding work dropped off.
Red Panda isn't far from us in Lyme Regis so we've had loads of their Asian salad boxes and bao buns – the sticky tofu with crispy chilli is particularly good.
What TV, books or podcasts have provided the best escapism?
I loved The Serpent on BBC: the clothes, the drama, everything about it – it ticked all the boxes.
I've been reading Silo: The Zero-Waste Blueprint by Douglas McMaster as I'm working towards Robin Wylde and the new venue reducing their waste.
Which restaurant is top of your post-lockdown bucket list?
Cornerstone, Tom Brown's restaurant in Hackney Wick – I've never been, and it's been top of my list for a while. Last year I had the most insane meal at BRAT in Shoreditch and would love to go back there, too.
Picked up any new skills/hobbies?
I want to do free diving at some point, so I've been working on holding my breath for long periods of time. I've also been working towards doing handstands, so I've been building up my body strength to do that.
I've just bought myself a new pasta machine, so I intend to make lots of pasta over the next couple of weeks. Last year I learnt how to make culurgiones, a wheat-shaped dumpling-style pasta stuffed with a lovely filling of potato with nutmeg and mint, so I want to reacquaint myself with those first.
What are your hopes for 2021?
This is the beginning – opening a restaurant has been a lifelong dream and I can't wait to share our love of food and wine.
---
The pandemic has significantly affected advertising revenue in the publishing industry. If you would like to support Food Magazine, why not take out a subscription to our beautiful print edition which we'll deliver to your door? Subscribe here for just £25 per year.