With restaurants closed, non-essential shops shut and the hospitality industry in hibernation, we seized the opportunity to catch up with the South West's food and drink bods to find out how they're doing in lockdown.
This week we nattered with Nathan Outlaw, chef patron of Outlaw's New Road and Outlaw's Fish Kitchen in Cornwall
What's your new daily routine?
During the first few weeks of the initial lockdown we got stuck in a rut of eating as much as we could and binge watching TV – we soon discovered it wasn't good for any of us.
To find sanity you've got to find some form of routine. I'm lucky, I've got things I can keep working on: stuff for the business, the odd recipe request and growing things.
What's kept you sane?
Spending time with my children, but also work. After the first lockdown we changed the restaurant completely [Nathan, along with business partner and wife Rachel, closed two-Michelin-star Restaurant Nathan Outlaw and reopened it as the more casual Outlaw's New Road]. It gave us a new outlook and a fresh challenge. September was probably the best month we've ever had and I'm excited to continue when we reopen.
At the moment I've got a new book in the pipeline and I'm also looking at a potential new restaurant concept – they may not come to fruition but they're keeping me busy.
What's been the most challenging part of lockdown?
My biggest worry is for people's mental health. We can get the financial side of things back on track, but I think there's going to be a huge mental hangover which will take its toll. Hopefully the government will make sure there's support available quickly.
Which recipes have been on repeat?
I cook every day at home – I love it as much as I do in the restaurant which is a bit strange for a chef – and I've been trying to vary what we eat. Lunchtime is homemade salads and soups, and in the evenings throughout the week I try and do three or four meat dishes, two or three fish dishes and a vegetarian meal.
I don't follow recipes: it's a bit of this and a bit of that. I don't like to waste anything so the next day's meal usually has something leftover from the previous day blended in.
Which TV, books or podcasts have provided the best escapism?
I often find myself flicking through Netflix and Amazon Prime and thinking there's nothing good on, so we're trying to watch old films we've forgotten about. As a family we're missing the cinema – I'm a mad Star Wars fan and we like the Marvel series and they're so much better on the big screen. We've also been watching old rugby games.
The kids love board games and cards so we do a bit of that, although I'm not a big fan because I always lose.
Best thing you've cooked in lockdown?
The family like it when I do crispy fish – battered or breaded with mayo and a salad, so that always goes down well. I haven't created anything at home I've thought I would use in the restaurant, though.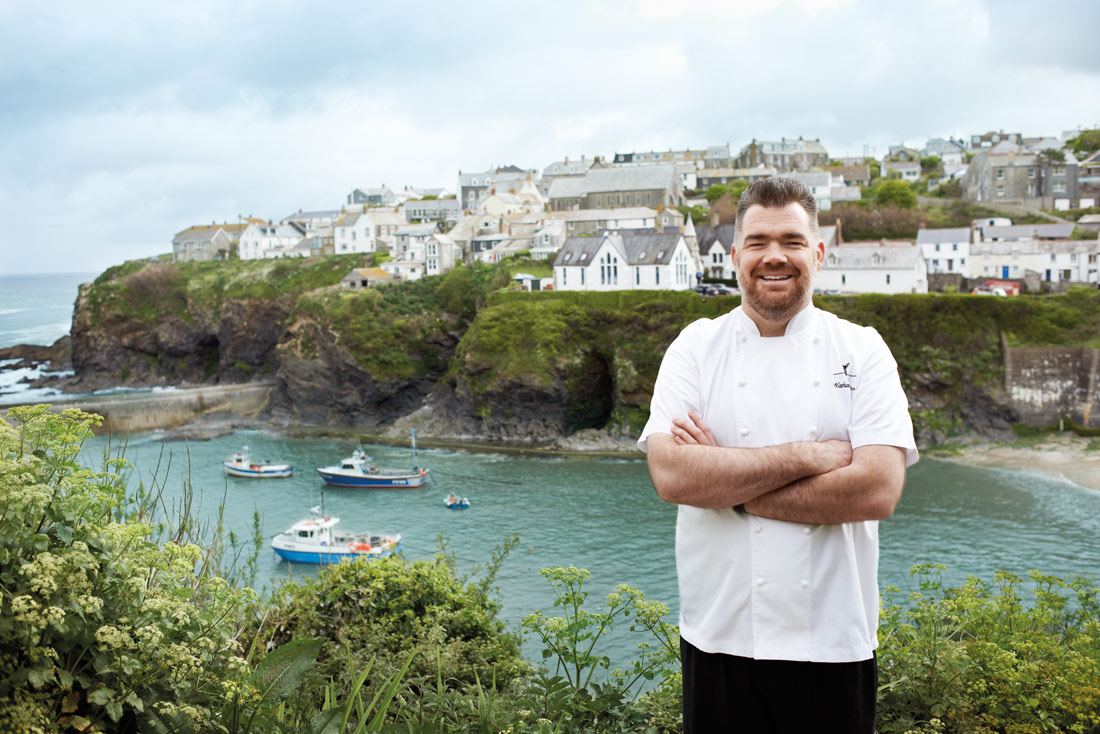 What have you learnt about yourself?
I've realised I was very stressed before and the pressure was getting to me. I spent the first lockdown gaining perspective on our business and our home life, and came out of it with a clearer vision. I realised I still really enjoyed cooking but I've got to be happy doing it, which is when we decided to change the restaurant.
Have you taken out any food/drink subscriptions?
We've been buying our meat from Philip Warren Butchers in Launceston – it's superior to anything you can buy from a supermarket. It's more expensive but I'd rather have meat once a week and buy something really nice.
Fish has been from The Cornish Fishmonger which supplies most of the fish for the restaurants. A lot of people ask me where they can get fish from and I always point them in that direction.
Picked up any new skills or hobbies?
I've gone back to drawing and creating illustrations which I used to do when I was younger. I wanted to be an animator or a chef when I was a kid. Other than that, I've been listening to music as much as I can. I'm a bit of a rocker so heavier 90s stuff like Nirvana, Pearl Jam and Foo Fighters are my thing.
Hopes for 2021?
I hope this is the final lockdown. Everyone needs to get back to some sort of normality.
I've witnessed the West Country go from not having much going on to being the best area in the UK – and one of the best in the world – for food and drink, and I'd like to see that continue in 2021 and beyond.
People have become much more passionate and more aware about food and drink, which is good because it keeps us all on our toes and helps me out too.
---
The pandemic has significantly affected advertising revenue in the publishing industry. If you would like to support Food Magazine, why not take out a subscription to our beautiful print edition which we'll deliver to your door? Subscribe here for just £25 per year.