Hidden among wildflower fields and rolling farmland, Una Kitchen is an oasis of calm for foodies fleeing the hustle and bustle of St Ives
What's the draw?
St Ives has long been popular with tourists seeking a mix of coast and culture, but with most Brits opting for domestic holidays this year the harbour town is busier than ever – and tables for lunch or dinner are scarcer than affordable holiday cottages.
So, if you are in the area during peak season, it's worth knowing about Una Kitchen. A five-minute drive from Carbis Bay, the casual restaurant is set among Una's collection of contemporary design-led holiday lodges. The bright and airy dining room and alfresco terrace surrounded by colourful wildflowers feel a world away from the bustle of St Ives, and it's open to the public as well as residents for lunch, dinner and drinks.  
Who's cooking?
Head chef Glenn Gatland has a long, decorated career cooking in Cornwall and the Scilly Isles, and uses his experience to craft crowd-pleasing, produce-led dishes. His right-hand man is a wood-fired oven which he uses to cook everything from local scallops in their shells to crispy pizzas adorned with fresh mozzarella and Mediterranean veggies.
Glenn's time in the industry has garnered relationships with some of the region's finest producers: fish and seafood is supplied by Matthew Stevens who's based less than a mile from the restaurant, while wood for the oven is often sourced from the Tregothnan Estate near Truro.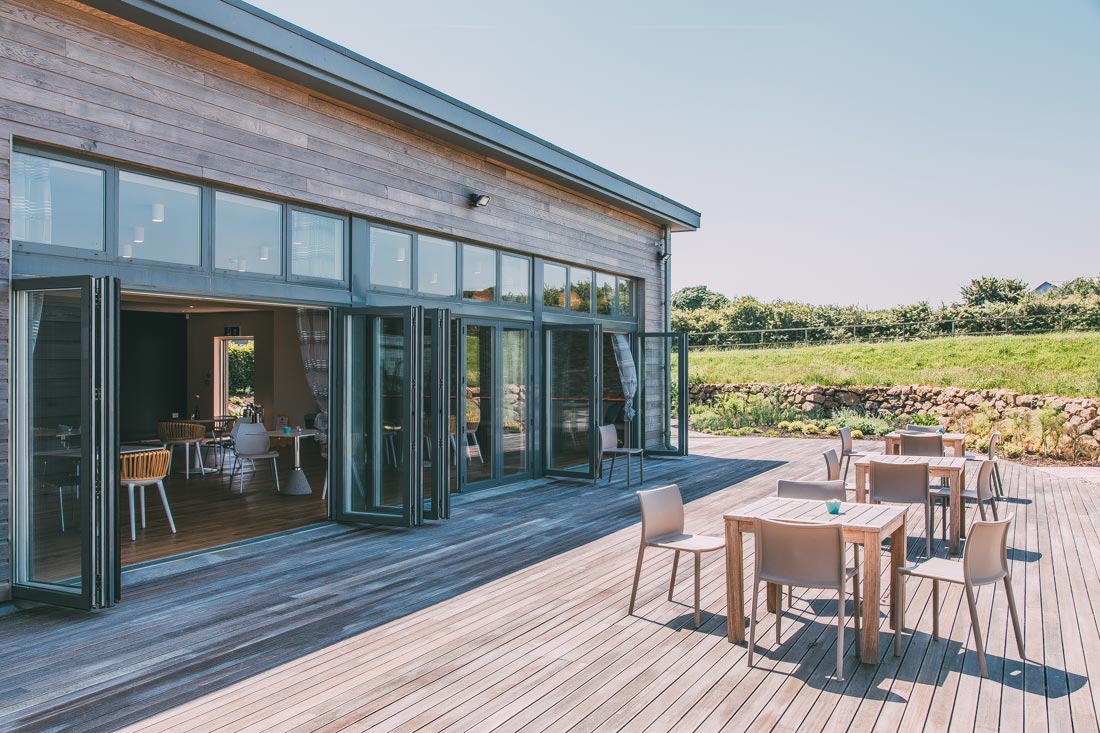 What to order?
While the temptation of a bubbling wood-fired pizza is hard to resist, it's worth holding out so you can sample Glenn's impressive mains. Beautifully fresh fish such as monkfish is roasted in the oven, then served simply with seasonal accompaniments like pea and broad bean velouté and crispy cavolo nero.
Fish and seafood may usually get the spotlight, but Cornish beef, pork and lamb are also some of the finest examples in the country. Glenn puts local meats front and centre in dishes such as unctuous beef ragout with paradelle, truffle oil, parmesan and pickled veg, and crispy pork belly with parmesan polenta, broccoli and roasted garlic.
Leave room for pudding as compilations such as the warm dark chocolate and bergamot mousse with Cornish gooseberry compote we devoured are deliciously decadent.
Food's tip
Ease away any tourist-traffic-related stress on the massage table of the adjoining Una Spa. There's also a spacious pool so you can make a day of it with treatments and a dip, followed by lunch and drinks on the terrace.