A set of new luxury lodges has elevated the dip and dine experience at St Michaels Resort in Falmouth
What's the draw?
The opportunity to hop between the crystal‑clear waters of Gyllyngvase Beach (mere steps from the path that snakes through St Michaels Resort's lush gardens) and the hotel's huge hydrotherapy pool. Follow that with a fish‑forward feed at its restaurant, Brasserie on the Bay, and a glass or two of Cornish rosé and you'll soon be slipping into a long and restorative sleep in the cosy confines of one of the new spa garden lodges.
The four contemporary lodges opened at the start of summer and are a fabulous addition to St Michaels' collection of luxury rooms and suites. Perfect for couples looking for extra space and privacy (each includes a private terrace with copper tub and alfresco seating), they also meet the needs of parents who'll appreciate the additional room for young kids to run around.
Who's cooking?
Cornish chef Darren Millgate trained at Cornwall College (where he now also teaches) and worked at some of the county's best hotels, including The Nare and Scarlet, before landing this exec role in 2019. He oversees a large brigade (15 and counting) who craft seasonal menus for both Brasserie on the Bay and the resort's more casual Garden Kitchen.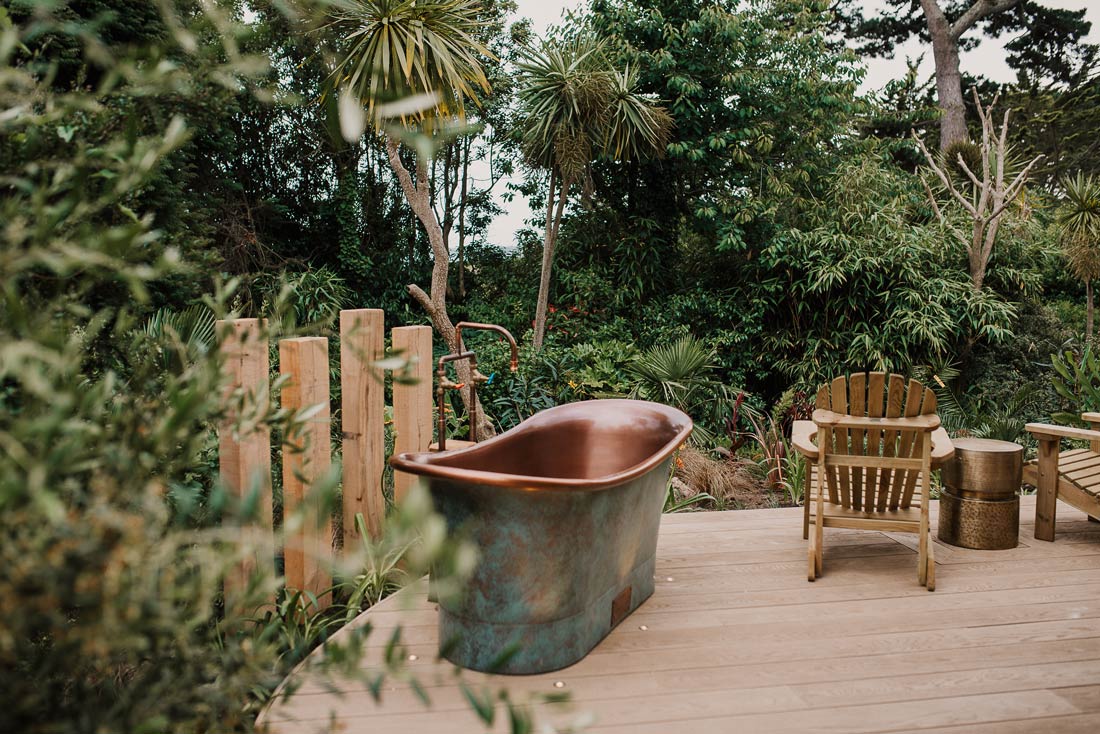 What to order?
With incredible views over Gylly Beach and out to sea, the tables that line Brasserie on the Bay's expansive windows are naturally the most popular so it's worth booking an early or late supper to avoid the rush for ringside seats.
There's something immensely gratifying about tucking into a fillet of fish while gazing over the waters in which it was caught. We couldn't resist the catch of the day, a sizeable slab of Cornish sea trout served on a salad of bitter leaves, seaweed, parsley‑butter‑lavished potatoes and tangy gherkins and capers.
Darren and team know their way around a fish and the fillet was impeccably cooked, with crisp skin and yielding flaky flesh. A portion of pan‑fried Newlyn hake was also expertly turned out, and partnered with supple parmentier potatoes, red pepper puree, salty samphire and a fragrant herb oil.
The Brasserie isn't all about fish, however. We preceded the mains with a starter of balsamic‑marinated beef, a contemporary take on classic carpaccio, comprising super‑thin slices of soft West Country beef layered with truffle‑laced rocket, tart cornichons and garlic crisps.
A very good wine list complements the food menu, and Knightor Winery's Cornish Carpe Diem Rosé was the perfect companion for this late‑summer supper. Bright and bold notes of raspberry and citrus were a brilliant counterpart to the fatty sea trout and, at just 11 per cent ABV, a light and refreshing drop.
Food's tip
There are two versions of the seasonal menu – one served on odd dates in the month and another on evens – which makes dining at the restaurant on both evenings of a two‑night stay a much more interesting proposition.