The good times and great food to be had at The Alverton in Truro are luring staycationers away from Cornwall's coastline, writes Rosanna Rothery
What's the draw?
A Cornish hotel that's not by the sea? We understand any initial lack of enthusiasm on your part, but hear us out. You'll be thanking us for the tip-off once you encounter the unique charms of this urban hideout.
At the top of a winding hill, only a few minutes' drive from Truro's city centre, The Alverton's bell tower and arched windows loom into sight like an enchanted palace in a gothic fairytale.
The Grade II-listed building's unique architecture hints at its fascinating past – including a stint as a convent. Yet, despite its historic grandeur (check out the imposing Great Hall) there's not even a whiff of stuffiness. Enthusiastic and welcoming staff, an entertaining programme of events (a Peaky Blinders themed murder mystery took place on the night we visited), live music, bottomless gin brunches and eclectic interior-design touches make it a rollicking place to hang out.
Add to that a spectacular garden with beautiful and unusual trees (it was once home to RHS president William Tweedy) and its reputation as the perfect city escape – with all the perks of a country retreat – is sealed.
Who's cooking?
Exec chef Nick Hodges and head chef Erkki Mikk are the talented duo who ensure practically everything that passes your lips during your stay is sourced locally – including the dayboat catch at dinner, the dairy products in the afternoon teas and even the artisan spirits in the cocktails.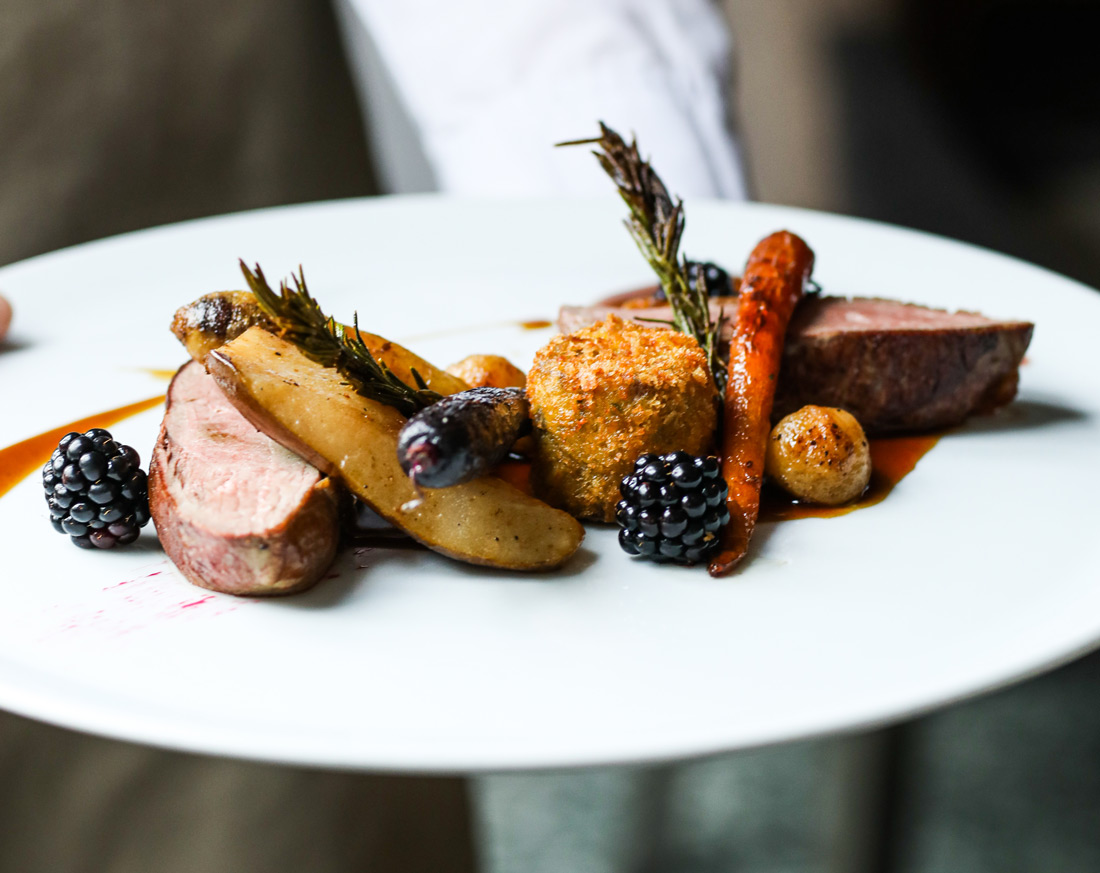 What to order?
Luxurious, rich and warming flavours of autumn abound. Start with something crisp and refreshing to tease the palate, like scrumptious sea trout served with a light apple, fennel and celeriac remoulade. Follow it with the tenderest of beef fillets accompanied by the earthy tastes and textures of seared duck liver, confit shallots, parmesan truffle mash and madeira sauce.
Vegetarians often get overlooked when the cooking palette turns from summer greens to rich dark colours. However, no such discrimination takes place here: dukkah-encrusted and yielding-to-the-knife aubergine is served with a pearl couscous bejewelled with sweet raisins and sprinkled with unctuous crumbled feta. Simply put, it's the most delicious vegetarian dish we've tasted in years (and adaptable for vegans too).
Can't choose from the pudding line-up? Opt for the daily changing sharing platter and leave it to dexterity and guile as to who gets the lion's share of delicious morsels such as honeycomb parfait, chocolate profiterole, cinnamon doughnuts and blackberry pannacotta.
Food's tip
The Courtyard, a stone's throw from the main building, is a luxe yet quirky hideout if you're staying over. Original features contrast with funky lighting and a steampunk-esque burnished copper freestanding bathtub.