Selena Young is swept away by the fabulous dining and modern maritime luxury of Falmouth's iconic harbourside hotel
What's the draw?
Falmouth isn't short of independent hospitality gems, but a stay at The Greenbank feels like finding a prize pearl in a bed of oysters.
The contemporary hotel enjoys an unrivalled position overlooking the harbour and within strolling distance of the attractive town's galleries, artisan shops, drinking dens and upscale eateries. From the restaurant and large circular bar to many of the bedrooms, guests are treated to as-far-as-the-eye- can-see views of the big blue.
Drinking in the sights while feasting at Trencherman's-rated The Water's Edge restaurant is what sets this nautical hotel apart from the crowd. Once you've tucked into sparklingly fresh seafood while gazing at a backdrop of moonlight-dappled water, you'll be itching to spread the word by telling friends and sharing on social.
Who's cooking?
Born and bred Falmouth chefs Nick Hodges (exec chef) and Bobby Southworth (head chef) work together to devise and deliver attractive dishes which big up the best of Cornish produce. (Read Nick and Bobby's guide to eating like a local in Cornwall here.)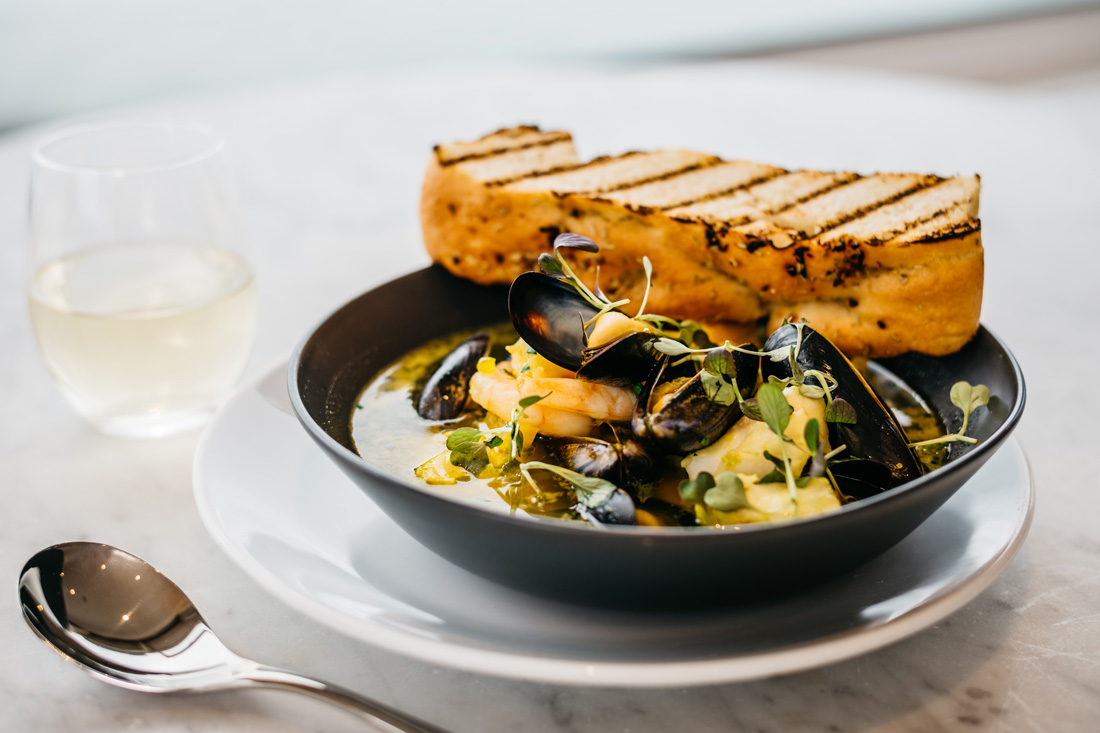 What to order?
As befits the waterside setting, the menu (and our appetites) angled towards fish and seafood.
The pick of the piscatorial pack was a turmeric-glazed cod fillet served with spiced lobster sauce, pleasingly fiery sag aloo and a salty sliver of seaweed tuile.
Meat dishes are just as creative and a starter of beef terrine (slow-cooked and pressed featherblade) was a delight, complemented by a rich celeriac remoulade and horseradish and port caramel sauce.
When it came to pud, we leaned into our fleeting Cornish staycation and polished off Nick and Bobby's take on the classic cream tea: strawberry textures, scone and parfait. We also sampled a moreish dark chocolate marquise – racy with cumin notes and served with yogurt ice cream, lime shavings and caramel.
The dedication to producing a quality experience extends to the drinks menu, so be sure to explore the inventive cocktails at the Water's Edge Bar before and after dinner. Creative confections are the bar team's thing and we loved their latest invention: Pink Paradise, a luscious elixir of cardamom vodka, lychee liqueur and hibiscus syrup topped with lime soda.
Food's tip
Book The Lookout Suite for modern maritime luxury and spellbinding views of the harbour. Its swanky extras (roll-top tub, telescope, balcony and super-king-size bed) will tempt you to spend more time than usual in your hotel room.