It's rare to find a city pub that feels like a proper local, but the community ethos at this Truro find serves up village pub vibes in abundance, discovers Abi Manning
What's the draw?
It's not easy to strike the balance between upmarket dining pub and a home-from-home for locals looking to nurse a pint and put the world to rights, yet The Rising Sun's owners Tom and Katie Hannon have achieved it – and then some.
In a city that doesn't suffer the tourist fluctuations of its coastal friends, this Truro pub draws a year-round following of loyal locals who enjoy its relaxed bar area but also use its restaurant as their go-to for any celebration that calls for great grub and a friendly atmosphere. On our visit, our table neighbours launched into an enthusiastic rendition of 'Happy retirement day to you' during our visit.
You can understand why people would be chuffed to call this Food Reader Awards finalist their local. Over the nine years Tom and Katie have spent transforming the pub from run-of-the-mill boozer to dining destination, every decision has been made with community in mind. This includes the zero-waste ethos and Tom's cooking lessons at Truro Nourish Hub.
Who's cooking?
While Katie leads front of house at The Rising Sun, Tom is head honcho in the kitchen. His fine-dining background is highlighted in this more casual setting – in both the food and the thoughtful touches that ensure a memorable experience. Those opting for steak, for example, can choose their weapon of choice from a case of bespoke knives made in collaboration with Pareusi in St Agnes.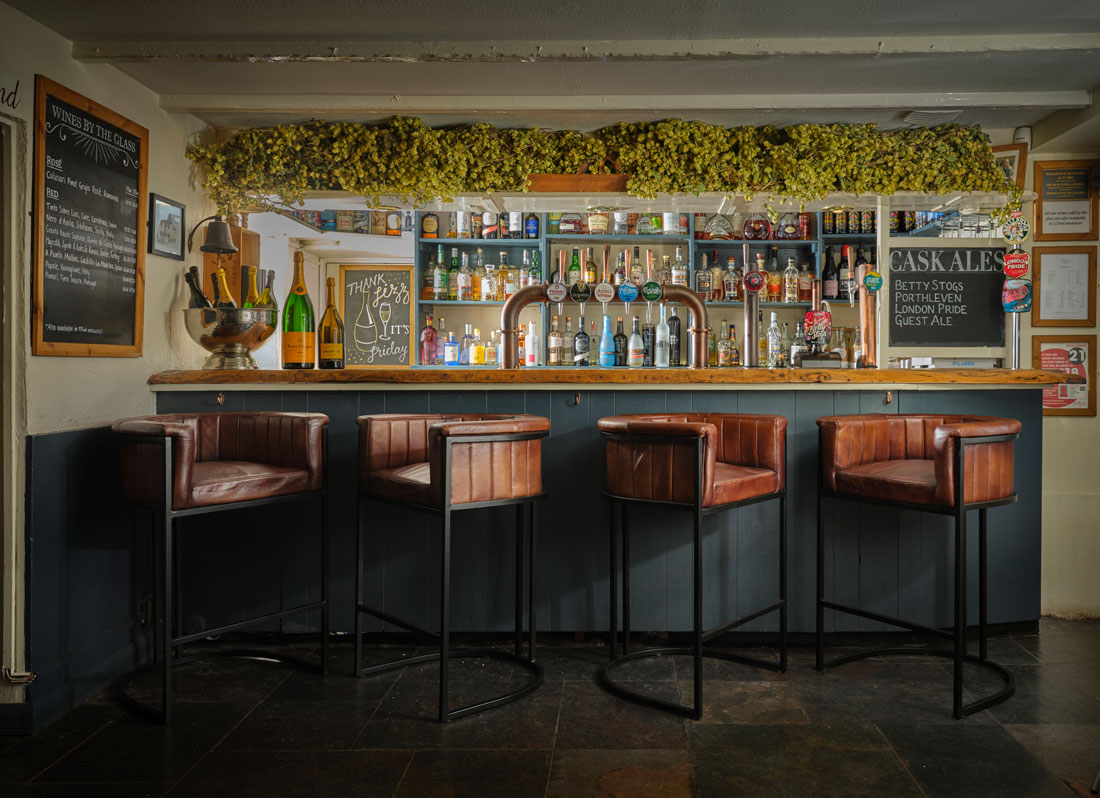 What to order?
It's uncommon for a Food review not to mention local sourcing, but Tom and Katie have fostered relationships with nearby suppliers since day one – years before it became the done thing. It's resulted in longstanding alliances with food pros who ensure the kitchen is supplied with fish freshly plucked from the waters of Newlyn, Falmouth and St Ives, microgreens snipped that morning, and the finest meats reared on West Country soil.
Three courses make for an unapologetically indulgent affair and a bread course of homemade onion and chorizo brioche dipped in salty jus gras set the scene in style.
This was followed by an array of meat and seafood plates showcasing Tom's fervour for flavour, majoring on rich purees and sauces that packed a punch. In one starter, tender quail breast on chorizo puree was paired with crisp parsnip and leek tendrils for crunch. Another, of meltingly soft scallops, delivered apple sweetness and a wallop of walnut.
For mains, the catch of the day was a hunk of meaty monkfish accompanied by fondant potato, fennel-braised carrots, carrot puree, shellfish bisque and a mini pan of tarragon sauce. Shout out, too, to the incredibly juicy and flavoursome 10-hour-roasted lamb shoulder.
The culinary journey continued with desserts of spiced pineapple tarte tatin served with coconut and lime sorbet, mango puree and rum-soaked raisins, and a wobbly honey and vanilla pannacotta crowned with Sauvignon-macerated peaches.
Food's tip
Katie and Tom are working on a number of events at The Rising Sun, so look out for the late-summer gin festival, wine and whisky tastings and performances from the local male voice choir (of which Tom is a member).