Abi Manning winged her way to Heron Farm near Honiton and discovered a laid‑back lunch spot among the vines
What's the draw?
An idyllic spot for lingering over lunch, relishing the fact that the glass of wine you're sipping was made with grapes grown mere metres from your table.
Since Heron Farm launched as a vineyard in 2018, it has embedded itself within its community to the extent that it draws crowds well beyond the wine curious. Families assemble for the accessible kids' menu, play area, fairy garden and Baby Sensory sessions; wellness seekers drop in for Pilates classes and nourishing food; friends gather for tapas evenings, live music and comedy nights; and tourists stop by for lunch on the sunny deck or at a table amid lush planting.
The gathering place for this eclectic community is a striking wood‑clad, plough‑shaped building (featured in an episode of Grand Designs), which houses the Vineyard Kitchen cafe and restaurant along with a small shop.
Who's cooking?
Chef Toby Hembury has headed up the kitchen crew for the past year. His attractively plated dishes utilise fresh, seasonal ingredients cultivated in the kitchen garden (wander round it before lunch to see the produce being grown) or sourced from sustainably minded local producers.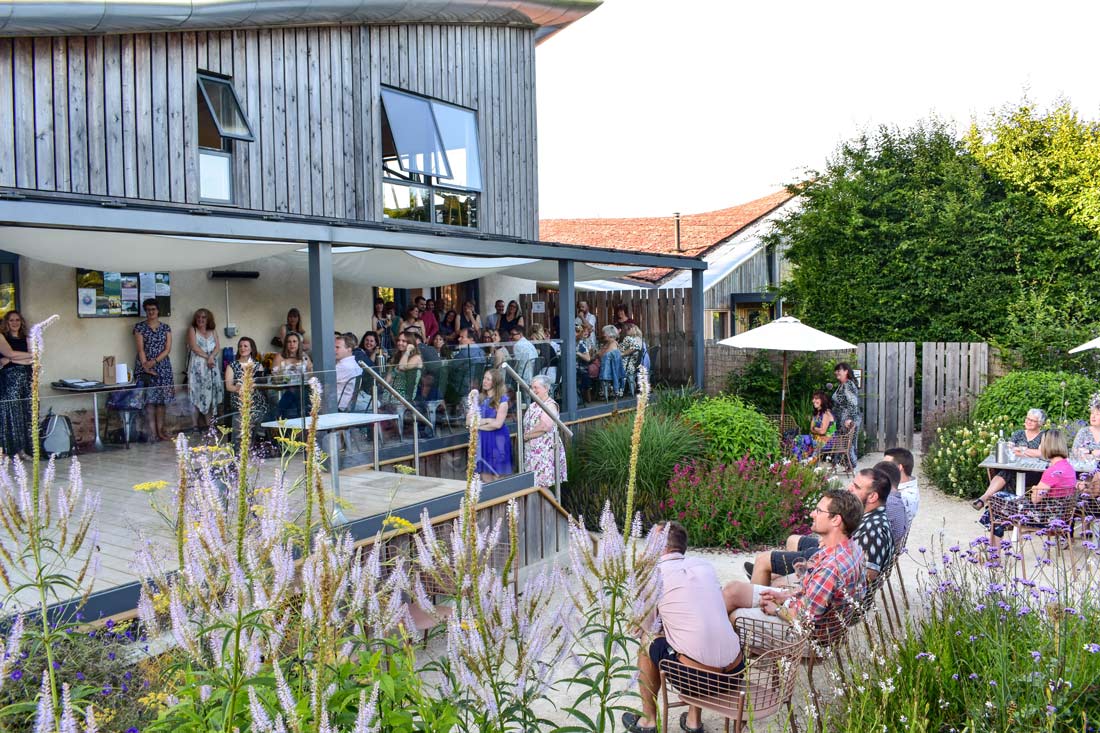 What to order?
The Vineyard Kitchen is a daytime‑only affair, with a lunch menu that majors on creative ciabatta sarnies, seasonal salads and a selection of more substantial dishes. A mezze board for one delivered highlights in the form of home‑pickled veg and a trio of fresh dips: rose‑harissa hummus, baba ganoush and muhammara. Another dish saw chestnut mushroom and smoked garlic arancini paired with a tomato and lime salsa and zingy rocket pesto. Both were a visual feast of greens, purples and oranges, adorned with floral garnishes.
From a list of four classic puds, the chocolate mousse with honeycomb, chocolate crumb and strawberries provided rich indulgence when scoffed from a mini Kilner. Quality post‑lunch caffeination came courtesy of Owens Organic Coffee in Ivybridge.
Any meal here would be incomplete without a bottle of homegrown wine. We tried Heron Farm's White 2021 vintage, which won a Silver Medal at the 2022 WineGB Awards. It's a delightful example of a South West white and is made from Seyval Blanc grapes grown on‑site and at a partner vineyard in Somerset. Follow the vineyard trail after lunch, glass in hand, to discover the provenance of your drink.
Don't rush away before browsing the lifestyle products, food and drink items (including Heron Farm's own wines, Ma La Gin and apple juice), toys, plants and local crafts at the shop.
Food's tip
Book onto a Saturday vineyard tour (or arrange a private one), running between April and October, to visit the vines and orchards and discover the process of growing grapes in this region – before tasting the fruits of the farm's labours.