History lovers adore this stunning Dartmoor pile which combines the grandeur of a stately house with excellent food, a cracking wine cellar and a home-from-home welcome
What's the draw?
The best kind of history lesson is a chance to nosey round an ancestral home, soak up the atmosphere and check out the fascinating foibles of its former residents.
One such previous occupant of Lewtrenchard Manor, a stunning manor house nestled beneath the wild tors of Dartmoor, was the Rev Sabine Baring- Gould. Alongside penning rousing hymns (Onward Christian Soldiers being one), the Rev was an early architecture salvager who liked to recycle bits and pieces from grand houses marked for demolition.
The Victorian clergyman's take on Jacobean grandeur (the building dates back to the 1600s) is pretty magnificent and virtually untouched by time (bar the odd sympathetic modern amenity).
As well as imposing stained glass, family portraits and stucco ceilings, the manor has a warm and intimate atmosphere, stoked by huge open fires, charming staff and a family-run ethos. A pretty courtyard and beautiful gardens whisk you away from the perpetual plate-spinning of modern life to utter tranquillity and timelessness.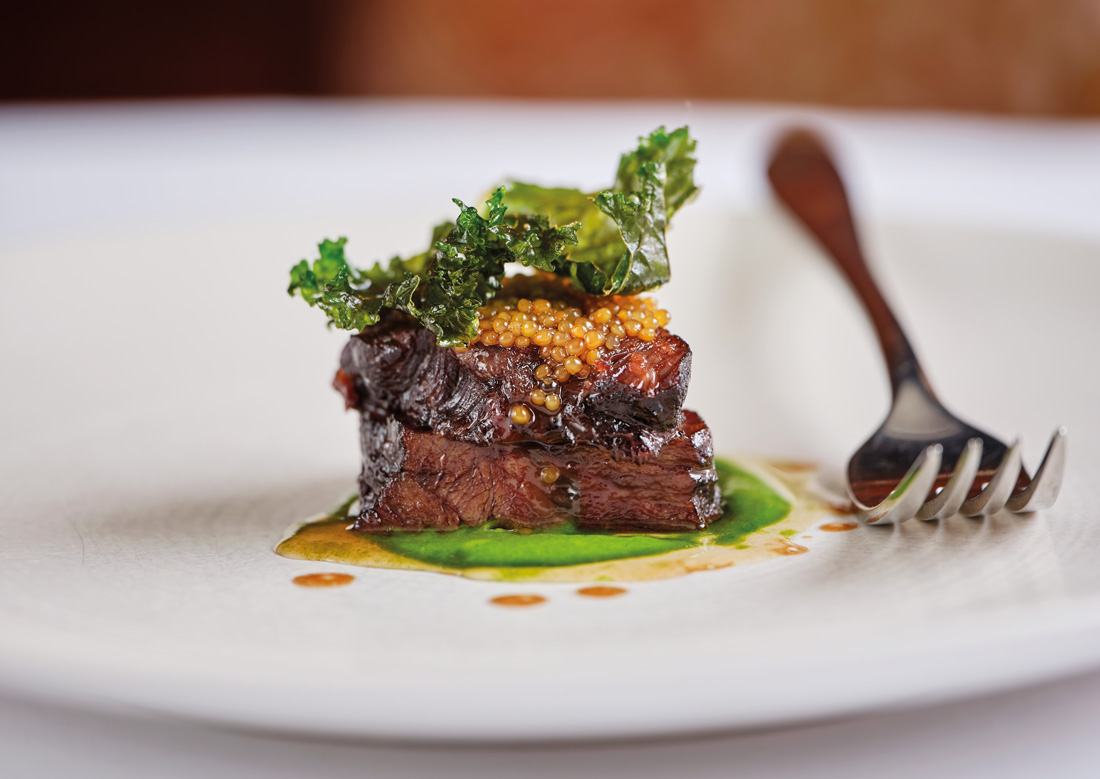 Who's cooking?
Head chef David Brown and team utilise the most fabulous raw ingredients – many of them freshly plucked from Lewtrenchard's kitchen garden – to beautifully craft classic combinations.
Choose between à la carte or tasting menus in the panelled dining room, or book the Purple Carrot private dining experience with its flat-screen views of the kitchen action.
What to order?
David pretty much allows the seasons to write his menus, so you can sit back and enjoy eating with the rhythm of nature – a pleasure which always feels right.
At the time of visiting, dinner and tasting menus were a parade of slow-cooked meats and vegetables with complementary layered flavours. Braised beef cheek was a soft bovine cushion which fell apart on the fork, complemented with dauphinoise potatoes and a red wine jus.
If you've ever wondered whether it's appropriate to just have onions as your main ingredient at dinner, David's succulent thyme-braised shallot dish will leave you utterly convinced. The allium's tender and juicy herbal qualities warranted its star billing and was artfully offset with skinny carrots, crisp potato, and carrot and truffle sauces.
Food's tip
Take advantage of the excitingly diverse cellar (there are reasonably priced bottles from every wine producing region in the world) at Lewtrenchard Manor and book one of the elegant rooms. Feed your costume-drama fantasies with a stay in St Clements, a swoon-worthy suite complete with carved four-poster bed (bodice and ruff optional).