This charming village pub is striking the anvil for sustainability via an incredible commitment to hyper-local food sourcing, finds Selena Young
What's the draw?
The Bear & Blacksmith's origins are steeped in legend. The story goes that a live bear was often tied up outside the pub while its owner was inside, propping up the bar. The bear's (understandably cross) growls were in earshot of the local blacksmith, and the pub was named as a result. Yet while the name is steeped in history, the dining pub's hyper-local and sustainable sourcing practices are light years ahead of others.
Diners are increasingly conscious about where and how their food is produced, and are seeking out restaurants that are wholly transparent about the produce on the plates. Fortunately, it's pretty easy to find venues serving local and ethically produced ingredients in the South West, yet few hit the heights of The Bear & Blacksmith.
The building blocks of chef owner Malcolm Church's uber-seasonal dishes are own-reared meats and homegrown fruit and vegetables from the pub's farm in the village. What he can't grow or rear himself is carefully sourced from local producers with whom he's forged longstanding relationships. Green veg, for example, is provided by an organic farm just two miles away, while fish is delivered fresh each morning from Rex Down Fish Merchants in Plymouth.
For this impressive provenance, high-quality cooking (we'll get to that) and the rural pub's jovial atmosphere, Malcolm and team scooped Best Pub in the highly regarded 2021 Trencherman's Awards.
Who's cooking?
Malcolm is the multi-skilled man ruling the roost – and the pass. From daybreak till dusk, his roles range from chef to butcher, farmer and gardener (oh, and he used to be a fisherman).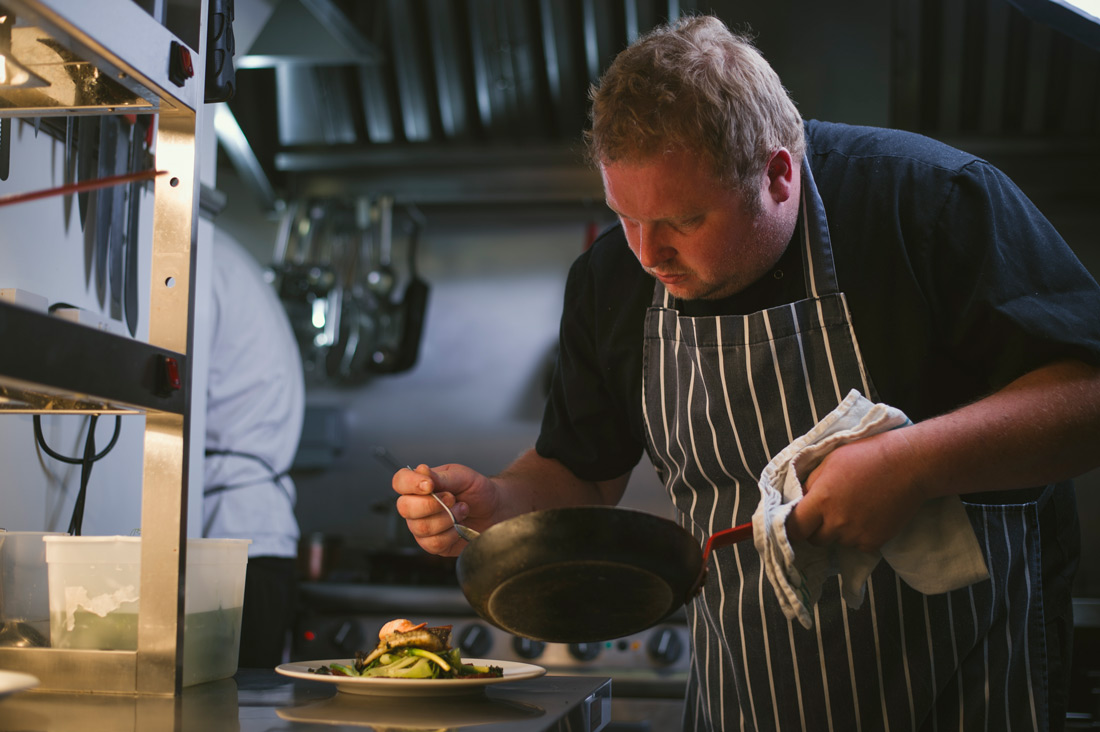 What to order?
Whether you plump for one of the crowd-pleasing pub classics or indulge in the day's special, dishes comfort and delight in equal parts.
We eased in with bite-size chunks of deliciously sticky slow-cooked pork belly (from own-reared pigs, naturally) laced with sweet chilli, coriander and lime, plus a second starter of plump pan-fried scallops accompanied by chorizo and velvety pea puree, before descending into full-blown gluttony.
A main-course trio of game was a tantalising competition of taste and provenance, with each element on the plate battling it out to impress the palate and score sourcing points. The pheasant (shot by Malcolm a few days earlier) was beautifully tender, while the venison (sourced in Kingsbridge) unravelled in its luscious celery-salted tomato sauce. However, the clear winner was the pigeon (sourced from a local who exchanges the birds for Sunday lunch), which was remarkably succulent, rich and subtly nutty. Simple sides of cauliflower, potatoes, carrot puree, green veg and red wine jus perfectly complemented the flavour-forward components.
A silky, gently swaying crème caramel, served with a buttery orange sablé biscuit, was a necessarily light end to the meal.
Food's tip
Recreate the plot-to-plate dining experience at home by ordering a superbly fresh meat-and-veg box from The Bear & Blacksmith Butchery.