Under new management, this north Devon retreat (formerly Highbullen Hotel) specialises in great-value family-friendly dining in a lively setting, writes Rosanna Rothery
What's the draw?
Located amid the bucolic fields of north Devon, The Mole Resort's manor house and eco lodges are a magnet for both families and couples thanks to their peaceful surroundings, child-friendly entertainment, affordable dining and opportunities for indulgence (such as soaking in a hot tub on your private balcony).
The resort's family-friendly approach is also appreciated by non-residents, especially those with intergenerational dining parties. Its relaxed vibe and crowd-pleasing menu is nothing short of a relief when there are a variety of ages and appetites to be catered for.
Cellar's Restaurant is nestled in the unique Arts and Crafts-era manor house and offers two distinct types of experience: a table by huge picture windows in the conservatory area will guarantee you sprawling views across the estate to lush Devon countryside, while the original cellars are full of secret nooks for more intimate dining. A playlist of feelgood hits from all eras and friendly service are conducive to everyone feeling comfortable and having a good time.
Who's cooking?
Executive chef Stephen Walker is pretty strict when it comes to ingredient selection and likes to foster relationships with local farmers, ensuring all his dishes are crafted with sustainable principles in mind. A good proportion of the produce he procures even comes from the fields the restaurant overlooks.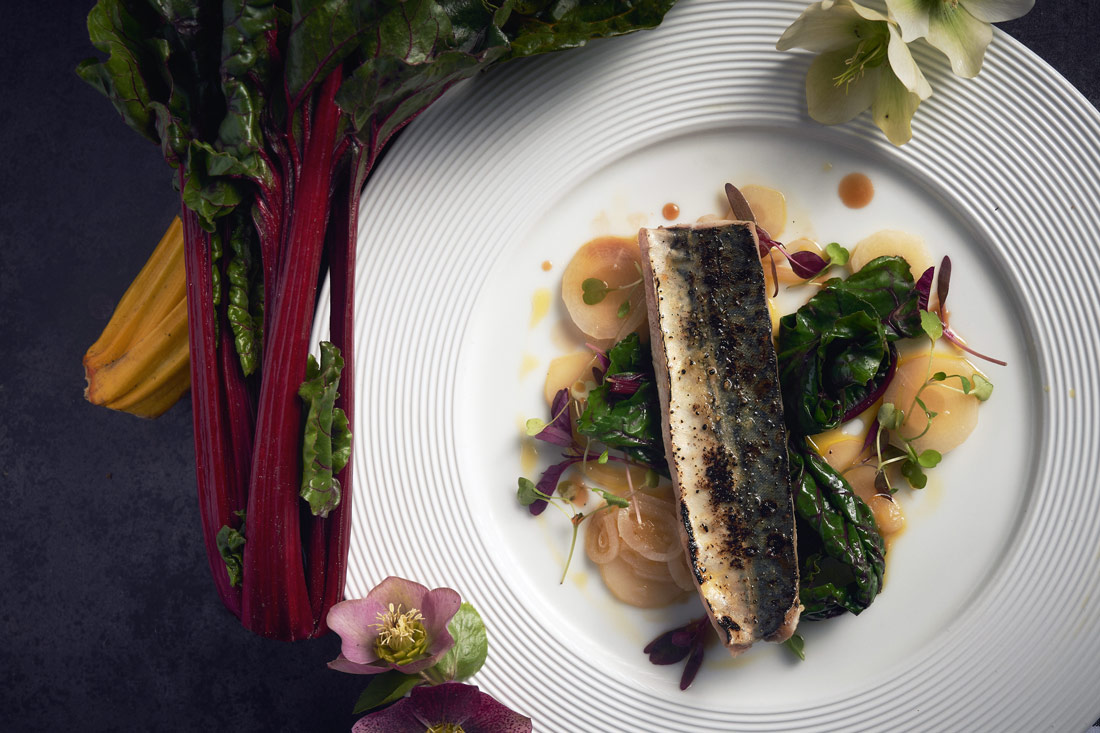 What to order?
A line-up of small plates is designed to appeal to those who want to kick off with a starter, share dishes with fellow diners or satiate a modest appetite. Retro favourites such as crispy prawns with a lobster marie rose and smoked paprika sauce sit alongside popular modern-day bites such as aubergine and courgette tempura.
Major cravings are best satisfied with the likes of Exmoor sirloin steak, a chargrilled Holsworthy pork and apple burger, a sourdough pizza or pasta dishes such as roasted tiger-prawn pappardelle with lobster bisque and heritage tomatoes. There are also plenty of traditional classics to explore: on our visit the pork fillet and smoked pancetta wellington turned out to be a very pleasing example of its kind.
Puddings provide a rich rush of gratifying sweetness to both the palate and the soul at the end of the meal and include a duck-egg tart with peach, and a Belgian chocolate fondant.
The option to follow a set two- or three-course section of the menu makes thrifty sense if you have a large group to feed or are dining out several nights in a row.
Food's tip
Get there early to enjoy a pre-dinner tipple. A Mole IPA or local spirits such as The Mole Resort's own tequila, gin and rum (distilled in Somerset) can be enjoyed in Cellar's Bar. Alternatively, pop into the Library Bar or, in summer, the terrace for cocktails and mocktails.