You'll need to book in advance to bag a table at The Dartmoor Inn as it's a huge hit with savvy foodies hunting out sophisticated Dartmoor dining, says Abi Manning
What's the draw?
There are country inns aplenty for glugging a pint at the bar after a yomp on the moor. But for something smarter than post-hike pub grub, The Dartmoor Inn hits the sweet spot between homely pub and quality dining establishment – and is definitely deserving of muddy-boots removal and a quick hair tidy.
Who's cooking?
Jay Barker-Jones has led the kitchen since he and wife Tess (front of house) took over the pub in 2019. His impressive CV lists various award-winning kitchens but his focus now is on crafting refined fare in a welcoming and distinctly unstuffy setting.
The rabbit warren of an inn has undergone extensive renovation to ensure the decor is as smart as the food, and now it's regularly full to bursting with loyal local foodies.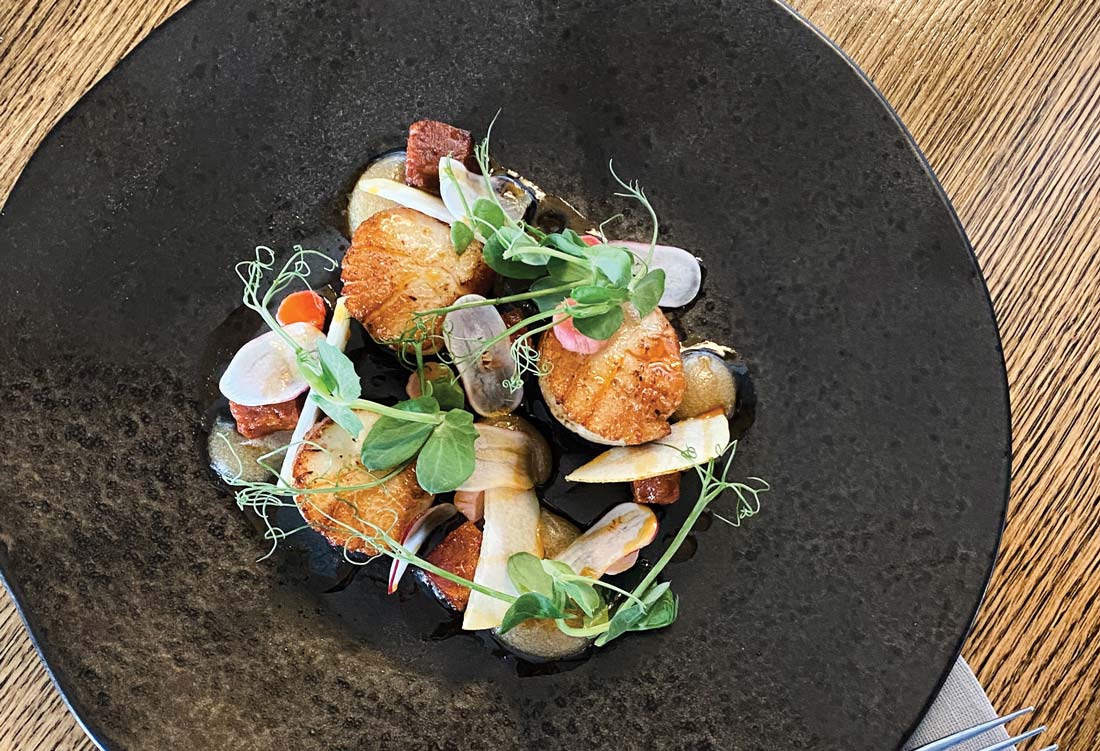 What to order?
Jay's daily changing menu reflects both what's in season and produced locally.
For a taste of Dartmoor we started with tender wood pigeon accompanied by jerusalem artichoke, hazelnut, mushroom and blueberries, which hit the right side of richness with its moreish mushroomy nuttiness. Another starter of whopping scallops, elevated with chorizo, pear and radish, is a staple on the menu (the locals won't let Jay take it off) and the first mouthful revealed why it's so popular.
The beautifully presented seafood paved the way for the main of halibut with potato, bok choi, tomato, spring onion and a punchy crab bisque. For pud we plumped for zing: lemon posset with chewy pistachios, raspberries, confit zest and a heavenly raspberry sorbet. A silky affogato was the final knockout blow to the waistband.
Food's tip
Typically, excellent dining destinations often neglect quality at the bookends of a meal (bread and coffee) – but not here.
Strike the balance between over-gorging and just-right carby satisfaction with pleasingly squidgy homemade bread (baked in-house twice a day), then finish with a roasted-down- the-road speciality espresso from Okehampton's No.1 Coffee.