Bath's new fine-dining destination offers an alternative take on sustainable food while still delivering big-hitting flavours and culinary thrills. Kathryn Lewis dines at The Elder
What's the draw?
Sustainable dining, but not as you know it.
When, in 2018, Mike Robinson (the restaurateur behind London's only Michelin-starred pub) started planning his new venture in Bath, he put sustainability at the heart of the project. For him that didn't mean plant-based menus but instead a focus on wild food and sourcing ingredients that are grown, reared and harvested in a way that benefits their locality.
After a few setbacks, The Elder opened in a row of classic Bath townhouses in autumn 2020. The decor is an indulgent mix of studded brown-leather banquettes, tortoise-green panelling, brass wall lamps and botanical prints. It's a verdant backdrop which perfectly suits the rooted-in-the-soil cooking going on in the kitchen.
Who's cooking?
Claridge's alumni Gavin Edney worked under Gordon Ramsay and André Garrett before taking on the role as group head chef at The Elder and sister restaurants The Woodsman in Stratford-upon-Avon and The Forge in Chester. He oversees a talented team of experienced chefs who work with him to devise innovative seasonal dishes.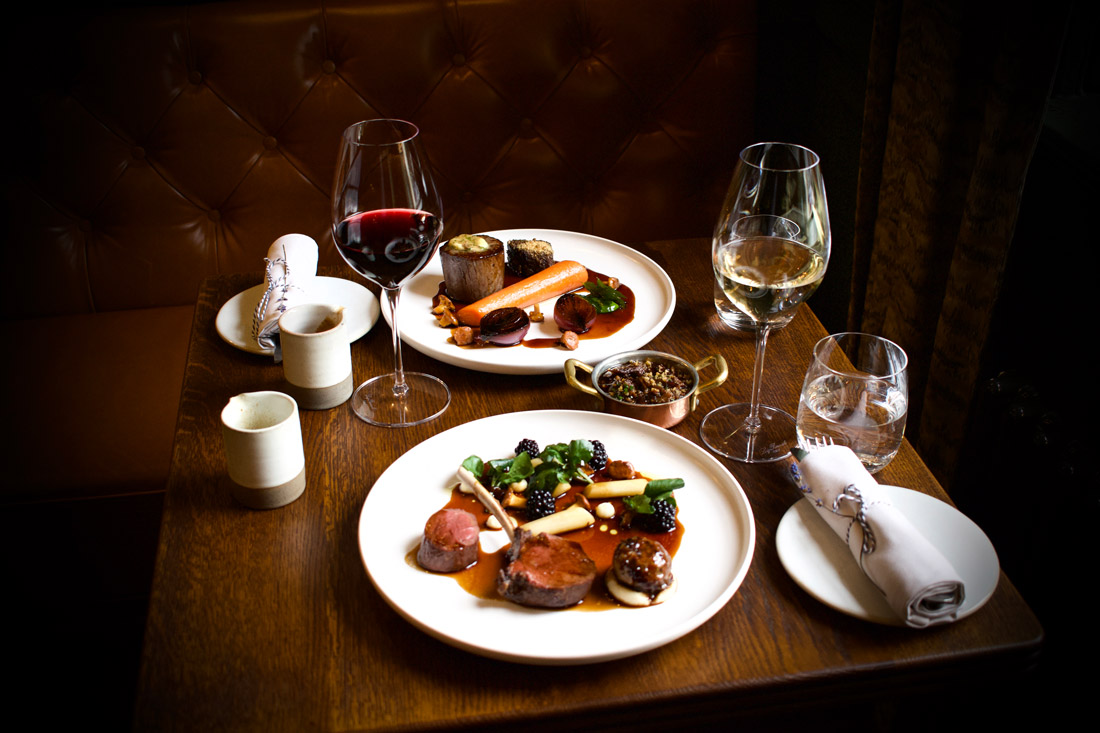 What to order?
The venison. Wild fallow deer, shot on The Elder's Bathurst Estate and then butchered in the in-house butchery, is the restaurant's headliner and features on the menu from early autumn through to late spring. Its support cast is updated regularly depending on the seasonal, local ingredients the chefs can get their hands on. On our visit, it was served three ways (haunch, rack and faggot) and paired with roasted pumpkin, creamed cabbage, crisp kale and a glossy grand veneur sauce.
Don't let the star act distract you from the other billings, however. A dish of miso-glazed monkfish tail was just as good or, dare we say it, even better. Roasted on the bone and lacquered with miso until irresistibly sticky, the Looe Harbour monkfish was ingeniously matched with a buttered dashi broth of black cabbage and mushrooms which, in whack-a-mole fashion, walloped the sweet, salty and sour sections of the palate in quick succession.
Starters and desserts also deliver big-hitting flavours. We started with a vibrant collection of roasted autumn roots, served with a brioche "soldier" layered with the comforting flavours of black truffle, and finished on a sweet high via a delicate prune and custard tart crowned with a scoop of cardamom-laced ice cream.
Food's tip
Take the experience up a notch by opting for the tasting menu (£80pp). The six-course line-up showcases the best bits of the main menu and can be paired with the knowledgeable front of house team's picks from the sizeable cellar.