Considering booking a last-minute flight somewhere warm? An evening at Boho Marché may just satisfy your craving for winter sun, says Kathryn Lewis
What's the draw?
The chance to escape the humdrum of British winter – if only for an evening. Dinner at Boho Marché won't boost your vitamin D levels, but the Moroccan-inspired restaurant will certainly deliver a fully immersive experience that'll instantly transport you hundreds of miles from the quintessentially English city in which it resides.
The decor (souk-meets-surf-shack- meets-jungle) is bold and all-consuming. Sit on a plush velvet banquette busied with richly coloured cushions, recline on a rattan armchair next to the lifesize horse installation, or settle beneath giant paper lampshades amid verdant-flora wallpaper. Whichever perch you choose, it may not be entirely clear where you're supposed to be – but it's certainly not Bath.
The rattle of ice in cocktail shakers and waft of North African spices from the kitchen enhances the sensory experience and signals to guests it's time to activate holiday mode.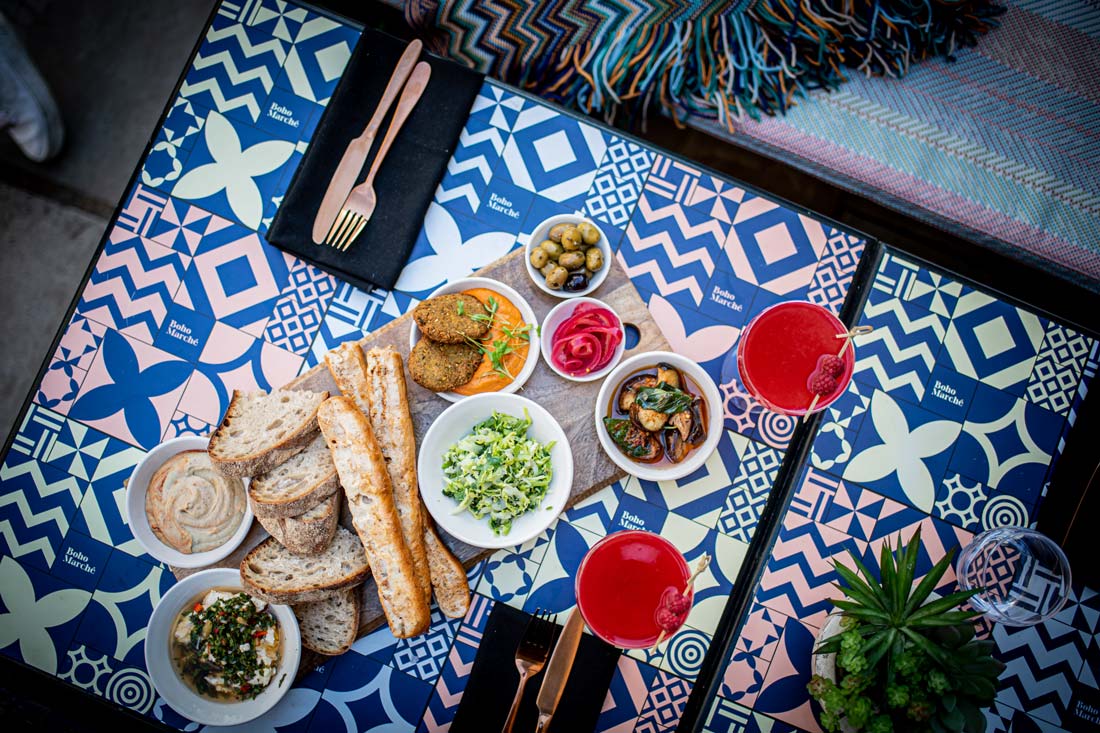 What to order?
The Boho Marché menu takes diners on a trip to Morocco with stopovers in the Mediterranean, Middle East and Asia along the way.
We'd recommend skipping over the mains and small plates (order those if there's still room later) and heading straight for a sharing board, which provides a whistlestop tour of North African and Middle Eastern dips, breads and delicacies.
Warm homemade barbari bread (chunky Persian flatbread fragrant with caraway seeds) is the vessel on which muhammara (a smoky red pepper dip from Syria), baba ganoush (chargrilled aubergine dip laced with tahini and lemon) and jben cheese (homemade goat's cheese infused with herbs) travel to their final destination. Punchy pickled red onions, vibrant chimichurri and harissa-marinated olives hop aboard as additional flavour-enhancing baggage.
Accompanying the finger foods are warm crunchy-on-the- outside, fluffy-in-the-middle falafel and a palate-cleansing green slaw made with fresh and crunchy cabbage, green pepper, celery and onion in a light lemon and yogurt dressing. There's an option to add small meaty dishes such as glossy braised ox-cheek which, layered with smoky roasted aubergines and a dollop of jben on a wedge of barbari, is a thing of beauty.
Food's tip
Boho Marché is located on the ground floor of the Francis Hotel, so if you're itching for a longer escape you can book one of the smart rooms and indulge in a mini vaycay.