The Rising Sun Knapp, Somerset's hot new dining pub, has hit the ground running and is delivering dapper cooking in a casual rural setting
What's the draw?
An ancient pub serving exceptional food in a friendly and unfussy way, with a joyful wine list, pub garden for aperitifs in summer and huge fireplace for winter cosiness.
Yet, beyond everything, The Rising Sun Knapp warrants attention for the quality of its cooking. That it's the kind of place that takes the culinary arts seriously is revealed the moment its heavy front door swings open to reveal the cookbooks lining the walls. Escoffier and River Cottage Handbooks squash up to Bill's Kitchen and early Nigel Slater in a paean to pots and pans.
Who's cooking?
Olly (chef) and Rebecca Jackson (front of house) are behind the new venture, although they're certainly not newbies to this part of Somerset. The couple ran the five‑star Langford Fivehead Hotel nearby for seven years before it was sold in 2021. Happily, the sale dovetailed with the availability of The Rising Sun in the bucolic hamlet of Knapp and they seized the opportunity to weave their high‑end hospitality skills into a more mellow setting.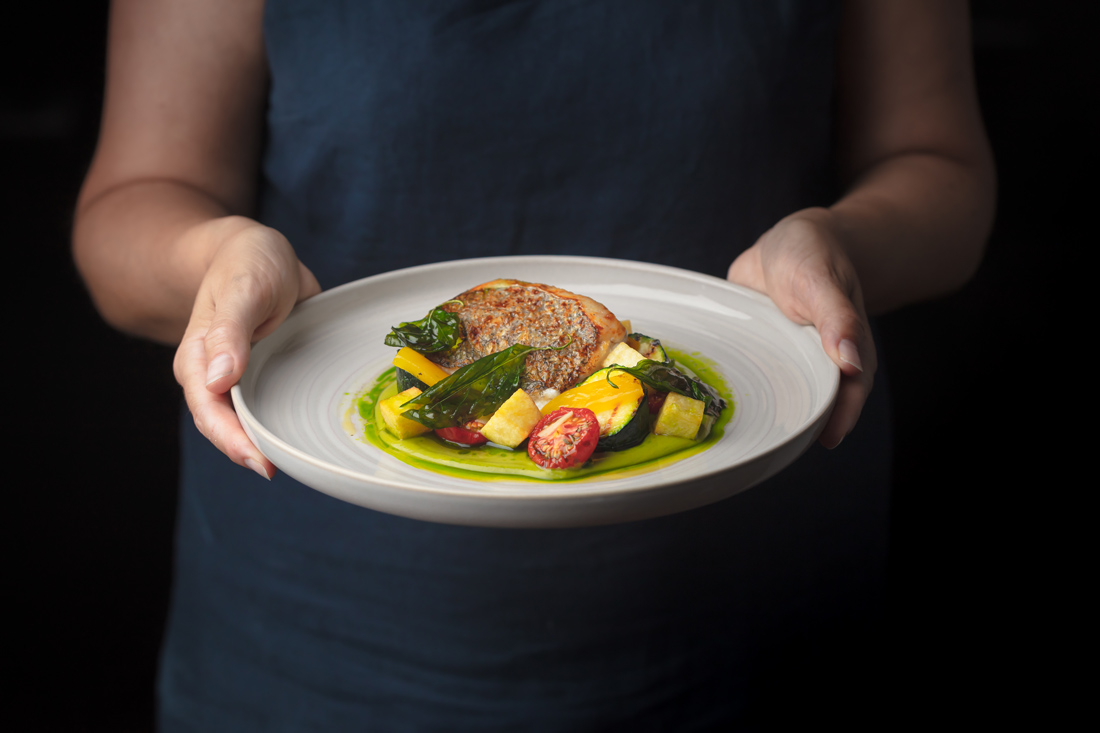 What to order?
A pleasingly simple 6/6/6 menu structure clarifies that this is all about provenance of ingredients and fresh preparation, yet confounds as a result of so many seductive dishes calling, siren‑like, for consideration. Should the pan‑fried hake with broccoli, pea puree, parmentier potatoes and tartare butter sauce win or will the opportunity to eat wild sea bass swing it? Then again, who can resist the tried and tested delights of lamb cooked three ways (roast loin, crispy breast and confit shoulder) with broad beans, griddled little gem, new potatoes and mint béarnaise?
In the end, pork tenderloin with a smoky ham‑hock croquette, hispi cabbage, outrageously indulgent gratin dauphinois, celeriac puree and gooseberry ketchup triumphed – its careful composition of sweet, salty, acidic, soft, crisp and creamy combining in glorious harmony.
Assistant chef Matt's individual loaves of homemade bread are hard to resist devouring in their entirety, but it would have been reckless not to save room for dessert. We ordered the dark chocolate ganache with nougat and peanut crème – rich but with enough salt to balance the sweetness, some crunch for interest and a quenelle of cool milk ice cream to cut through the lot. Imagine a Snickers bar that's been upgraded from a three‑bed semi to a country pile and you've got the picture.
Food's tip
The Rising Sun should absolutely be on your hit list for dinner but, as it's just four miles off the M5, it's also very useful to have squirreled away for the next time you need a lunchtime stop in Somerset and Taunton Deane Services' Roadchef isn't going to cut it.