Ben Prior's inventive use of local produce earned his Cornish Kitchen a place on every established foodie's bucket list. A decade on, it's wine that's inspiring the chef to don his whites, discovers Kathryn Lewis
After spending the British winter vineyard hopping and hosting pop-ups across South Africa, Ben returned to his popular Cornish restaurant creatively recharged and inspired to let wine lead his daily menus.
So, when the family set-up (Ben's brother Toby joins him at the pass and mum Jayne helps out front of house) re-opened for the season in February, out went the name Ben's Cornish Kitchen and in came a bottle shop and more casual dining concept.
VISIT for what might well be the best South African wine collection in the country. Ben admits that 'each dish starts with the wine – then comes the food' and his pairing with each course proves his palate is operating at perfect pitch.
Diehard Cornish Kitchen fans needn't worry about standards slipping with the shift in focus; the beautifully presented plates of local fish, meat and game are as impressive as when Jay Rayner sang Ben's praises in print in 2014.
Highlights of our visit (like picking between your children, but here goes) include lightly spiced tandoori monkfish served on the bone with fresh fennel and apple salad, and delicately seared pigeon on a salad of bitter leaves with liver parfait and jammy elderberry and pear chutney.
DON'T VISIT by car. Seriously, this wine list is too good to miss out on – even if, like us, you leave laden with bottles from the shop. The Godolphin Arms across the road houses a collection of rooms with eye-popping views of St Michael's Mount, so it's easy to make a weekend of it.
WE LIKED the laid-back atmosphere. Wine-matched suppers can be a pompous practice but the vibe here is super chilled: staff are chatty, the interior rustic and Ben is often up for a chinwag after service.
INSIDER'S TIP Repeat after me: 'I must not fill up on deliciously smoky cumin-spiked hummus served with homemade bread'.
What we ate (dinner)
Starter Tandoori monkfish, fennel and apple salad
Main Lamb chump, caponata, candied aubergine, salsa verde
Pud Chocolate jaffa pavé, blood orange syrup, ginger and vanilla ice cream
3 courses from £34

As featured in food Magazine's April 2019 issue.
Also try
The magnificent sight of a sea-encircled fairytale castle off Marazion suggests that lunch is going to be rather special, writes Rosanna Rothery
A full refurb, stunning views of St Michael's Mount and creative cooking make the hotel worth a revisit, discovers Jo Rees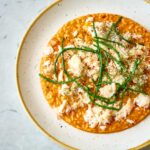 Since leaving Fifteen Cornwall, Andy Appleton has been quietly crafting seriously creative Italian dishes at a Cornish vineyard. The secret's out, so consider this your nudge to get Appleton's at the Vineyard in your little black book, says Kathryn Lewis