Chris Simpson of Outlaw's Fish Kitchen shares his scallop with ink sauce recipe
For the scallops
Large scallops 12, prepared
Cornish sea salt
Cornish rapeseed oil
For the sauce
Fish stock 1 litre (bought or homemade from fish bones)
Plum tomatoes 2, skinned and chopped
Unsalted butter 100g
Tarragon 1 sprig
Squid ink 1 tbsp (your fishmonger should be able to supply this)
For the sauce, place the fish stock, plum tomatoes, butter and tarragon into a medium sized saucepan and bring to the boil. Cook until the liquid has reduced by half.
Remove the tarragon and pass the liquid through a fine sieve into a bowl underneath. Add the squid ink and stir in thoroughly. Keep warm.
For the scallops, warm 4 plates. Drizzle a frying pan with rapeseed oil then heat on the hob until the oil is hot. Carefully place the scallops into the pan and simmer for 1 minute on each side until they begin to turn a light golden brown.
Divide the sauce between the warm plates and place the scallops in the middle. Serve immediately.
Chef's tip: 'A great dish for a sunny day with crusty bread to mop up the squid ink sauce,' says Chris Simpson, head chef at restaurant Nathan Outlaw
​1 Middle Street, Port Isaac, Cornwall, PL29 3RH
'This goes down a storm at Outlaw's Fish Kitchen, and we add purple sprouting broccoli in season,' says James Lean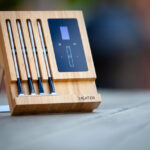 Jo Rees roadtests the Meater Block – life changing piece of barbie kit or another gadget that'll end up at the back of the cupboard?