Running The Holcombe is a labour of love for its hardworking owners whose kitchen garden inspires a delicious and imaginative menu, writes Rosanna Rothery
What's the draw?
Flavour-packed creations crafted from fruit and vegetables that only hours (sometimes minutes) earlier were growing in The Holcombe's own kitchen garden, now attractively plated with homegrown flowers and herbs.
Alan Lucas and Caroline Gardiner have created one of the most environmentally conscious inns in the country. Not only do they compost all the food waste and recycle cooking oil into biodiesel, they also have wildlife-friendly plots among their raised beds and aim to use every single part of each plant via pickling, fermenting and preserve-making.
Gluts of veg are turned into salsas and sauces, inhabitants of garden beehives make the honey, and foraged sloes and elderflowers are used to flavour gins. All the furnishings are British made, while meat and fish are sourced locally from nearby farmers and fishermen.
Who's cooking?
Alan is a one-man prepping, pickling and preserving machine and relishes finding creative new ways to use the produce from the plots and polytunnel. It's his passion to ensure everything, from the sourdough bagels at breakfast to the ricotta-style cheese at dinner and the ice cream served with pudding, is made in-house.
His background, co-running a London catering and events company with Caroline, has equipped him with the skills to conjure up new dishes from the morning's harvest on the hop.
Caroline also worked as a chef but now prefers to use her skills front of house to create a comfortable and welcoming stay for guests.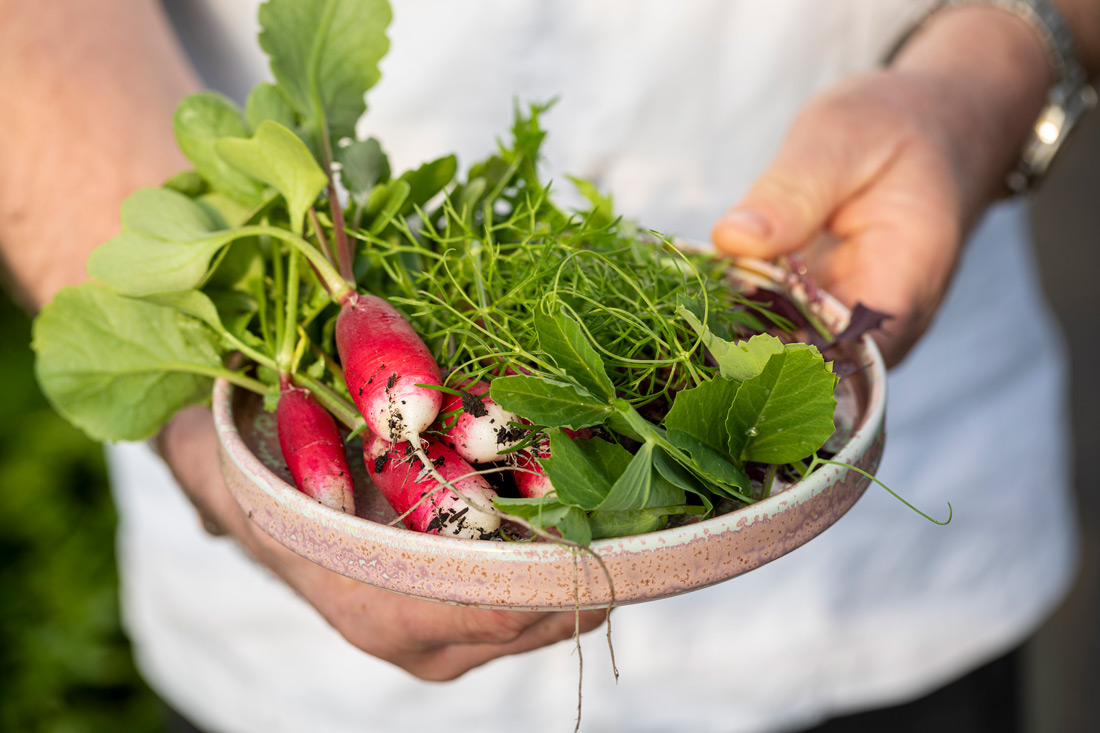 What to order?
Every single dish we ordered looked exquisite (colourful and scattered with the garden's edible flowers) and tasted arrestingly good – with produce this fresh, flavours zing.
A starter of ricotta dumplings, pickled and pureed carrots, and garden chilli offered comfort, tang and heat in a single forkful. For mains, a special of Creedy Carver duck was divinely tender, the bird having been christened with a honey-soy glaze and baptised in a beetroot and orange sauce.
Vegetarians and vegans should know the veg-centric dishes are also fantastic. Our slow-cooked aubergine was beautifully warming and offset with Old Winchester cheese, tomato confit and garden onions in crispy tempura jackets.
As you might expect, puddings were far from standard pub fare and the likes of rhubarb trifle with honeycomb were an excellent finale.
Food's tip
Those who enjoy a good yomp down country lanes will want to stay over in one of the restful rooms or garden lodges. The inn is surrounded by fields and makes for a calming rural retreat. It's also a lovely base from which to explore nearby cities like Wells, Bath and Bristol.
Thankfully the breakfast offering steers clear of bog-standard buffet territory. Instead, in the morning you'll be greeted with a sumptuous bespoke feast (ordered the night before) which includes homemade sourdough bread and bagels, rhubarb and vanilla jam, compote crafted with garden berries and your choice of hot-from-the-stove dishes.
The list of local draught ales, bottled beers and gins is also worth exploring. On a summer evening, it's lovely to sit at the long table on the terrace sipping The Holcombe Collins cocktail (rhubarb gin and compote, lime and soda) and watch golden rays silhouetting the tower of Downside Abbey.