Regenerative farming is the latest buzzword in food and sustainability, but what does it mean and why do you need to know about it? Kathryn Lewis asks a few regenerative changemakers
There are alarming predictions that our soils have just 60 harvests left before they become too barren to bear food – the estimate dwindling to nine fertile harvests in some parts of the world. Whether that's accurate or not (it's disputed in some quarters), it's rooted in the uncomfortable idea that the process by which much food is cultivated erodes the soil and exhausts it of nutrients.
Soil health is directly linked to climate change as soil is one of the planet's great carbon stores – as soil declines so does the amount of carbon it can absorb. As a result, soil health is becoming an increasingly pressing issue as the effects of climate change become more apparent. Some thought leaders believe there is a cure for soil's maladies: regenerative farming. It can be highly effective and, unlike many other green technologies, making the switch doesn't need to cost a fortune.
Shane Holland, executive chair of Slow Food in the UK, describes regenerative farming as: 'a holistic approach to farming that focuses on how the farm and ecological systems come together'.
It's a way of farming that works in harmony with nature to replenish the soil and allows the ecosystems within it to thrive. Shane says: 'It's farming in a way that people would have done before the second world war, where a variety of crops and animals are grown side by side.'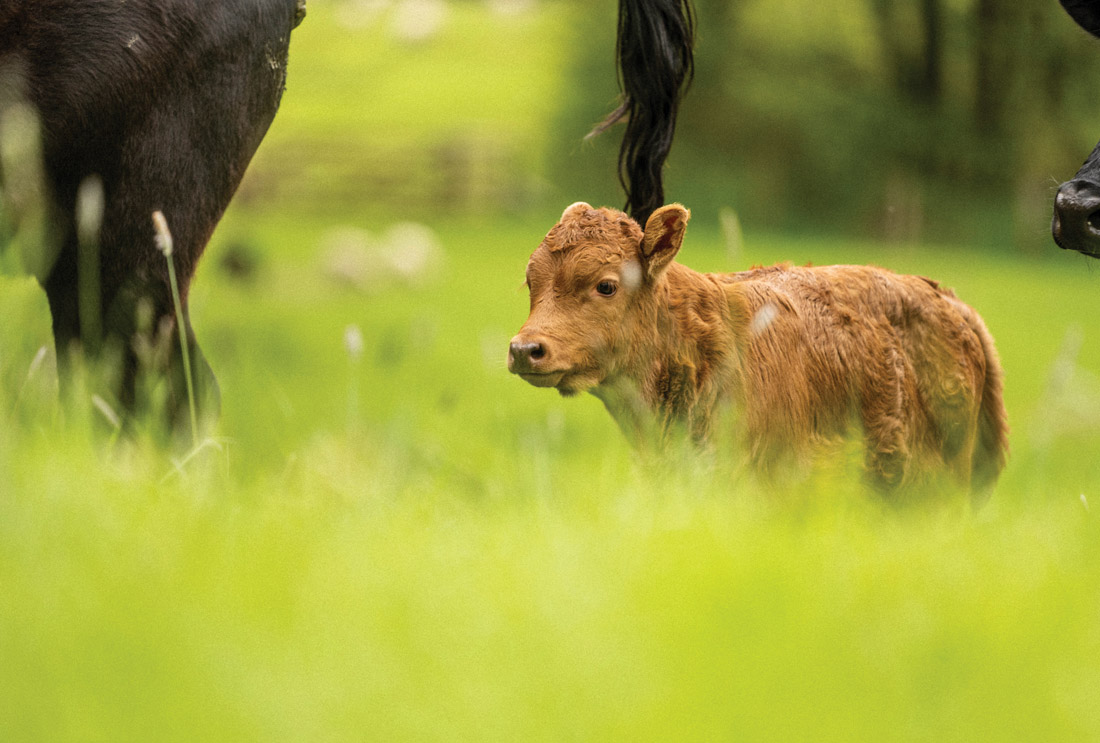 The four pillars of regenerative farming
Regenerative farming isn't prescriptive. There are no set rules and currently there's no certification. However, four principles are generally followed: not disturbing the soil which means no (or very little) tilling, ploughing or digging; no (or low) use of fertiliser; growing a biodiverse range of crops and using cover crops; and the introduction of livestock on arable farms to create mixed farming (which fertilises the soil through the production of manure).
Diversity is key to building healthy and microbe-rich soil. Sprawling fields of monocrops can deplete the soil of available nutrients and, although regular farming usually involves rotating crops, in regenerative farming an array of crops are grown in the same soil at the same time. Farming in this way and with the addition of cover crops (plants that aren't harvested but instead planted to protect the soil from erosion and to put nutrients back into the ground) is believed to increase microbial diversity, which means better soil health. Add animals to the mix and biodiversity is increased yet further.
It's not just the soil that benefits from a nutritional boost either: 'Food grown following regenerative agriculture principles tends to have higher nutritional content,' says Shane.
'This isn't just because the soil is more nutrient dense,' he asserts. 'When attacked by insects, plants produce chemicals that protect themselves and alert other plants to the danger. These chemicals are called polyphenols and they're known for their health benefits for humans. If you spray plants with insecticides, it prevents that natural chemical reaction from occurring.'
This minimal input approach may sound simple, but for the past 75 years the South West's rich farming culture has been driven by the need to achieve high yields in order to remain financially viable. Farmers rely on fertiliser, animal feed and fuel to produce a harvest that's as reliable as possible so they can earn a steady income and produce food to feed the nation.
In many ways, regenerative farming is the antithesis of this: it's a process of trial and error which allows nature to call the shots. For most farmers, who operate on very tight margins, giving control back to nature is just too much of a financial risk.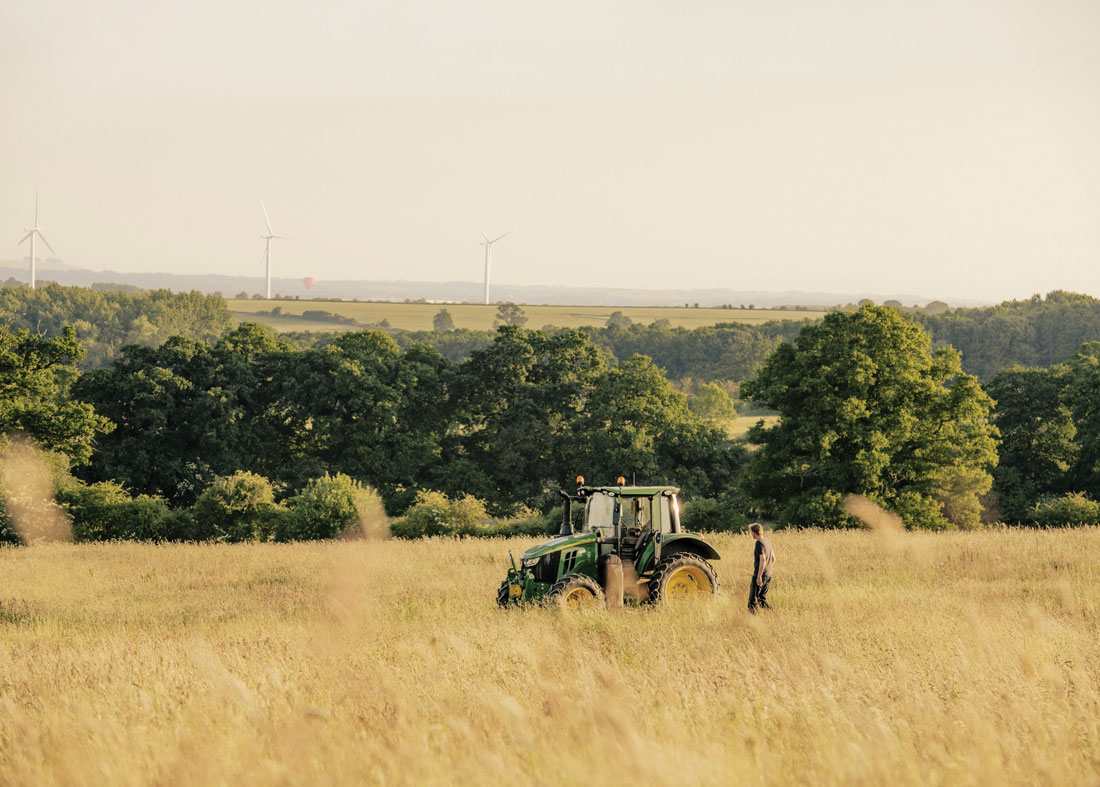 Regen in action
Josh Sparkes, head gardener at The Collective at Woolsery in north Devon, is one of the South West farmers going against the grain. The Collective, which includes a dining pub (The Farmers Arms), village store, accommodation, and fish and chip shop, is owned by multimillionaire couple Michael and Xochi Birch. The pair have the means and the desire to do something groundbreaking and the entire project is built around Birch Farm, its 150-acre farm where Josh and livestock manager Chris Jenn employ a minimum-input ethos to produce food for the project.
'We want to grow food as sustainably and as cheaply as possible so we can produce affordable food for our community,' explains Josh. 'We strive to have no inputs from outside of the farm and to build fertility from what we have available.
'We grow food as part of our ecosystem. Our approach is a mix of Japanese natural farming [Josh was awarded a fellowship that enabled him to train in Japan], agroforestry and permaculture.'
At the heart of the gardens and fi elds of Birch Farm is the use of polyculture, which sees multiple plants grown in the same place simultaneously. At the farm, around five plants coexist in the ground at any one time and, going against every gardener's natural impulse, weeds are allowed to live alongside to further restore soil health. But can this hands-off way of farming be fruitful?
'I've found it to be a slower but more relaxed approach,' says Josh. 'Once the crops get going, we don't have to do much: we don't have to weed as the crops naturally outcompete them, we don't have to irrigate as moisture is kept within the ground and we don't have to constantly hoe the soil. It's going incredibly well – the hardest thing is resetting your attitude.'
On whether he thinks more farms in the South West will follow suit, he says: 'Farming has to go this way as the cost of fossil fuels and fertilisers are spiralling and conventional farming is becoming unaffordable. The only way the land can be regenerated is via nature – humans can't do it – so we've got to give nature space to heal itself.'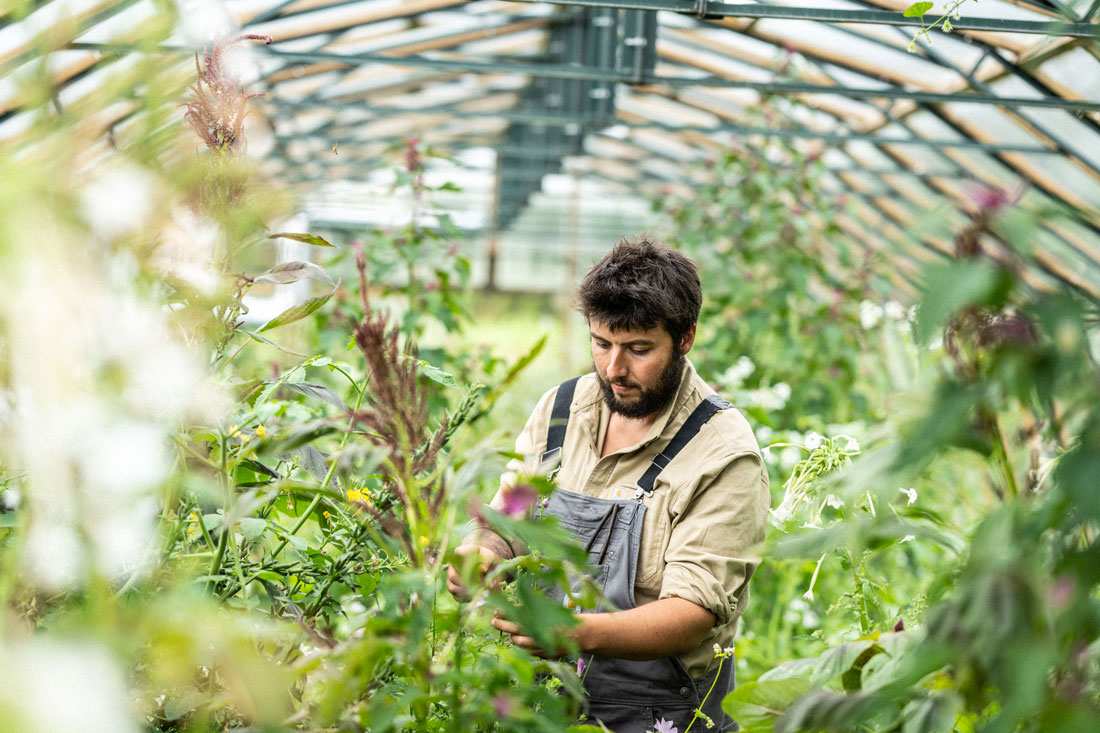 Power in flour
Birch Farm isn't alone in the South West in its regenerative endeavours. Another group of farmers using regenerative practices are working with Wildfarmed, a flour producer that provides a market for the farmers' harvested grains. Its Growers Community currently has over 40 members across the UK and France, and their grain is milled at Matthew Millers in the Cotswolds.
'Wildfarmed was born out of a desire to incentivise farmers to farm regeneratively, but at a scale where they could sell to the high street,' says Harriet Cherry, agricultural relationship manager at Wildfarmed.
'Current farming systems focus on yield and volume. We've created an opportunity for conventional farmers to take a first step into regenerative agriculture in a way that comes with support. And we off er a financial premium which alleviates the risk of dropping out of the conventional system.'
Wildfarmed isn't prescriptive about what constitutes regenerative farming. Instead, the team aim to empower farmers to understand their soil – they know that what works for a farmer in Devon might not work in Northumberland. However, they do have two non-negotiables: no herbicides, pesticides or fungicides are to be used once the seed is in the ground, and multiple plants must be planted in the soil at the same time.
'We're approached by farmers of every stripe who want to join our network,' says Harriet, who describes working with relatively new farmers as well as those who have farmed conventionally for years before switching lanes. 'As well as producing a route to market, we provide a community space where farmers can share knowledge.'
Wildfarmed is still in its infancy (it launched in 2018), but the company has undertaken baseline data collection and will monitor the health of the soil on selected farms over the next five years to quantify the effects of regenerative farming.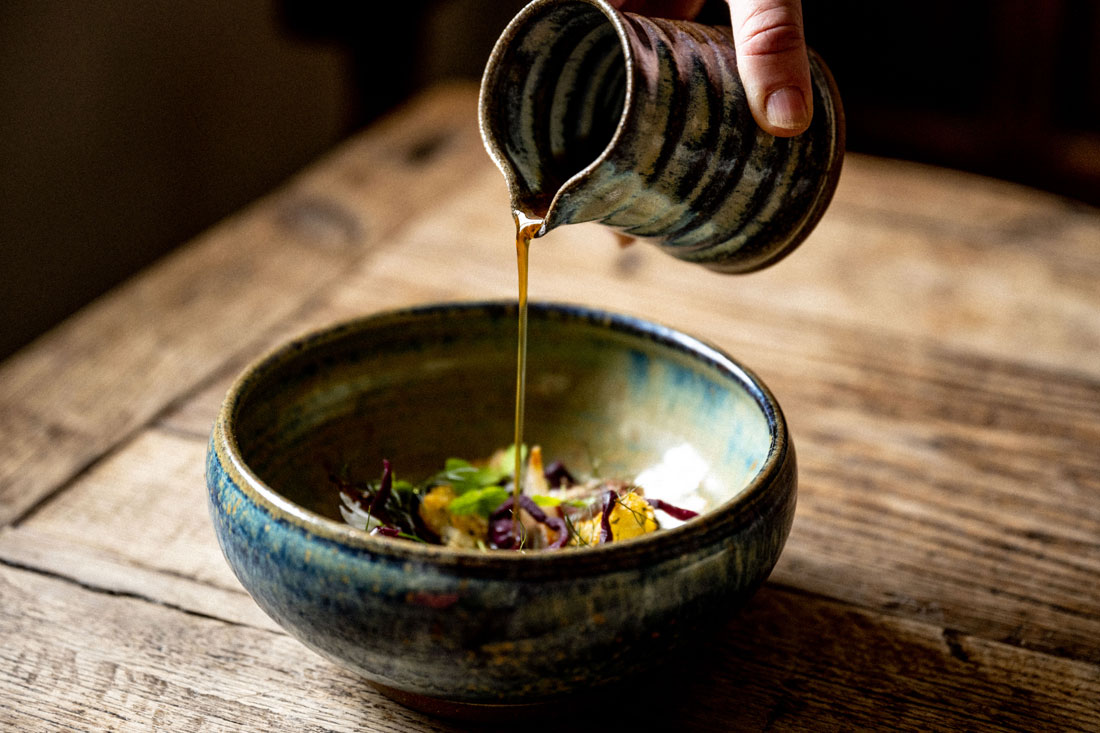 Consumer clout
While there is currently no certification for regenerative farming in the same way there is for organic farming, there are still ways in which consumers can support farmers' use of regenerative agricultural practices. Shane of Slow Food recommends shopping at farmers' markets, farm shops and independent butchers where you can ask how and where the food was grown or reared.
It's worth remembering that consumers can be very powerful because retailers tend (eventually) to adapt to customer demand. Harriet says: 'Regenerative farming is a direction of travel rather than an absolute state of being'. And so, as consumers, we can ask questions and make associated purchasing decisions to help ensure it heads the way we'd like it to go.
Keen to stay up to date on what's new and get the heads up on the best places to eat shop and stay in the South West? Want to support independent publishing and creativity in the region? You can do both at once when you take out a subscription to the printed edition of Food Magazine. Six gorgeous issues a year, delivered to your door for just £25. Subscribe here 
We interviewed Shane Holland of Slow Food in the UK at Relais & Châteaux's Regenerative Farming conference at Lympstone Manor, which was supported by Darts Farm.