Kathryn Lewis roadtests the award-winning Cornish Blue via Cornish Cheese Co.'s new cheese-by-post service
What is it?
Cornish Cheese Co.'s world champion Cornish Blue Cheese (it scooped the top honour at the 2010 World Cheese Awards), carefully packaged and couriered to your door at peak maturity.
Why?
Before the calamity that was 2020, The Cornish Cheese Co. sold around 80 per cent of its deliciously mild Cornish Blue to the hospitality sector so, when lockdown was imposed in March, the Liskeard cheesemakers had a huge amount of increasingly maturing cheese on their hands. The quick-thinking team took to Twitter to raise the alarm and asked the public to save tonnes of handmade cheese from going in the bin by buying it from them direct.
Almost a year later, the third lockdown has resulted in another plea to its followers to help them shift the stock which should be being served in the South West's finest restaurants and delis.
The low-down
Phillip and Carol Stansfield started making cheese at their Bodmin Moor farm in 2001 when milk prices plummeted and they needed a new revenue stream. Noticing a glaring gap in the market for a blue cheese produced in Cornwall, Philip went back to agricultural college to learn the art of cheesemaking.
Not wanting to compete with Stilton, they decided to make a creamier milder blue which gently melts on the tongue before delivering the classic savoury punch of a quality cultivated cheese. The word 'crowd-pleasing' is often thrown about willy-nilly in food writing, but Cornish Blue is exactly that – those with a modest palate rate it as much as connoisseurs who thrive on finding the pongiest specimen going.
Its gentle nature means it's good for more than just cheeseboards, too. We stirred it into risotto for added silky texture and a subtle salty kick, and crumbled it over garlicy mushrooms on sourdough for an elevated lockdown brunch.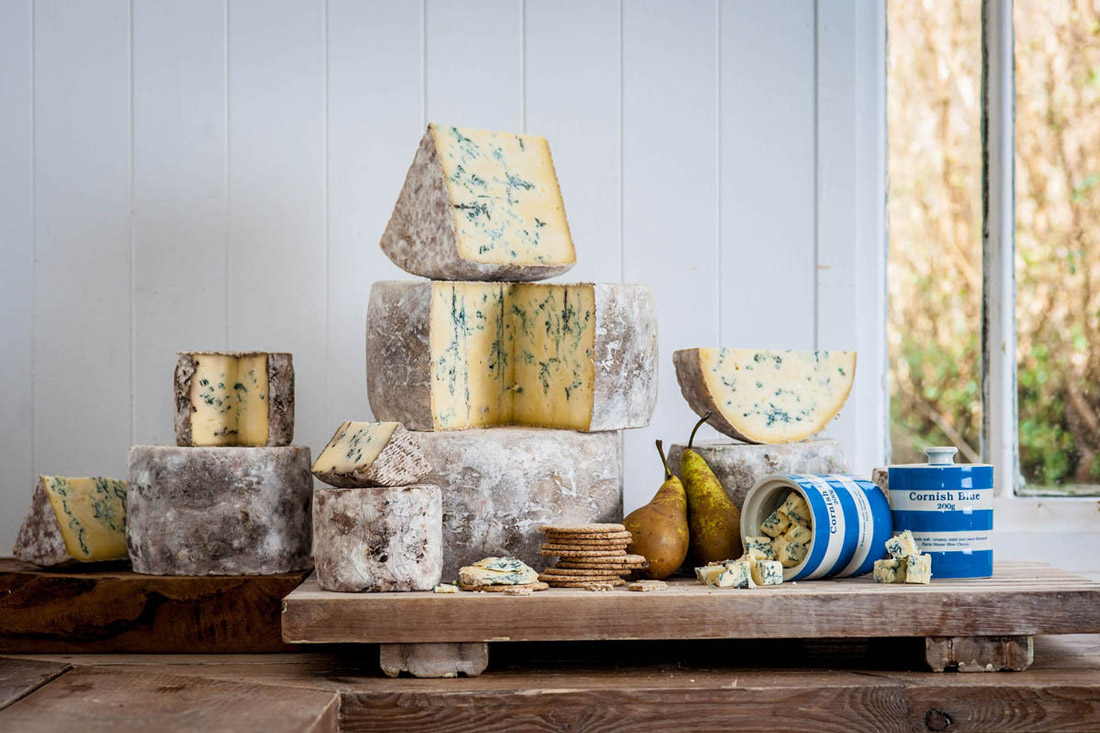 Cost
To help shift the colossal amount of cheese, Philip and Carol dropped the prices of 1kg (£16) and 2kg (£27) wheels. A kilogram of cheese may sound a lot, but it disappears alarmingly quick – trust us.
Packaging
The cheese arrives at peak maturity (read: ready to dive in to) and is wrapped in recyclable silver foil, and a small recyclable cardboard box.
Recommend to a friend?
Yes, especially those who are a little wary of more lively cheeses – this could be their game changer.
---
Keen to stay up to date on what's new and get the heads up on the best places to eat shop and stay in the South West? Want to support independent publishing and creativity in the region? You can do both at once when you take out a subscription to the printed edition of Food Magazine. Six gorgeous issues a year, delivered to your door for just £25. Subscribe here