Selena Young roadtests the Roast Box meal kit from Star & Garter in Falmouth
What is it?
A finish-at-home meal kit for two containing all the gorgeous ingredients you need to recreate Star & Garter's signature Sunday roast – in the comfort of your own kitchen.
Why?
Ask anyone who's spent a long, lazy Sunday feasting at the Star & Garter for their take on the Falmouth dining pub and there's no doubt they'll give you a glowing review.
Since Becca and Elliot Thompson took over (and completely revamped) the venue in 2015, it's earned an enviable reputation for its nose-to-tail ethos, tempting bar list and contemporary coastal decor. For Falmouth's locals it's also the place for a faultless Sunday roast.
Not wishing for anyone to miss out on the end-of-week tradition during lockdown, Becca and Elliot have packaged and portioned up their famous Sunday lunch for fans to finish off at home. And the best bit? You don't need to be one of the lucky folk living in Falmouth to get your hands on it.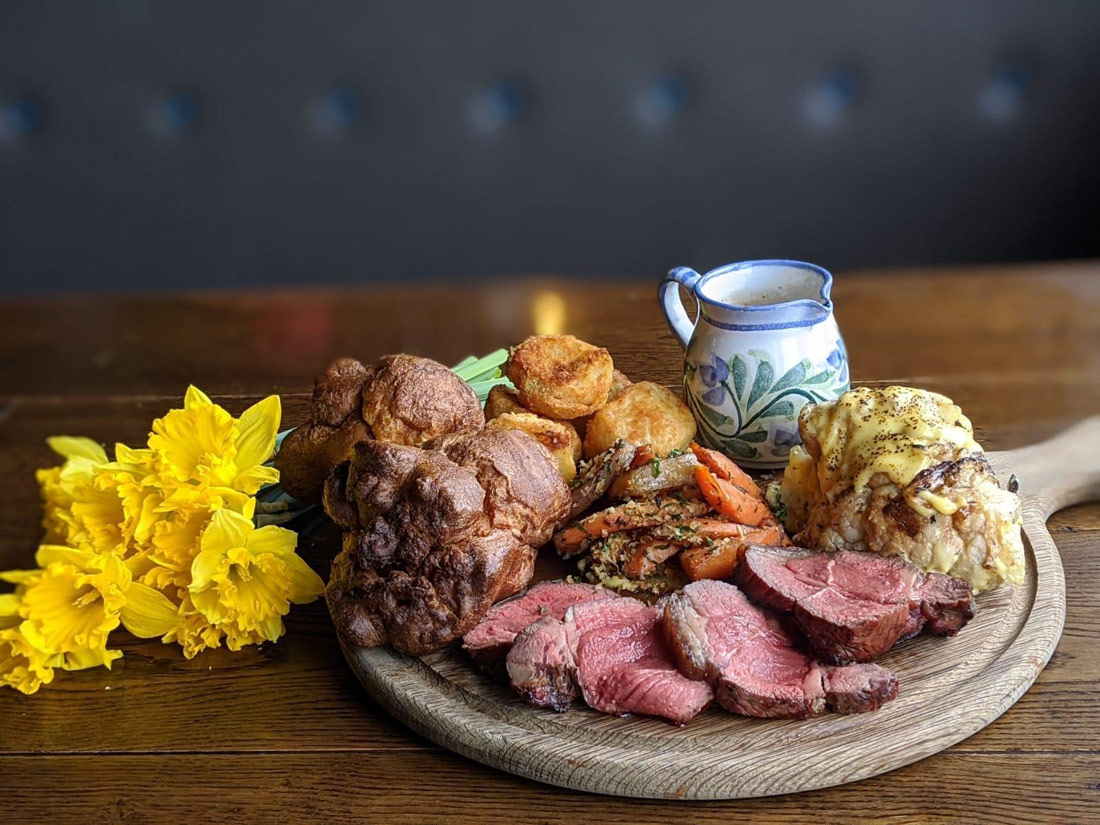 The low-down
The meal kit comes with everything you look for in a top-notch restaurant roast (read: all the things you might not be bothered to put the extra effort into at home) such as ginormous pillowy Yorkshire puds, crispy duck-fat roasties, creamy cauliflower cheese and lashings of rich silky bone-marrow gravy.
However, the true star of the show is the 30-day-aged moorland beef sirloin. Easy-to-follow instructions include guided cooking times and advice for achieving your ideal degree of doneness for the meat. We coated the chunky cut in the pre-prepared seasoning and seared it on the griddle until it had a smoky caramelisation, then finished it in the oven until it reached medium-rare glory. The result was phenomenal: a flavoursome crust giving way to juicy, tender meat.
As the Star & Garter team have already put in the hard work of chopping, prepping and par-cooking, all you need to do is give everything a blast of heat. In total it takes just 30 minutes from unpacking to plating, leaving plenty of time to enjoy the pudding of luscious dark chocolate mousse with smoked almond praline.
Of course we missed the buzzy pub atmosphere, but we also appreciated the no-judgement-here joy of scraping every inch of chocolate mousse from the bowl without fear of disapproval.
Cost
The Roast Box costs £45 and feeds two generously. While you're ordering on the online shop, it's also worth browsing the collection of pre-mixed cocktails, craft beers and natural wines to pair with your meal. Delivery is available nationwide.
Packaging
The meal kit arrived in a cardboard box with all of the roast elements in individual cardboard containers. The package was kept chilled by biodegradable wool packaging which ensured the ingredients remained cool while with the postie.
Recommend to a friend?
I suppose it would be selfish to keep such a glorious home-dining experience all to myself.
www.starandgarterfalmouth.co.uk
---
Keen to stay up to date on what's new and get the heads up on the best places to eat shop and stay in the South West? Want to support independent publishing and creativity in the region? You can do both at once when you take out a subscription to the printed edition of Food Magazine. Six gorgeous issues a year, delivered to your door for just £25. Subscribe here