Darren Millgate, executive chef of St Michaels Resort in Falmouth, reveals his vision of the perfect alfresco feast and the tunes that liven up his kitchen prep
Which kitchen item couldn't you live without?
My Thermomix: it's such a useful piece of kit. You can use it to cook, blend, steam fish, weigh things – it's hugely versatile.
What do you listen to in the kitchen?
We always have music on in the kitchen during prep, but switch it off during service so we can focus on the job at hand.
There are 15 of us in the brigade and we've got diverse musical tastes, so we might listen to Bob Marley one minute and old-school hip-hop the next. My choice is usually heavy rave music, which most people don't enjoy at first but get a feel for as the day goes on.
Career highlight to date?
I really enjoy nurturing the next generation of talent, whether they are in the kitchen at St Michaels or when I'm doing teaching days at Cornwall College (where I trained over 20 years ago).
I recently judged a cookery competition for young chefs across the South West and that was a real highlight. I get huge satisfaction from working with youngsters and giving them something to aspire to.
One of the chefs I worked with years ago competed in MasterChef: The Professionals and cited me as a mentor in his application, which meant a lot.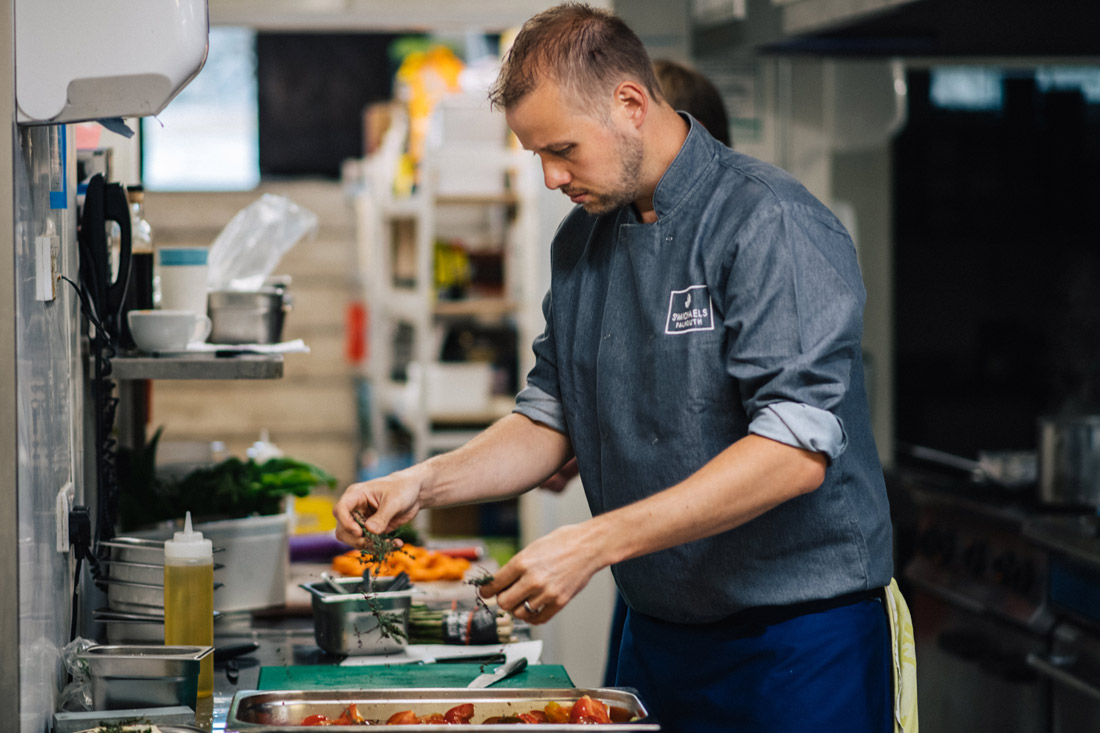 Your most-read recipe book?
Two books I return to time and again are The French Laundry Cookbook by Thomas Keller and Ottolenghi: The Cookbook.
Keller's book tells the story of the kitchen through recipes. I was given it when I was quite young and I've referred back to it many times.
Ottolenghi was a pioneer in creativity with vegetables, which appeals to me as I love cooking seasonally. Twenty years ago, salad was just lettuce, tomato and cucumber but now it's a very different game and I think Ottolenghi was hugely influential in that. I've made many of his salads over the years and like to put my own spin on them.
Favourite place to eat out?
I like The Fox's Revenge in Summercourt near Newquay. The pub specialises in barbecue food and has a lively outdoorsy vibe in summer. It's a great place to meet up with friends and is super family-friendly.
Best staycation spot?
I'm a huge fan of the South West, particularly Devon and Cornwall as they have everything you could ask for: great food, pretty towns and spectacular scenery. There's no need to travel for to experience a change of scene.
Desert island meal?
Fresh mackerel off the barbecue with a light salad, bread and some pickles. A cold lager would be the perfect pairing.