Just months after launching, lockdown hit and Restaurant GL50 closed its doors for four months. With more uncertainty ahead for the hospitality sector, we asked chef patron Jonas Lodge: what's it like being a new restaurateur in 2020?
What effect did lockdown have on Restaurant GL50?
It was crippling – as it was for everyone in the industry.
Without the schemes the government put in place we wouldn't have reopened; the grants and loans were lifesavers. There were certainly a few points when I thought 'this is the end'.
The worse thing was being in debt to other small independent businesses. Closing the restaurant wasn't just detrimental for us – it also affected the chain of suppliers that rely on our business.
As for reopening, we've been lucky with where we are and how our restaurant is set up: we have a good-sized dining room, so it's been easy to space out tables – we've only had to cut down from 35 to 25 seats.
We'd only been open for four months when lockdown was enforced and we've luckily been able to keep up the buzz around the restaurant. I was worried we'd be back to square one, like a brand-new restaurant, but we're busier than ever and are filling the 25 seats on a regular basis.
How will the 10pm curfew affect the restaurant industry?
It'll affect the way people behave. You wouldn't necessarily finish a tasting menu by 10pm and, if you did, you'd go somewhere else for a drink afterwards, so people's habits will have to change. We'll have to alter our opening times slightly; my greatest concern is the curfew will cause a bottleneck in the restaurant.
How can diners support independent restaurants?
Go and eat at local restaurants and shout about it on social media.
There's a chance these measures will scare people; I hope it doesn't as we've done absolutely everything we possibly can to make the restaurant a safe environment.
Since we reopened, the response from the local community has been incredible which has made me feel that opening a restaurant was a great decision. So many people chose GL50 as their first meal out for five months and that's been amazing … and humbling. The feeling of excitement in the dining room has been palpable; everyone seems to be in celebration mode.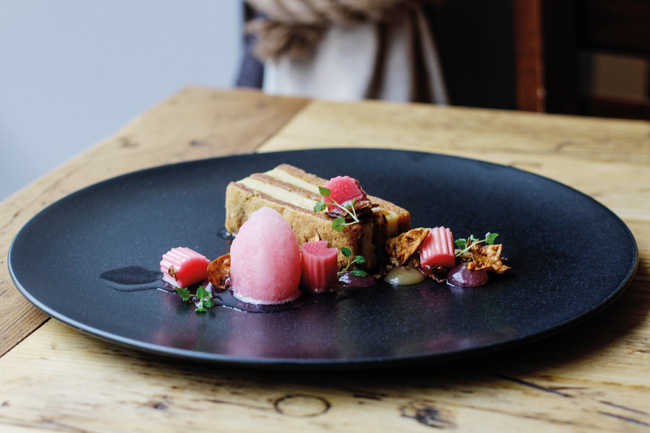 How have your menus changed?
The biggest problem we've encountered since reopening has been with the suppliers. When restaurants closed, a lot of producers had to freeze their stock, so we've seen the quality of ingredients drop. However, we've always changed our menus daily, so we've been able to be flexible around sourcing ingredients and choose what is great. And it's always good to remember everyone needs to have empathy in this situation.
Sustainability was a founding focus at Restaurant GL50 but minimising waste in the kitchen has become more difficult since lockdown. When we first reopened we were only open for three evenings a week which meant we had to buy specific cuts rather than a whole animal. We've also stopped our lunch service which was where we really maximised the use of excess produce. However, now we're serving canapes to everyone who comes to the restaurant and using it as an opportunity to use any ingredients we have left over, as well as an outlet for creativity.
What are your plans for GL50?
Like every restaurant, we're hedging our bets at the moment. It looks like Christmas parties won't happen and that'll be a big blow to the industry. Instead, we're looking at reopening for lunches and introducing a daily-changing December menu which will include a few nods to the season.
In the short term, we're hosting a series of wine evenings which are filling up fast. We've teamed up with Tivoli Wines and the evenings will feature six wine-matched courses. The first one in October has sold out, but we're introducing more dates.
I've also been working with other local independent hospitality businesses to launch Turf, a hub which curates great food and drink venues in Cheltenham.