Kathryn Lewis got the inside scoop from Bakesmiths Bakery's chief cake inventor Mike Smart
Fill us in on Bakesmiths Bakery
We've supplied independent cafes and coffee shops with high-quality cakes and traybakes for over 15 years via our Bristol-based bakery Cakesmiths. Our own cafe Bakesmiths has served the people of Bristol since 2016.
When lockdown was introduced we wanted to find a way to take the coffee shop magic to our customers in their homes. The result was Bakesmiths Bakery and a new product, HomePacks, which delivers our best-selling tried-and-tested cakes direct to peoples' doors.
What's a typical day for a cake inventor?
My first priority is always making a cup of good black coffee to get the brain in gear. After that, a lot of my time is spent playing with flavour combinations and working out how to transfer those into cake form – and what kind of cake it would be.
Then I create test recipes – lots of them – and adapt and play around with existing recipes. There's plenty of trial and error as something can look amazing on paper but when you put it into practice it just doesn't work.
I taste absolutely everything I create, then I ask the rest of the team for their opinion. I never get bored of trying new things, although, it can get a bit hazy when you're on the 50th trial batch of a particular cake. Once I've nailed a recipe in the test kitchen, I then have to work out if it will scale up when we make ten trays instead of one.
So much of the quality of a cake comes down to how you mix it and that changes when you increase the volume. It can get a bit geeky – I have a super precise set of scales which can measure down to 0.01g.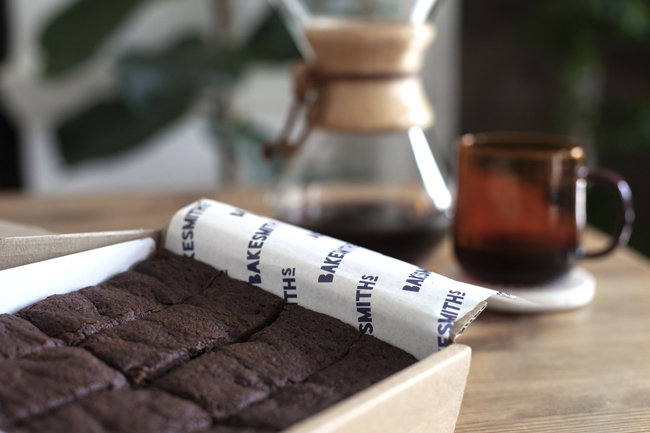 What'll be the next big thing in cake?
The 'retro revamp', where you take classic flavour combinations and reinvent them for the modern palate, is a trend that I think we're going to see a lot more of. Old school favourites like black forest and banoffee, which were often associated with cheap products, are being used as inspiration for some exciting quality bakes. I'm currently working on something with rhubarb and custard.
Another trend that's gaining momentum is consumers championing quality products. Five to ten years ago it was all about quantity but now people are looking closer to home for great local and British ingredients. If we can source our ingredients from UK producers, we do, although unfortunately we haven't found anyone growing vanilla in the UK just yet …
What are the key principles when pairing coffee and cake?
Apply the same logic you would with any other food pairing – think about the tried and tested flavour pairings that you know work well together. Start by reading the tasting notes of the coffee: stone fruit flavours go beautifully with the almond in traycakes like Bakewell; nutty and chocolatey notes are a good match for caramel; and citrus highlights call for more fruit such as a lemon and orange polenta cake.
How did you choose the hero cake collection for the HomePacks range?
We wanted to cover all bases and get something in there for everyone – whether they're a brownie purist or flapjack fan. There's also a good selection for plant-based cake lovers. We create a huge selection of traycakes, loaf cakes and cookies at Cakesmiths so picking just nine was like choosing between one's children, although we'll be extending the online range soon with the introduction of more flavours and cookie dough.
What's your all-time favourite bake?
Simply The Zest: an apricot and lemon polenta cake with pistachio. It's super tangy and lemony and the type of cake I could eat every day without getting bored.
Want a batch of Bakesmiths cakes delivered to your door?
Get 20 per cent off your first order of two boxes or more with code: INDY20
Offer ends July 14, 2020. Order here.