Over‑ordering is inevitable for seafood fans who make the pilgrimage to Crab House Cafe, says Kathryn Lewis
What's the draw?
A menu spilling over with dazzlingly fresh homegrown and locally sourced fish and shellfish.
The trend for uber‑concise menus has been brushed aside by the Crab House Cafe chefs and the daily line‑up reads like a local fishmonger's listing. Whole crab (with all the tools to excavate the sweet, juicy meat), local lobster and steaming bowls of mussels fight for diners' attention with the likes of roast monkfish, turbot steak and crispy red mullet.
The team champion native fish species that are often overlooked by chefs and supermarkets, opting for what's landed locally over the latest trends. Their dedication to sourcing from their doorstep means oysters are grown on‑site in the Crab House Cafe's own beds and most of the fish and shellfish is landed a few miles down the road in Weymouth and Poole.
With a double‑sided main menu and a long list of daily specials, the options can be overwhelming. Our advice? Take a fellow seafood fan and order dishes to the table until your fingers are raw from cracking shells and your mouth hums with garlic.
Who's cooking?
Each morning, head chef George Brace turns the daily haul of fresh seafood into a tempting bill of creative dishes. He's supported by owner and chef Nigel Bloxham who, before buying Crab House Cafe, supplied fish to the likes of Keith Floyd.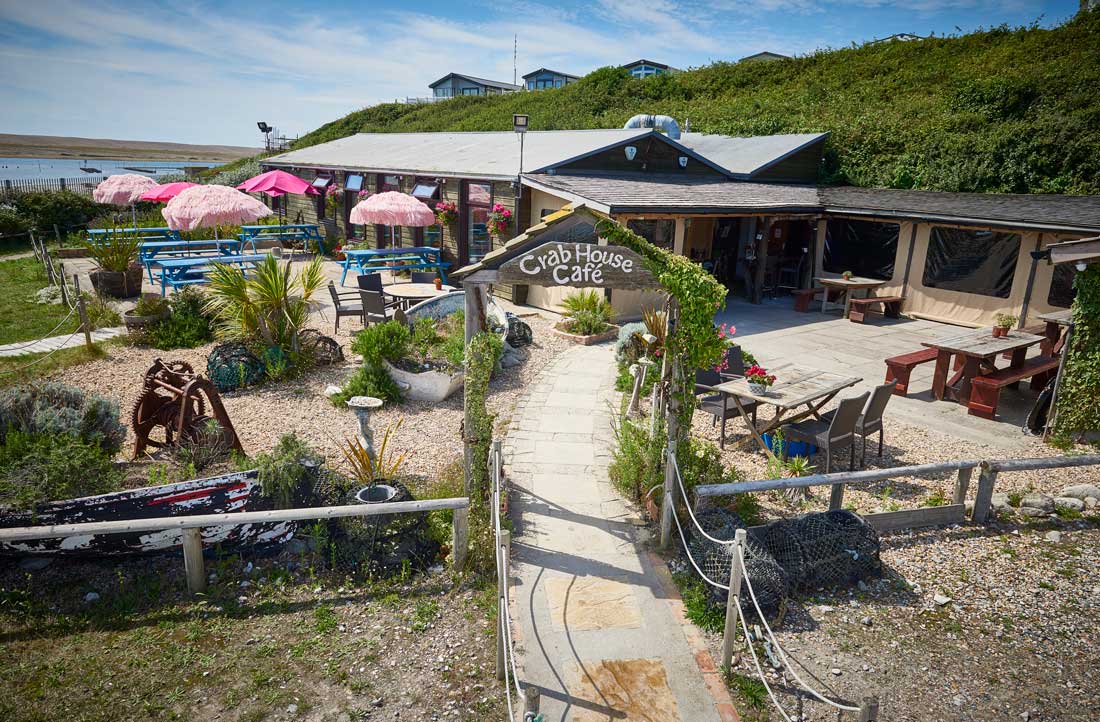 What to order?
The menu changes at a rate of knots, so no two visits to this beachside eatery are ever the same.
We started with plump Crab House Cafe oysters, served au naturel with a squeeze of lemon and dash of Tabasco, and paired them with a glass of local Bride Valley Chardonnay.
From the tempting line‑up of starters, it was a half‑dozen squat lobsters (somewhere between a crab and langoustine) served with warm wild garlic mayo, and roasted sardines with rosemary, lemon and seaweed salt that made the final cut.
For mains, classic (poached turbot steak served with Dorset spinach and hollandaise sauce) was countered by contemporary (lemon sole stuffed with white crab meat and The Open Air Dairy cheddar, served with a shellfish sauce). Both dishes demonstrated the chefs' skills for cooking fish with finesse.
Food's tip
If you can, refrain from overindulging in the savoury courses as the desserts are worth saving room for. The baked alaska (torched meringue enrobing creamy strawberry ice cream on a crumbly biscuit base, offset by a tart raspberry coulis) was the perfect hit of sweet after the salt‑forward seafood feast.