In a city where restaurants often pop up and then disappear in the blink of an eye, Harry's Restaurant has stood the test of time, says Selena Young
What's the draw?
The bulging burgers, glistening steaks and gooey puddings that appear on Harry's Instagram page tease you into a gluttonous state even before you visit. However, unlike some restaurants that draw you in with droolsome pics only to fail to deliver in real life, the digital dishes at this Exeter classic have nothing on the real thing.
Inhaling the aroma of truffle risotto, watching a beef lasagne bubble before your eyes and sinking your teeth into a cookie oozing with melted chocolate are just a few of the sensual pleasures reserved for those who surrender their appetites – and recommended daily calorie intakes – to the chefs at Harry's.
Exeter isn't known for its thriving indie food scene, so to find a gem like this, which serves the kind of comfort food that's tricky to recreate at home, is rather special. It's a quality that has secured the family‑run restaurant a loyal following of foodies for nearly three decades.
It's not just the food the team excel at: their reputation for perfect pours and cocktails is as formidable as Harry's homemade mint imperial vodka – a more invigorating finale than those ubiquitous mints that hang around on restaurant bills.
Who's cooking?
Chef owner Samantha Pounds and her daughter Zo lead the kitchen brigade at Harry's Restaurant. Sam's other three daughters are part of the restaurant team too – a friendly bunch who keep the atmosphere buzzing.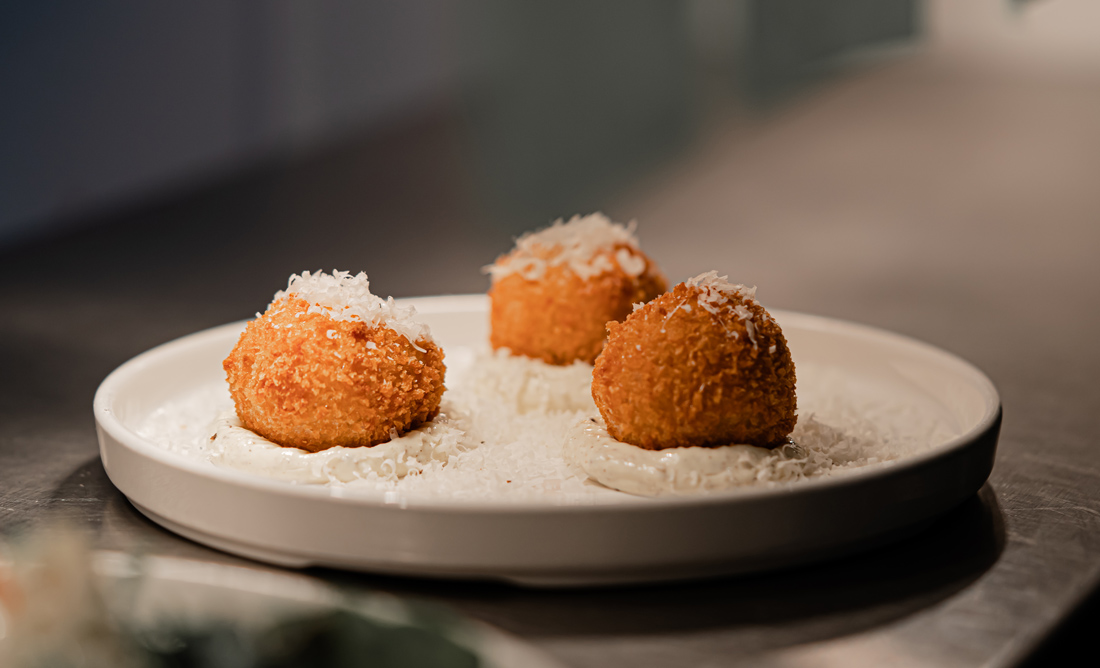 What to order?
The menu reads like a last‑supper wish list thanks to its belt‑busting bill of indulgent dishes, so suspend disbelief and order like there's no tomorrow.
First up in our feast was a cheddar soufflé topped with crispy shallots. The velvety cheese was decadent enough, but we piled it on warm sourdough for optimal gluttony. Golden orbs of Italian arancini dipped in truffle mayonnaise were another luscious starter.
For mains, we picked dishes that fed our desert‑island‑dinner fantasies. Pasta is the ultimate comfort food and a generous bowl of silken Devon crab linguine with chilli, lemon, white wine and cherry tomatoes is just the kind of thing you'd dream of on a deserted sandy shore.
Our second pick was Harry's tagliata, a bestseller which featured rosy cuts of succulent sirloin steak on a bed of rocket, parmesan and artichoke salad, doused in aged balsamic vinegar.
The final blow to our waistbands was a chocolate torte so rich and lavish it gave the soufflé a run for its money.
Food's tip
Planning a big foodie blowout with friends? Harry's Restaurant hosts private parties and events for up to 30 people.