From the first bite of crisp croquetas de jamón to the last slurp of raisin‑rich sherry, the authentic Spanish fare at this Frome indie encourages diners to slow down and savour the moment, discovers Selena Young
What's the draw?
Lo Rapitenc owner Marc Brunet added a taste of Catalonia to Frome's indie restaurant collective when he opened this deli, store and eatery in 2021.
Coming from a long line of fishermen, Marc was raised in the foodie town of La Ràpita and its influence is honoured in his Somerset take on Spain's famously relaxed style of dining. Many of the dishes are inspired by those once served in his grandfather's waterfront tapas bar.
In keeping with the laid‑back nature of tapas, the delivery of Lo Rapitenc's numerous small plates is carefully paced so each can be savoured without distraction. And when one plate is cleared another appears as if by magic, the steady stream of dishes complemented by wine and sherry pairings.
The restaurant is accompanied by a shop and deli bar that's packed with cured meats, cheeses, specialities from Spain and artisan produce from nearby.
Who's cooking?
Marc runs the deli and restaurant and oversees the kitchen and menus, while head chef Henry Osmond mans the pass. Henry utilises the bounty of specialist Spanish and British ingredients at his fingertips, interweaving them with vegetables from Frome suppliers, meat from neighbouring butchers and fish that's been landed at Brixham.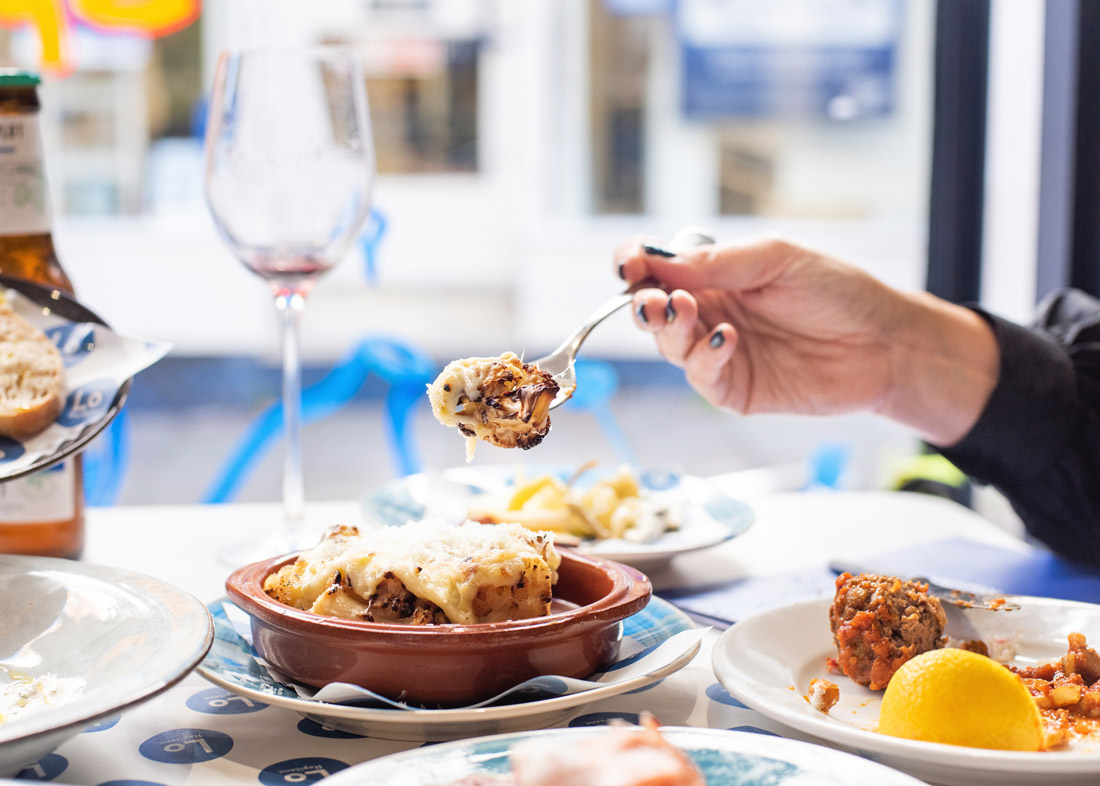 What to order?
A short but perfectly formed menu of hot and cold tapas dishes includes plenty of Spanish staples that diners will know (patatas bravas, padrón peppers and tortilla), but there are unexpected thrills to be enjoyed by those adventurous enough to order dishes they can't pronounce confidently.
The familiar crunch and ooze of croquetas de jamón serrano eased us into lunch and was followed by a flavour‑bomb of boquerones and pan rallado (anchovies pickled in olive oil and lemon juice, served in a halo of crunchy breadcrumbs).
Hot on its heels came cauliflower ajoblanco, a cold dish of cauliflower buried beneath a garlicky manchego sauce and sprinkled with flaked almonds and basil. A twist on the classic pan con tomate saw wedges of toasted sourdough slathered in sobrasada (like 'nduja but infinitely more luscious) and a drizzle of honey.
The big hit, however, was the arroz negro with gambas and saffron aioli. A favourite dish of Marc's from childhood, it comprised plump blistered prawns on a bed of black rice with finely sliced onion and garlic, finished with a silky saffron aioli. The sweet prawns paired beautifully with the salty and intensely earthy notes of the squid‑oil fried rice.
Food's tip
Live nearby? Don't miss the opportunity to get involved in one of Lo Rapitenc's regular sherry tasting nights (hosted by an expert), or to visit the team at their Spanish street food stall at The Frome Independent.