This Middle Eastern restaurant within a historic Glastonbury pub was only established 18 months ago, yet Queen of Cups has already received a nod from Michelin and a flurry of national awards
What's the draw?
Named after a tarot card that depicts a woman sitting on a throne with a chalice in hand, Queen of Cups is a fitting moniker for a restaurant run by two ambitious females who share a predilection for fine wines. When revealed on the tarot table, the card indicates 'nurturing mother energy', which is something chef owner Ayesha Kalaji and co‑owner Mary‑Elizabeth O'Neill certainly channel at their inclusive restaurant, although in this case it's through welcoming hospitality and soul‑nourishing food and drink.
Whether you're a divination disciple or a supernatural sceptic, you'll be thankful for whatever higher power led you to Queen of Cups' dining room. Unshackle yourself from life's stresses and formalities and lean into good times with friends over fabulous food.
Visit in the daytime to indulge in a lazy lunch of small plates, breads and dips with a couple of glasses of wine, or take a crowd for a supper of sharing plates – plus more polished dishes which you'll want to keep to yourself. There are regular events such as LGBTQ+ nights too, which bolster the feeling that this is much more than a restaurant for the many tourists who pass through Somerset's famous town.
Who's cooking?
Head chef Ayesha didn't plan a career in the kitchen. It was while studying for a degree in Middle Eastern politics that she was inspired to turn her interest in cooking into a job. After uni, she enrolled at Leiths Cookery School in London and from there refined her craft at some of the capital's best restaurants.
Drawing on both her Jordanian heritage and childhood in north Wales, her cooking is a unique blend of culinary cultures. Middle Eastern cuisine takes the lead, but there's French influence from her time at Leiths as well as snapshots of her Anglesey upbringing.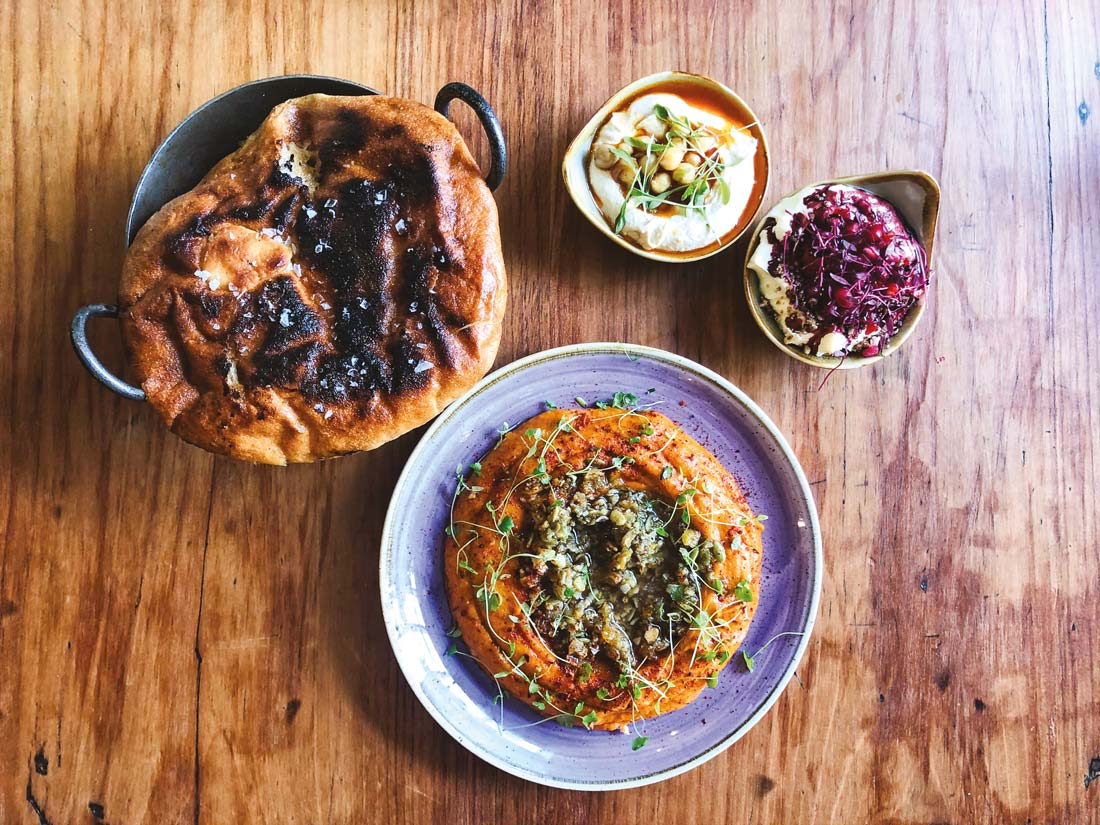 What to order?
Control freaks take note: get out of the driver's seat and let the front of house team navigate. Unless you've grown up in a Middle Eastern household or travelled in the region, there'll be some unfamiliar items on the menu. But don't let that hold you back as some of the more obscure dishes are the most rewarding.
We started with Moroccan frena bread, scorched on the hibachi grill and topped with sea salt and a generous glug of olive oil. This was paired with a trio of dips: velveteen hummus doused in chilli oil and pine nuts; a sweet and spicy pumpkin, apricot and harissa dip bejewelled with pumpkin seeds and preserved lemon; and a suitably tart labneh finished with candied walnuts, fermented Syrian chilli and pomegranate seeds.
Next came warm laverbread falafel (the Welsh speciality added for moisture and colour) on a bed of creamy tahini sauce and shredded lime fennel. It was kept company by a plate of nabulsi cheese (halloumi's Palestinian cousin) bathing in a pool of local honey which was flecked, Jackson Pollock style, with dehydrated black Persian lemons which added a herbaceous, floral note. It was finished with a crown of finely diced preserved lemons to counterbalance the sweetness with bold acidity.
Our final dish was a diversion from the small sharing‑style plates we'd sampled so far. Built around a hearty fillet of monkfish which had been slow cooked in beef dripping to emphasise its meaty characteristics, the showstopping medley was finished with arak‑infused beurre nantais sauce, local wild mushrooms, pickled gooseberries and samphire.
Food's tip
Over order on the cold dishes and breads so you can take your leftovers home – the team have a stack of compostable containers on hand.