In an all-day-brunch scene where uniformity rules, this vegan cafe on Exeter's Fore Street is colouring outside the lines, says Kathryn Lewis
What's the draw?
Creative, clever and beautifully crafted cafe food that'll excite both vegans and flexitarians.
The brunch boom shows no sign of fizzling out, yet casual all-day breakfast menus can be a tad repetitive. It's not unusual to see cafes bowing to the pressure to serve crowd-pleasers like avo toast and a gentrified full-English breakfast, and the plant-based options are often the least inventive of all.
Happily, that's not the case at Sacred Grounds. Like any restaurant worth its salt, the chefs at this cafe and events space refresh their menu regularly to reflect what's seasonal and local. As well as sourcing delicious ingredients, the team are constantly coming up with new and innovative ways of working with plants – from perfecting poached "eggs" (the result of more than three months tinkering with silken tofu, agar agar and turmeric) to the organic buckwheat-flour waffles that provide a nutty base for sweet and savoury compilations.
These imaginative dishes are served in the equally inspiring setting of McCoy's Arcade's glass atrium which, thanks to its abundant houseplants and dried flowers, feels like feasting in a leafy greenhouse.
Who's cooking?
Senior chef Maxim Wortley has been cooking professionally for just over a year but calmly keeps the stream of orders ticking over in his tiny open kitchen. Every dish is turned out beautifully – each flower petal, drizzle of blueberry coulis and mint-leaf garnish placed for peak aesthetic effect.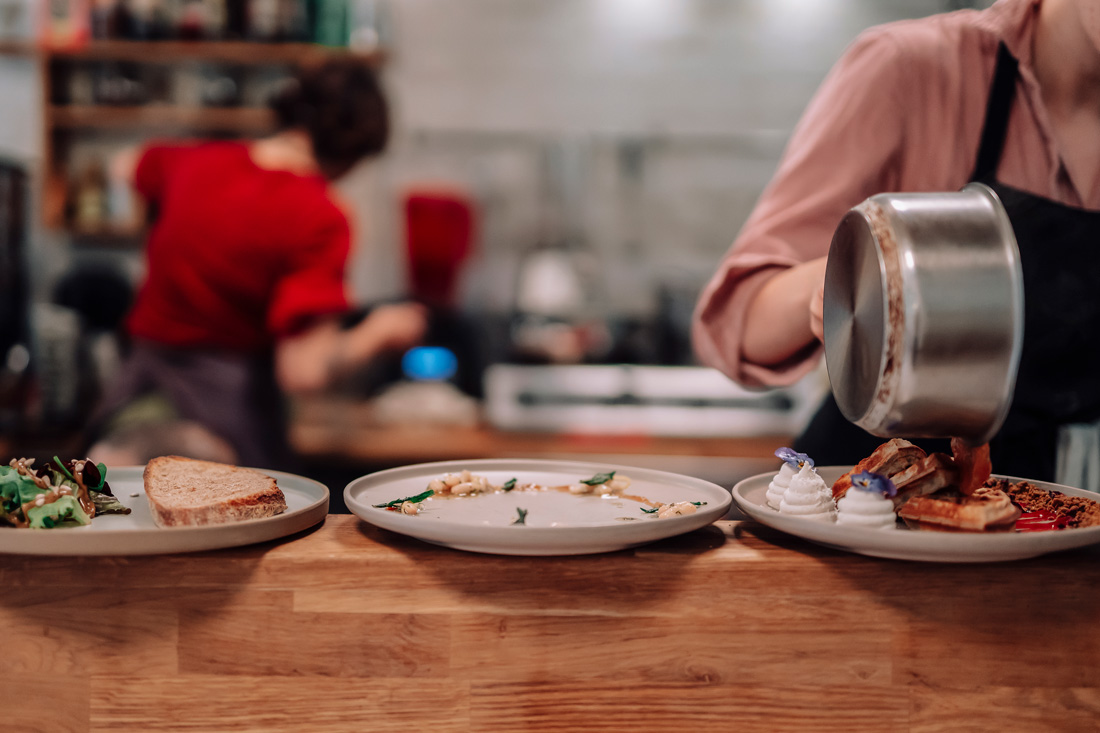 What to order?
The foundation of a fantastic brunch is great coffee and the Sacred crew have nailed it with a knockout house blend from Roastworks in Devon. The nutty, chocolatey notes of the espresso pair perfectly with oat milk (Oatly Barista is the standard serve) for a deliciously short and sweet flat white.
The brunch menu features a few classics, but they've been reimagined for vegans and upgraded for maximum flavour. We tried the Sacred Royale (toasted muffins with poached "eggs", oak-smoked carrot lox, "caviar", hollandaise, avocado, spinach, dill, capers and seeds), which was no pale imitation of the original. Black salt lent the poachies an authentic eggy taste, while the use of seaweed in the homemade vegan caviar spheres delivered a blast of the ocean.
We also tried the savoury waffles piled with peppers, mushrooms and edamame in a homemade sweet-chilli sauce and paired with umami-forward miso mayo, pickled cucumber and a scattering of toasted peanuts. Waffles can be dense and overly sweet, but these were light and refreshing thanks to their buckwheat base and Asian flavours.
If you take the savoury brunch route, chase your coffee order with a Choco Caramello smoothie. The blend of banana, almond milk, dates, cacao, peanut butter, maca and sea salt is packed with good-for-you ingredients but tastes deliciously naughty.
Food's tip
After brunch, browse the other indie stores lining the arcade: a great selection of reading material is to be discovered at Bookbag, vintage finds abound at The Real McCoy, and beers and bevs can be sourced at Hops + Crafts.