Bath's latest opening promises on-point all-day dining for the piscatorially inclined, discovers Kathryn Lewis
What's the draw?
The opportunity to transport oneself from the centre of the bustling city to the Cornish coastline, where time is irrelevant, the vibe relaxed and the fish impeccably fresh.
Launched at the end of October in a bright and light spot on George Street, Flute is the latest creation from restaurateur Roger Payne. Inspired by his dreamlike days spent in Cornwall feasting on seafood and fine wines, the cafe-restaurant has been designed to encourage visitors to enter a holiday-like state of relaxation.
A collaboration with fish merchants Wing of St Mawes ensures the all-day menus swim with the latest catch, plucked from Cornish waters in the morning and whizzed (on ice) to Bath in time for lunch. There's even a dessert-trolley- style seafood carriage, which is wheeled to the table to show off the fishermen's most prized treasures.
The restaurant's name – which references the Champagne glass not the musical instrument – alludes to a carefully considered wine list which majors on all things sparkling, with English wines given special prominence.
Who's cooking?
Roger has appointed Kasae Fraser and Alex Smith as head chefs, both of them having demonstrated their skills at venues owned by Roger.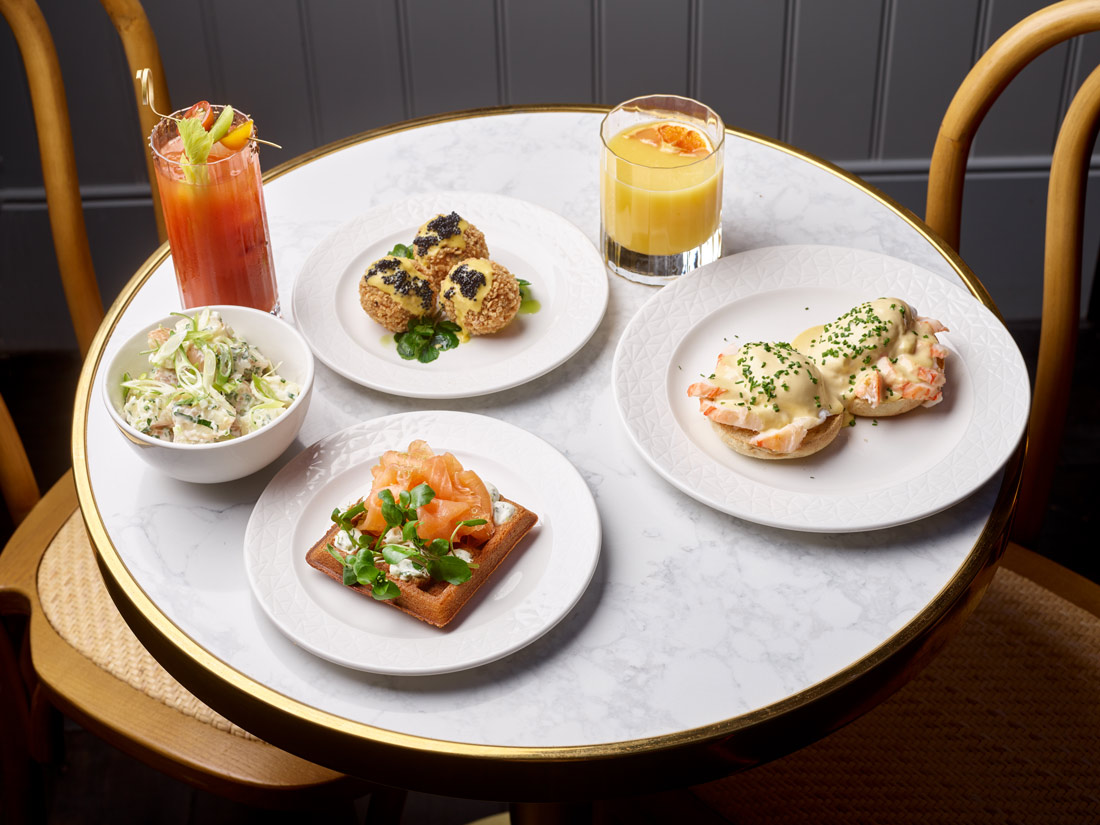 What to order?
Our visit took place during a press preview ahead of the official opening, so we were given a taster of the lengthy menu, which runs from breakfast plates to elevated dishes and late-night snacks.
Naturally, we began with breakfast. A light and crunchy semolina waffle was slathered in dill-laced cream cheese, piled with lustrous smoked salmon and finished with a peppery hit of watercress. It's a decadent way to start the day that could only be improved by the addition of a glass of crisp Champagne.
Next, we got up close and personal with a tankard of giant prawns. A nod to the British seaside classic, Flute's version comes with a spiced Bloody Mary mayo and a wedge of charred lettuce.
Of the other dishes sampled (too many to count), the standout course was the brined hake. The beautiful fillet of fish rested on a bed of samphire and was topped with ribbons of tangy pickled cucumber. The pièce de résistance, however, was its accompanying hot and sour broth, flavoured with chilli, garlic, lime, chicken wings and fresh herbs, and showered over the hake from a cafetiere.
Food's tip
Bubbles may be the focus of Flute's drinks list, but its cocktails are also worth exploring. Wow-factor is the watchword here, so expect anything and everything beyond the usual suspects.