Imagine falling down the rabbit hole and landing somewhere quite extraordinary in south‑east Cornwall. Intrigued? Read on
What's the draw?
It's easy to be awestruck when you first catch sight of the truly gasp‑worthy coastal vista at this boutique hotel. Swathes of lush sub‑tropical gardens appear to drop away (think grass infinity‑pool) to reveal the iridescent blue of the brine below, framed by wooded cliffs.
Tucked away on the South West Coast Path, between the historic fishing village of Polperro and the bustling port of Looe, Talland Bay Hotel feels like an undiscovered and unspoilt secret. A far cry from the coastal‑chic hues and nautical motifs typically found in swanky Cornish hideaways, the extended 16th‑century house exudes a magical wonderland vibe.
The hotel and grounds brim with eye‑catching artwork. Kooky curios include a wooden grandfather clock with a face, a metal man with a lampshade for a head, giant budgies carved on a log bench, fairy folk flitting around toadstools and some rather cheeky (quite literally) chiselled wall sculptures.
If the description sounds tacky it's not meant to. This is a hotel that oozes seclusion, glamour and quality in every last detail, yet it's all served with a good dose of humour and dash of fun.
Who's cooking?
A small but perfectly formed team (including head chef Glen Merriott, his sous chef and brother Jack and pastry chef Alisha Varney) ensure the food at Talland Bay Hotel is as stand‑out as the setting. Glen's flourishes of imagination are to be found in inspirational and delicious seven‑course menus crafted from seasonal Cornish fare.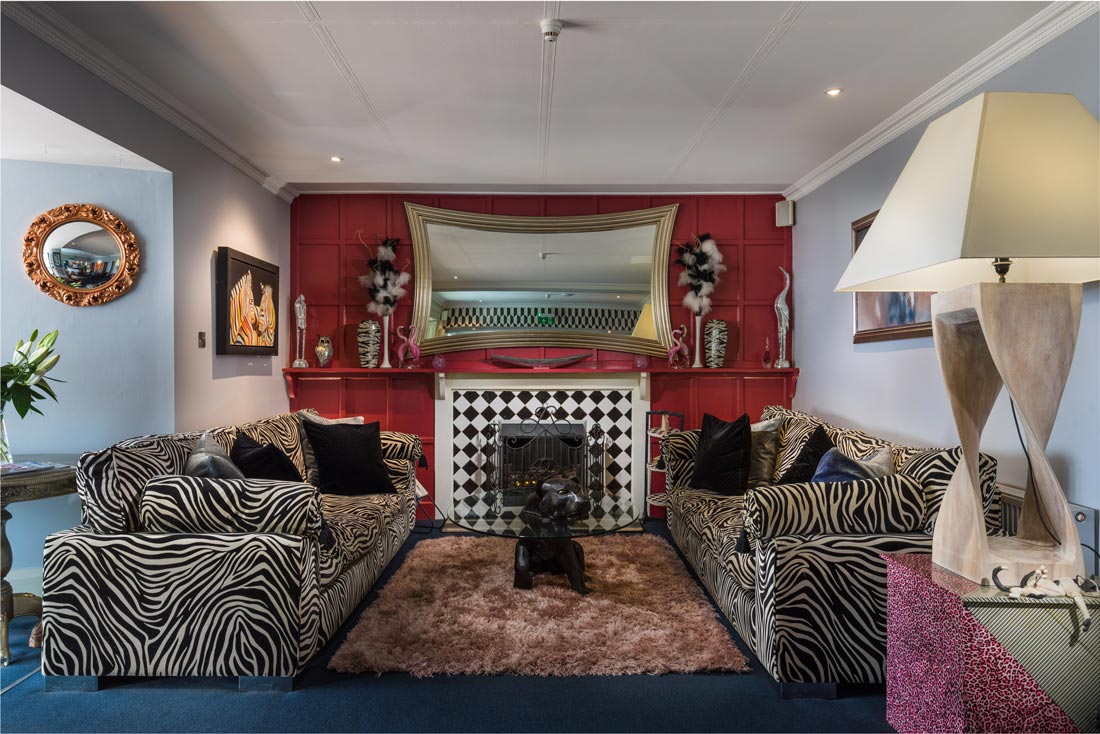 What to order?
The scrumptious canapés that accompanied our pre‑dinner drinks in the bar ensured we were feeling giddy about the gastronomy even before reaching the table. Once in the dining room, an amuse bouche of white parmesan velouté with cheese croutons, and pain de campagne with whipped Marmite butter further prepared the palate for the exciting line‑up to come.
Commercial versions of smoked salmon can often taste identical, but our home‑cured jewel‑pink starter in a pistachio and pink pepper crumb was distinctive. The dish dazzled with the zesty contrast of pickled radish and whipped lime yogurt.
Nothing lifts flagging spirits at this time of year like slow‑roasted meat, and our loin of venison with Mangalitsa black pudding, wild mushrooms and fondant potatoes was suitably earthy and comforting. The sweet tang of a pear and apple puree and caramelised shallot elevated the dish into the realms of the sublime.
Each course delivered a triple whammy of taste, texture and surprise, which extended to the pre‑dessert of Champagne jelly with syllabub and frosted grapes, and the fabulous finale of dark chocolate trifle with pecan financier, miso caramel, bitter citrus jelly and chocolate sorbet.
Food's tip
If utter privacy, Lewis Carroll‑style eccentricity, superb cooking and captivating sea views float your boat then take advantage of Talland Bay Hotel's range of accommodation which includes sea‑view rooms, garden cottages and a self‑catering bungalow. It's incredibly dog‑friendly too, should you want to spoil Fido rotten.