Dine with views of the fields that fill your plate at this contemporary Somerset dining pub, says Kathryn Lewis
What's the draw?
Beautiful food in an equally attractive setting. With the Blackdown Hills rolling from its doorstep, The Cotley Inn is rooted in the Area of Outstanding Natural Beauty it calls home.
When Maddie Beaumont and Ben Porter took over the rural pub in 2018, part of the draw was its location on the Cotley Estate which meant they'd be able to source much of the produce from within a mile or so of the kitchen.
On dry days, locals and visitors flock to the lavender-fringed terrace and sunny gardens to dine with views of the fields in which their supper was reared and grown. Yet, Maddie and Ben have done such an exquisite job of the interior design that it would be a shame to miss it. Respectful of the inn's history, they updated the dining rooms and bar so each has its own character, while also falling in line with the contemporary farmhouse styling that runs throughout.
Who's cooking?
Maddie and Ben appointed head chef Dan Brown, who started his career with MasterChef winner Mat Follas at The Wild Garlic in Dorset.
As head chef at The Cotley Inn, he has unrivalled access to a huge variety of hyper-local ingredients which are grown in the kitchen garden and the fields surrounding the pub. His nose-to-tail style of cooking aligns with Maddie and Ben's sustainability principles, so expect to see home-smoked meats and often-overlooked cuts on the menu.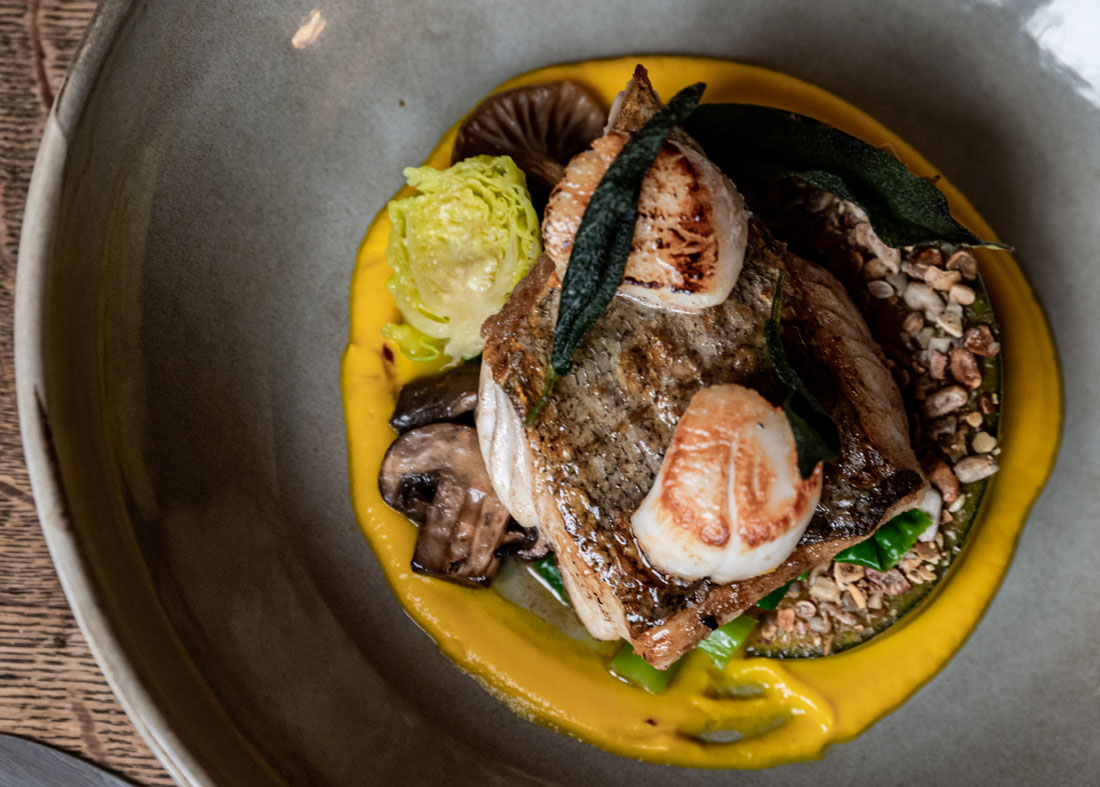 What to order?
Pub menus are often overwhelmed with choice but the offering here is pleasingly pared-back. On the evening line-up, four or five starters are followed by three or four à la carte mains, with a couple of classic pub dishes thrown in for good measure.
We started with pan-fried Devon scallops served with salty chunks of black pudding, spheres of Granny Smith and a wonderfully pungent wild garlic sauce. For mains, we stayed local and plumped for the Wambrook lamb, which is reared in the field opposite by local shepherd Nigel. The saddle was expertly cooked (blushing pink and impossibly soft) and paired with whipped sheep's curd, charred leeks and a hazelnut and wild garlic pesto. On the side was a bonus mini lamb-shoulder shepherd's pie.
The dessert menu is dominated by an epic local cheese selection, but we were swayed by the dark chocolate crémeux, served in a miso caramel case with tart grapefruit, toffee popcorn and a silky coffee ice cream.
Food's tip
Four rooms are due to open at The Cotley Inn this June. If the pub's interiors are anything to go by they're going to be gorgeous. We'd recommend snapping one up sharpish if you're tempted by a summer staycation in this beautiful corner of Somerset.