Those touring this idyllic corner of Dorset will want to have this reliably delicious dining pub on their radar
What's the draw?
Visitors exploring the golden‑stone villages dotted along Dorset's sweeping World Heritage Coast will be delighted to know of a great dining pub where they can fuel their bucolic meanderings.
The Elm Tree Inn, in the pretty coastal village of Langton Herring, is perfectly placed to take in the sea‑piled pebbles at Chesil Beach (one of the geological wonders of the world), Fleet Lagoon (a stunning spot brimming with wildlife) and Abbotsbury (a historic village boasting its own swannery, 14th‑century chapel and subtropical gardens).
A roam around this quintessentially English corner of Dorset is best paired with an equally enchanting dining experience. And this immaculately kept rural pub, sandwiched between lush pastures and a sea teeming with seafood, unsurprisingly serves delicious things to eat and drink.
Who's cooking?
Classically trained head chef Paul Clarke delivers the very best of the county on each plate. Regional delicacies like Bagnell Farm Ruby Red beef and Iron Age pork (a hybrid between a wild boar and domestic pig), Portland pearl oysters and Purbeck ice cream are crafted into everything from small plates to lavish fine‑dining dishes.
Looking after front of house is Paul's wife Sasha who runs a cheery and efficient ship at the 17th‑century pub (said to have been a former haunt of spies, smugglers and spooky apparitions at various interludes in its history). There's a buzzy relaxed atmosphere, making it a home‑from‑home for foodies, walkers, families, cyclists and pooches.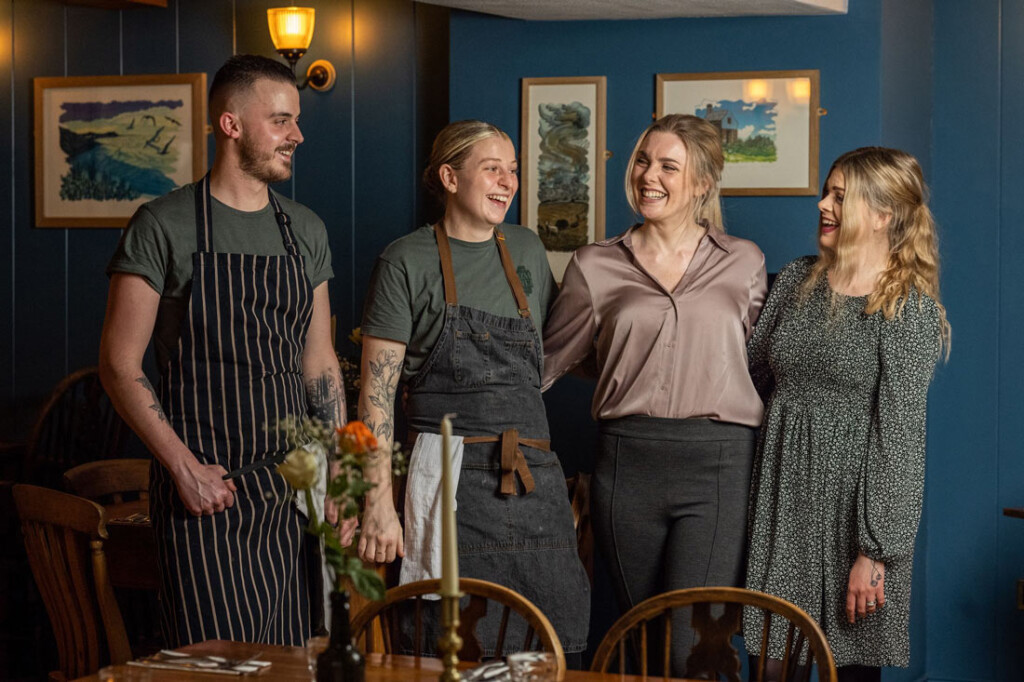 What to order?
Whatever the sort and size of appetite, there's a menu to suit at The Elm Tree Inn. There are small plates offering the likes of Dorset charcuterie, and sweetcorn and coriander fritters. There's an à la carte menu stocked with tempting dishes such as Devon Ruby Red beef with café de paris sauce, and sesame‑crusted chicken with shiitake mushroom and lemongrass consommé. And there's also an extensive list of specials which provide the opportunity to tuck into the latest haul landed by regional fishermen.
Our starter of Portland crab with pickled fennel, charred blood orange and avocado was delightfully light and fresh, and awakened the senses for more deliciousness to come.
A main dish of Dorset lamb had the intriguing and delectable additions of mint and anchovy polenta, aubergine caviar and pimiento pepper ketchup. And dessert, a white chocolate mousse with Wye Valley rhubarb and caramel tuile, made for a subtle‑yet‑sublime end to the meal.
Food's tip
A cocktail in the garden, while watching the sun sink behind leafy trees and thatched stone cottages, is a late‑summer bonus.