There's a lot to love about this destination dining hotel in the heart of Marazion, discovers Selena Young
What's the draw?
Curling up in the porthole window carved into your room, drinking in the dreamy vista of St Michael's Mount's Disney-esque castle and the waves that rhythmically lap at its shore.
The Godolphin's location above Marazion Beach makes it an ideal base for visitors wanting to explore the tidal island just half a mile off the Cornish coast, but then retreat to the comfort of the hotel for dinner at its restaurant Shutters.
The Godolphin was sold in late 2020 and its new owners have rolled out a bohemian-chic revamp. Funky finishing touches such as rattan peacock chairs, Persian- and Berber-style rugs, and jazzy cushions and lampshades create a fun yet relaxed vibe which complements the laid-back atmosphere of the hotel.
In the reception area, a plethora of houseplants and exotic animals add welcome-to-the-jungle energy: big cats and monkeys scale the wallpaper, an ornamental tiger guards the desk and decorative birds perch on shelves. If you're into the aesthetic, chase your check-in with an Into the Jungle cocktail (Cape Cornwall Spiced Rum, pineapple, bitters, maraschino cherry and mint) at Shutters Bar.
Who's cooking?
Head chef Gareth Crosby has captained The Godolphin kitchen since March 2023. He builds his menus for Shutters around local ingredients – from the seafood caught by Cornish dayboats to meat and veg from nearby farms. The quality produce is crafted into classic dishes that emphasise the natural flavours of land and sea.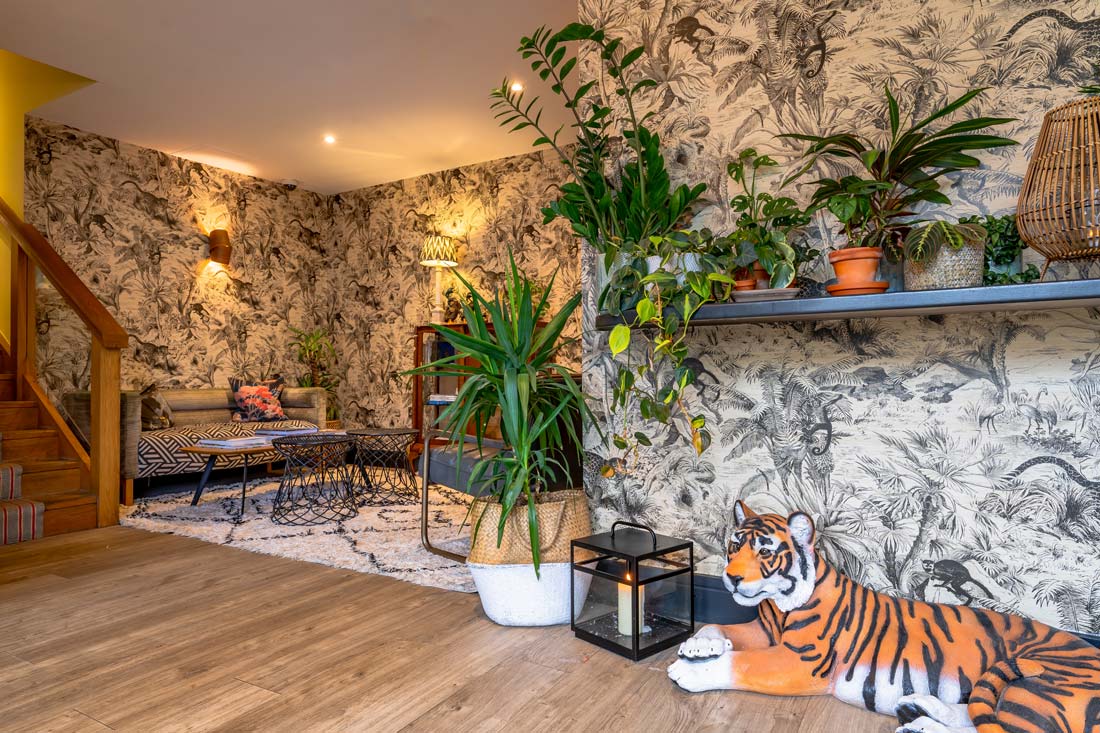 What to order?
Perusing an à la carte menu awash with fish and shellfish against a backdrop of white-peaked waves is guaranteed to rouse the appetite of any seafood fan.
We dived straight in with fresh Cornish crab piled on lightly toasted sourdough. Not an ingredient to be messed around with, the luscious crab meat was simply garnished with slices of red chilli, shards of samphire, a few coriander leaves and a spritz of lime.
Those who can't turn down the nostalgic appeal of a prawn cocktail will be delighted to discover Gareth's pimped-up version of the ultimate throwback starter. Plump crayfish, doused in mayo and warming chipotle, were served on an avocado puree laced with pineapple juice and served with baby gem leaves and nachos.
Mains continued to showcase the fruits of the sea: a chunky fillet of Cornish hake with crisp jerusalem artichoke and charred radicchio, lavished with elderflower and honey cream, delivered a winning medley of textures and complementary flavours. The day's special of grilled lemon sole stuffed with brown shrimp and bathed in crab butter positively sparkled thanks to its footnote of aromatic braised fennel.
Finally, a tropical pud of pineapple carpaccio finished the meal on a heart-stoppingly sweet high. Mirror-thin slices of poached pineapple soaked in spiced rum, saffron and caramel were layered with coconut sorbet, dehydrated coconut and a crown of crisp pineapple.
Food's tip
If you miss out on the house-smoked St Ives salmon at dinner, make up for it at breakfast. The buttery, salty-yet-sweet salmon is delish served with scrambled eggs and sourdough.