Eat and drink at Henry VIII's grand country pile like you have a meeting with the executioner in the morning, says Kathryn Lewis
What's the draw?
The chance to live like Henry VIII for an evening – but with better food and fewer beheadings.
Thornbury Castle was once the property of King Henry (he acquired it on bumping off its owner, the third Duke of Buckingham, for treason), yet the cut‑throat monarch made just a single visit.
After the death of Henry's son, Edward VI, the castle and grounds were left to rot until the 19th century when renovation began. The restoration continued – on and off – until the 1960s when it was transformed into a hotel and restaurant.
Today, Thornbury Castle fully leans into its Tudor heritage, and the guestrooms, lounges and dining rooms are dressed as if royalty might drop by at any moment. You certainly don't have to be a history buff to be seduced by the setting as its magic will assuredly bewitch any contemporary traveller.
Who's cooking?
Carl Cleghorn (brother of Michelin‑starred chef Chris Cleghorn of Olive Tree Restaurant in Bath) took over as executive chef in 2020. Carl brought with him experience of cooking at some of the country's top hotels and manor houses, and his classic cooking style perfectly suits the castle's opulent dining rooms.
The ambitious chef has a kitchen garden brimming with vegetables, herbs and fruits at his fingertips, which he supplements with the finest meat and fish the South West has to offer. He uses this uber‑seasonal produce to craft fine‑dining dishes that amalgamate traditional techniques with forward‑thinking flavour combinations.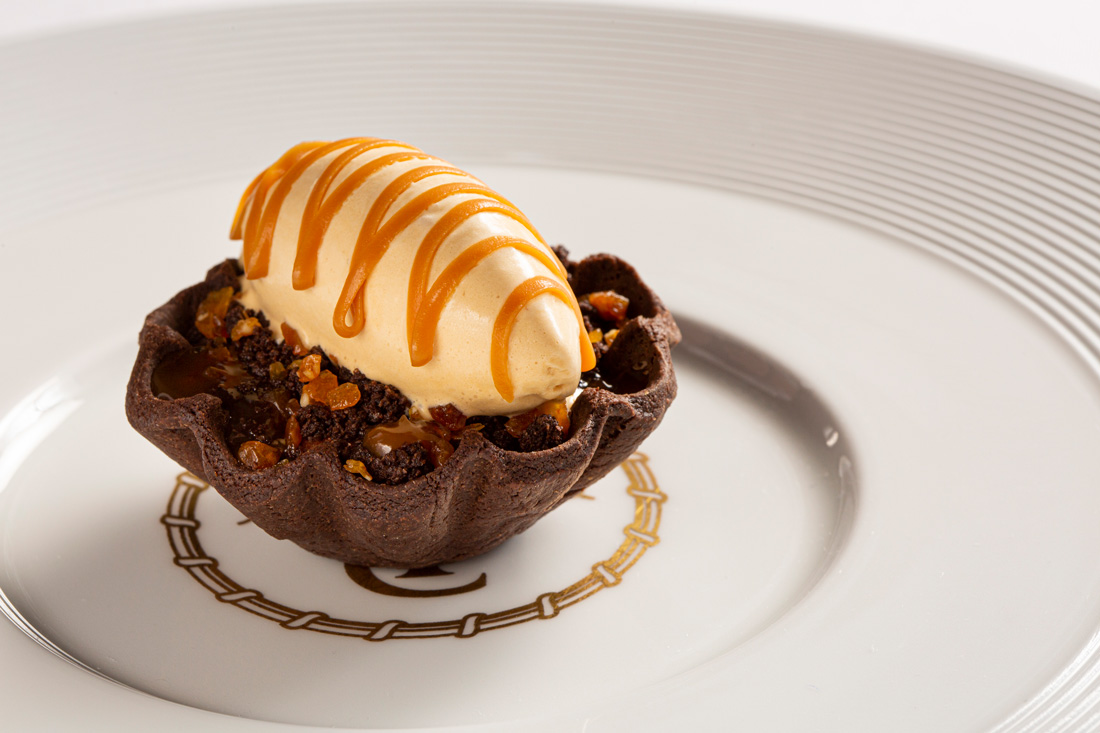 What to order?
Evening diners can decide between à la carte and six‑course tasting menus, but those who opt to pick and choose from the three course line‑up needn't worry that they will miss out on any culinary theatre.
Whichever route is taken, dinner begins with drinks and canapés in a palatial lounge – complete with roaring fire and portraits of beady‑eyed royals – before diners are shown to their table in one of two wood‑panelled dining rooms.
We started with a raviolo of jet‑black ruched pasta loaded with Loch Duart salmon and crevette, topped with salty orbs of roe and served in a coral‑coloured shellfish bisque. A second starter of rich foie gras torchon was balanced by the sweetness of apricot, almond and brioche.
The mains that followed were in line with the refined MO: a fillet of Cornish stone bass (with crisp skin and springy flesh) was served with the unconventional yet complementary accompaniments of squash and parmesan, while a trio of Wiltshire pork displayed the versatility of the ingredient through three distinctive cuts.
Don't let the restrained portion sizes trick you into thinking you'll definitely have room for dessert: homemade bread and the amuse bouche served between canapés and first course make it essential to proceed mindfully if you don't want to miss out on Carl's grand finale. It would be treason not to save space for the single‑origin dark chocolate fondant lavished with salted caramel and praline.
Food's tip
For the real royal experience, splash out on a night in the Henry VIII suite. The octagonal room with four‑poster bed was where Henry stayed with his second wife Anne Boleyn when they visited in 1535.