Nothing screams 'eat me' like a cheeseboard chock full of delicious artisan delights. Whether you're planning to gift or gorge (we're not judging), don't sweep the supermarket shelves before checking out our roundup of South West cheese boxes
Greendale's West Country Cheese Selection Box (pictured top)
Greendale's deli team scoured the South West in search of the finest artisan cheeses for their West Country curation. They'll deliver the hand-tied box direct to your fave rellie, or to your own doorstep if you're looking for an expertly chosen selection for your cheeseboard.
Inside you'll find Glastonbury Cheddar, Dorset Red Smoked, Dorset Blue, Cornish Yarg and Devon Sharpham Brie.
Get excited about: Dorset Blue Vinny. It won gold at the 2018 World Cheese Awards, and for good reason: this creamy, crumbly genuine farmhouse cheese is made with milk from the farm's herd of 270 Friesian cows. Consequently, the flavour may vary according to the time of year – a true indication of a small-batch cheese.
£25 – buy it here.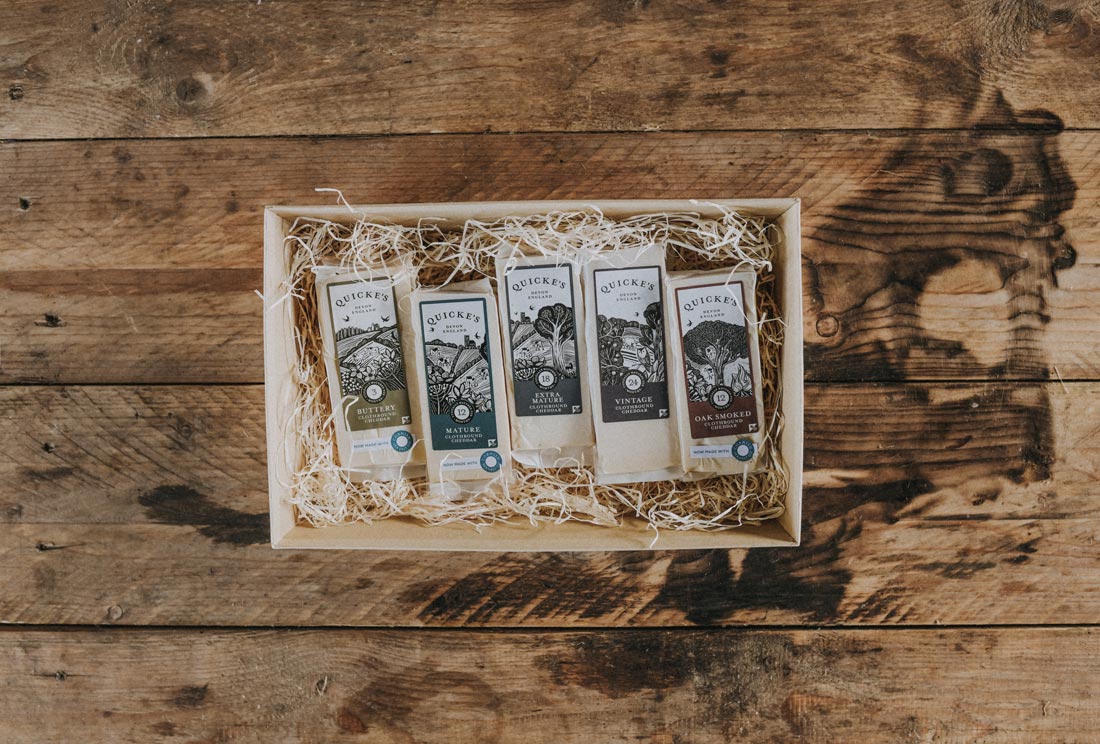 Quicke's Cheddar Tasting Box
Don't let mass-produced supermarket blocks tarnish your opinion of cheddar – the rubbery slabs don't even compare to the artisan stuff.
Quicke's range of clothbound cheddars are an education in the cheese's diverse and complex character. They're handcrafted using milk from grass-fed cows which graze freely on the Quicke family's 500-year-old farm.
The team are so keen to share their wealth of cheesy knowledge that the box includes tasting notes and a flavour profile wheel to help identify the unique aromas and flavours.
Get excited about: Quicke's Oak Smoked Cheddar. This seriously smoky, buttery cheddar is smoked using oak chips from trees grown on the Quicke estate. Pair it with a Pinot Noir.
£30 – buy it here.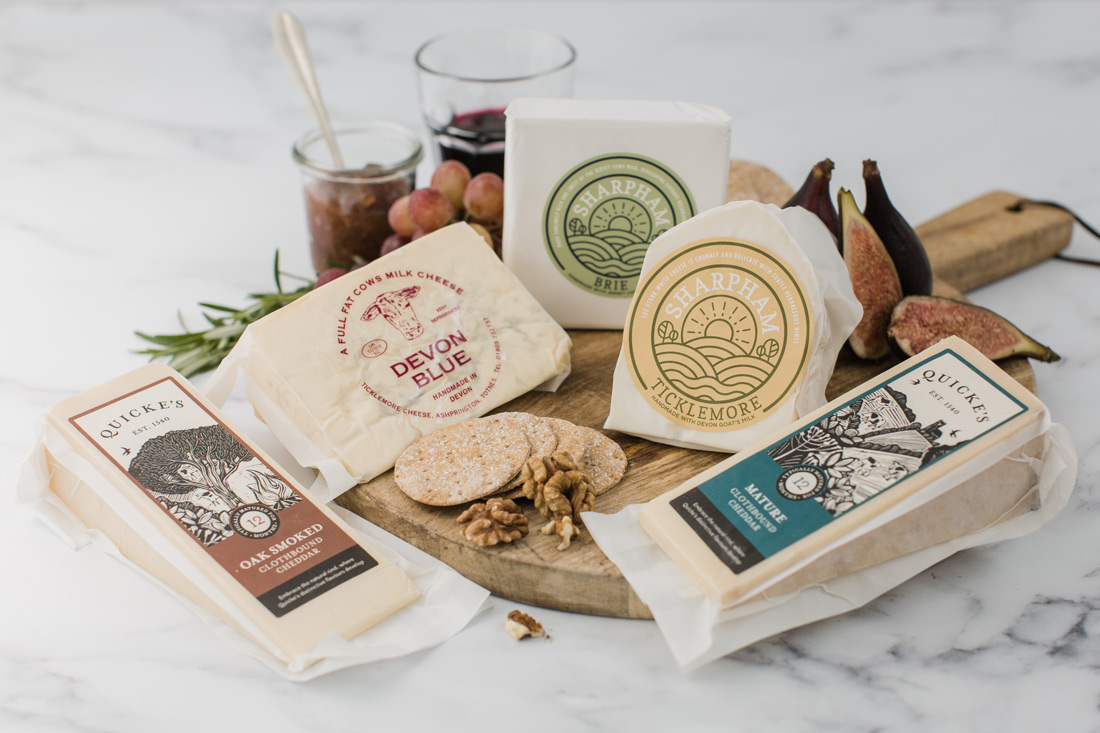 Sharpham's Essential Devon Cheese Board
What do you get when two of Devon's top cheesemakers collaborate? Sharpham's Essential Devon Cheese Board.
Each of the edible delights in this box is made with milk from cows and goats that have grazed Devon's luscious pastures, and crafted with skills honed over hundreds of years of cheesemaking from the pros at Sharpham and Quicke's.
The crowd-pleasing selection box includes county classics such as Sharpham Ticklemore Goat, Quicke's Mature Cheddar and Devon Blue, plus a 'Grader's Choice' from both Sharpham and Quicke's.
Get excited about: Sharpham Ticklemore Goat. Goat's milk from three local farms gives the Ticklemore its stark white colour, firm flinty texture and mellow-yet-complex flavour with hints of lemon and herbs. Best enjoyed with a glass of Sharpham Pinot Gris.
£20 – buy it here.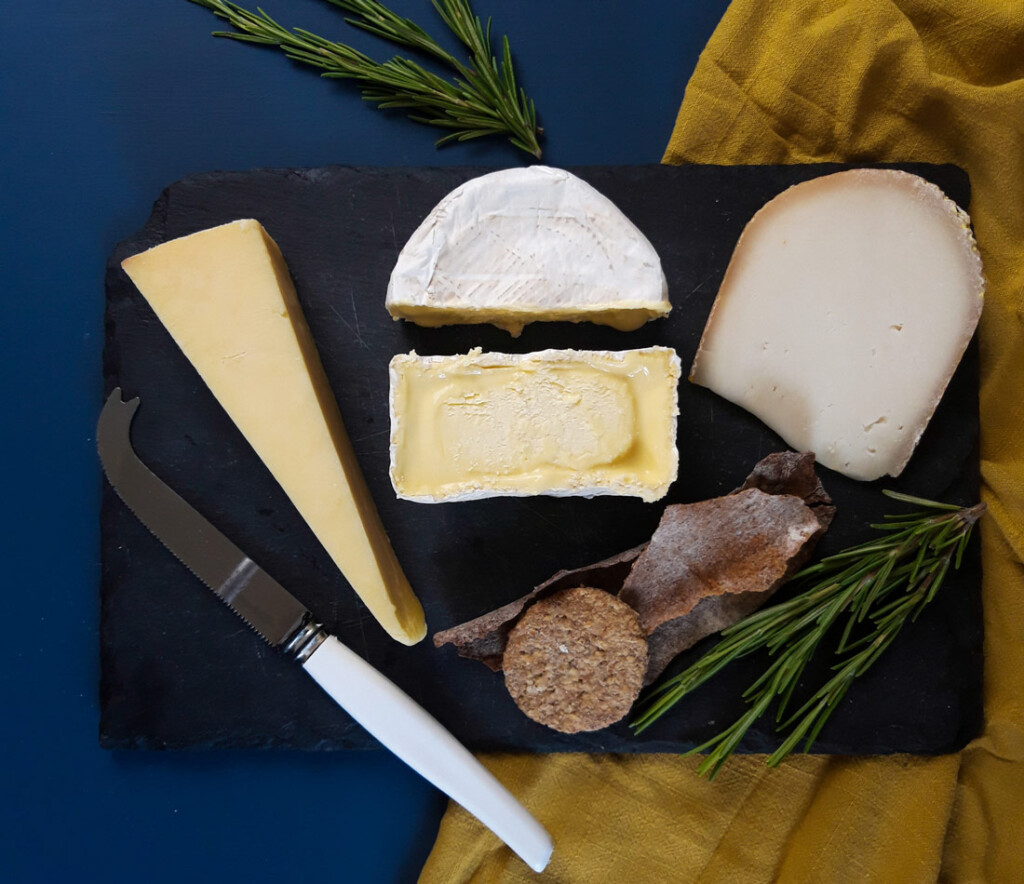 The Bristol Cheesemonger's Regional Hero Boxes
Explore the best of the Somerset or Bristol cheese scene with a hyperlocal box from The Bristol Cheesemonger. Zoom in on one region to discover hidden gems and new faves you may not otherwise have heard of.
The Somerset box includes Westcombe Cheddar, Rachel and Bagborough Brie (add a Renegade Monk or Fosseway Fleece to the selection if you want to boost your box). The Bristol box includes Lamb Leer, Bath Blue and Pitchfork Cheddar.
Dedicated curd nerds can also sign up for a monthly subscription box to take a deeper dive into the South West's finest cheeses (from £35).
Get excited about: Lamb Leer. Made in the Chew Valley, this soft white bloomy ewe's cheese has a loose crumb and sweet, creamy, lemony flavour.
From £16 – buy the Somerset box here and the Bristol box here.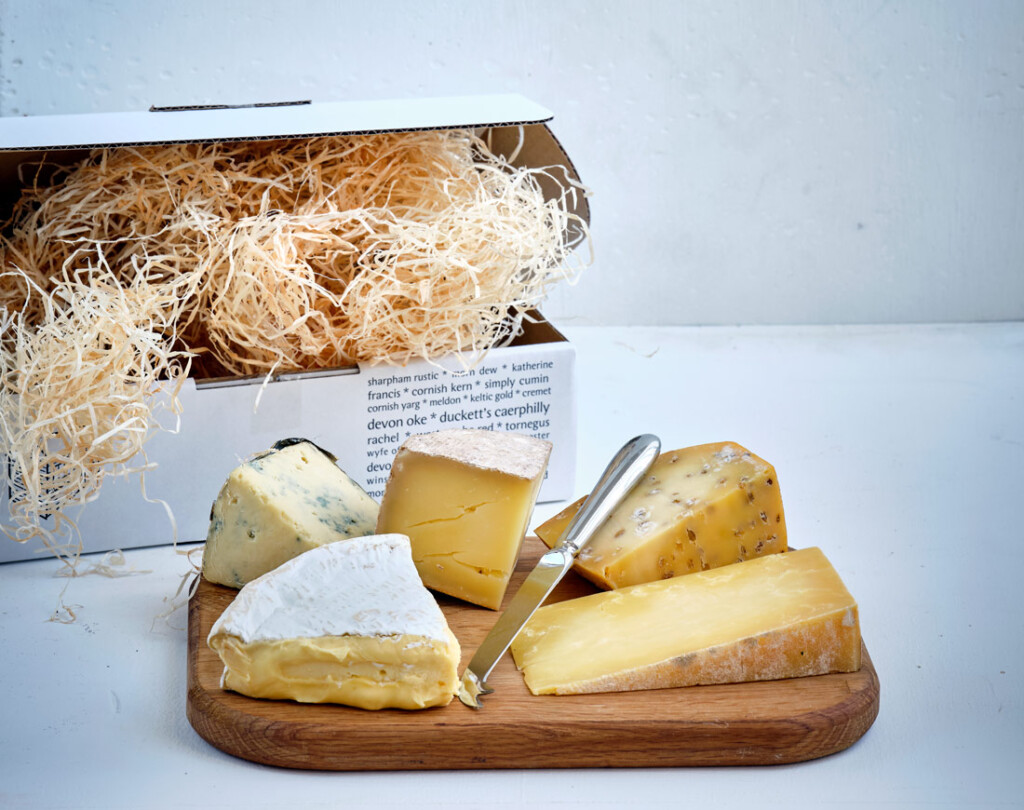 The Cheese Shed's Cornish Collection
Cornish Kern, Yarg, Gouda … the southernmost region of the South West crafts some truly cracking cheeses, and The Cheese Shed's Cornish Collection celebrates some of its finest specimens. The selection includes a couple of hard cows' cheeses, a blue, a goat's cheese and a soft cheese – whatever's at its best at the time of ordering.
Get excited about: The Cheese Shed's subscription service (Classic or Culture) feeds your fromage addiction all year round.
From £29 – buy it here.
Like 5 of the best cheese boxes? Discover what the cheesemonger wishes you knew here.