We asked some of the South West's most knowledgeable chefs, producers and experts how to do the festive feast like a pro
Michael Caines' pro-style prep
The chef patron of Michelin starred Lympstone Manor in Exmouth may be used to cooking in well-equipped pro kitchens, but he recognises that most home cooks have a different experience when rustling up roast turkey for a crowd. He says: 'The biggest challenge for most people is the limited size of the kitchen and only having four burners on the hob. However, there are a few things you can do to make life easier.'
Serving everything at the same time can be a logistical issue, so in the pro kitchen we break down the elements and work out what we can do separately to free up space and time. At home, prep as much as possible the day before so you're cooking not prepping on Christmas Day.
Vegetables such as carrots can be cooked until nearly done and then reheated in the microwave when you need them. You can also roast potatoes, put them aside, then finish them in the oven while the meat is resting.
Buy yourself more hob space by investing in an electric steamer that can sit on the counter to cook the vegetables.
Cut the turkey time in half by cooking it off the bone. Ask your butcher for a boned and rolled bird and use the bones to make a trivet on which you can roast the meat. Simply brown off the meat in a hot pan then place on top of the bones to cook.
At home I only plate up the turkey, placing all the veg on the table so that everyone can help themselves.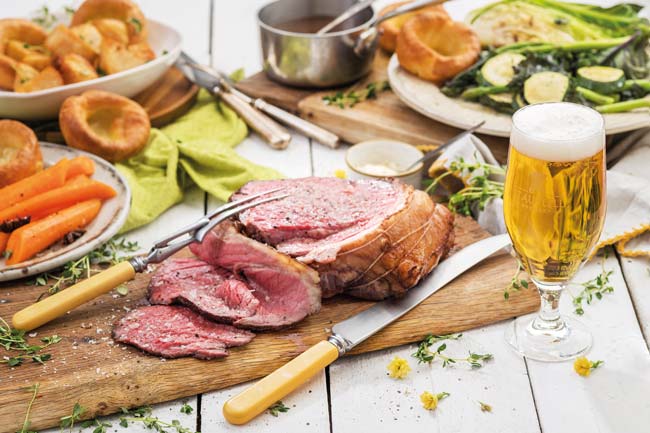 Jack Stein's proper gravy
To pimp your Christmas gravy with traditional flavours, chef Jack Stein recommends sweating a couple of shallots with a sprig of thyme then adding 375ml of red wine. Reduce the mixture until it has almost evaporated, then add a litre of stock and reduce by half until it's thick.
'If you're adventurous, finish with four teaspoons of soy sauce, a teaspoon of Marmite, two tablespoons of tomato ketchup and a tablespoon of rice wine vinegar,' he adds.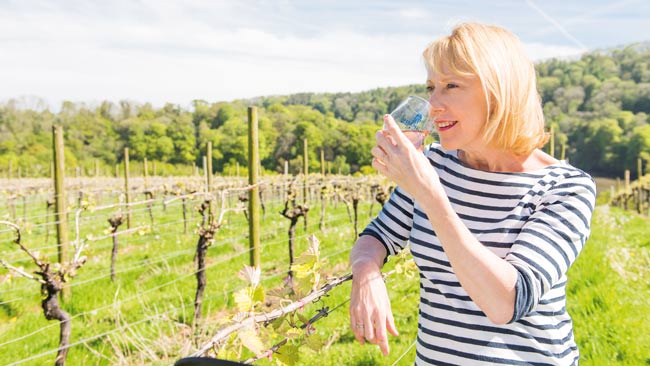 Susy Atkins' three wise wines
Trevibban Mill, Blanc de Blancs 2014, Cornwall. £46
'Not cheap, but this beautifully balanced, fresh and slightly creamy Cornish fizz won Best Sparkling Wine and Best Wine overall at the 2019 Wine GB West awards. It's exquisite – a really special treat.'
Knightor Mena Hweg 2014, Cornwall. £14.50
'A white with a difference. Medium sweet, fragrant and crisp with lightly honeyed apple and peach flavours, it's a fine, refreshing aperitif, and only 9 per cent ABV. 'Mena Hweg' means pretty, sweet hill.'
Sharpham Pinot Noir 2018, Devon. £18
'High quality English reds are hard to come by but this hot 2018 vintage delivered unusual ripeness and Sharpham cannily crafted a relatively rich pinot from it. Expect cherry, cassis and plum in a tangy, juicy style. Best with duck or steak.'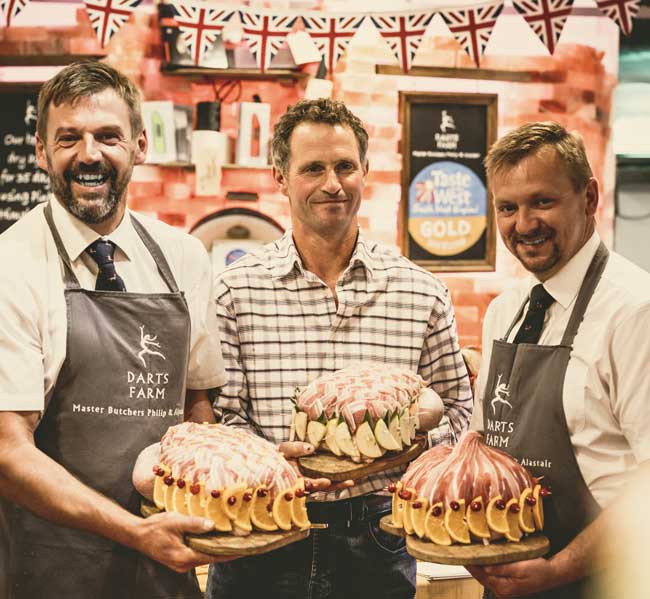 Butchers at Darts Farm's sourcing secrets
Master butcher Alastair David reveals how to source the perfect bird for your festive table
Philip and Alastair David are the brothers behind the incredible butchery at Darts Farm in Topsham, and have been dealing with turkeys at Christmas since they were teenagers, so they certainly know how to source a good one. Alastair (left) says: 'When choosing your turkey for the Christmas feast it's worth putting a little time and effort into finding something really special – you're probably only going to cook turkey once a year after all.'
Provenance
'The first thing to think about is provenance of the bird. We're proud to work with one of Devon's very best turkey farmers: Steven Slade of Rosamondford Farm in Aylesbeare (centre). His high standards in traditional animal husbandry and concern for welfare mean the birds live a healthy life, enjoying a natural diet and freedom to roam grassy paddocks.
'We specially select our turkeys for their decent layer of fat under the skin to provide flavour and lock in moisture when cooked. That's important because turkey is naturally a lean bird and those that are more quickly reared will have even less fat which can make the meat dry when cooked.'
Colour and size
'The next thing to think about is which kind of bird you're going to choose. Bronze turkeys are the original and traditional choice, distinctive by their black feathers. They have a more intense flavour than white turkeys, which are more subtle but still delicious.
'Then think about what size you'll need. Remember that when you order a turkey from a butcher the weight will be for the whole bird, including the bones, even if you choose to have the bird boned and rolled.
'I'd suggest a bird that weighs between 3.5–4.5kg for a group of two to four (depending on how much you want left over for sandwiches and cold cuts) and 4.5–5.5kg for a party of four to eight. Birds are available all the way up to 8.5kg (which will feel up to 20) and it's possible to find some that are even larger.'
Whole or boned and rolled?
'If you feel a bit overwhelmed by cooking and carving a whole bird then there are other options. We create turkey bombs (pictured held by Phil, right) which are boned, rolled and filled with the customer's choice of stuffing then topped with bacon. They look spectacular and are super easy to carve.
'For those who want the best of both worlds we will also bone, roll and stuff the turkey while leaving the legs on (pictured centre) to provide delicious meat on the bone. Whatever you choose, we provide pop-up thermometers so you won't overcook it.
'But if you want to source something that's highly unusual and with wow-factor, a three or four bird roast (pheasant wrapped in chicken, in wild duck then turkey) will deliver. Or steer clear of turkey completely and serve one of our speciality wild duck or pheasant bombs.'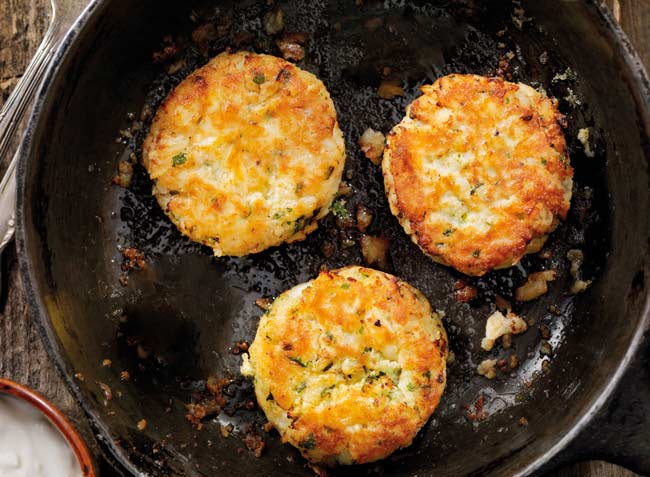 Ben Palmer's Boxing Day bubble and squeak
Ben Palmer (chef proprietor of The Sardine Factory in Looe and The Greedy Goose in Plymouth) is always the first one to the stove on the morning of the 26th, rustling up his Boxing Day bubble and squeak.
It's super quick to make, according to Ben, who says: 'Use leftover cooked potatoes and squash them up a bit, then add any leftover turkey leg meat and chopped cooked ham. The next stage is controversial, but for full flavour I add shredded brussels sprouts along with any other greens, carrots and turnip and season it all well. Once all the ingredients are well mixed, mould the mixture into individual portions. Fry them in a hot pan until golden brown on both sides and thoroughly heated through. Serve with rashers of crisp bacon and a couple of soft poached eggs.'